Hearth to Hearth: Pie Crusts from Meat to Fruit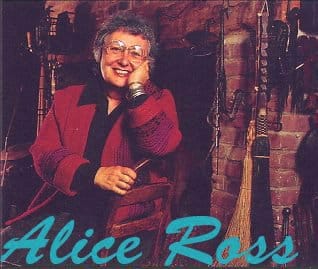 Hearth to Hearth: Pie Crusts from Meat to Fruit – The Journal of Antiques and Collectibles – November 2000
By Alice Ross
American as apple pie?
Sad to say, even though we like the image, the origins of pie are not especially American. In fact, when you stop to think about it, there's nothing about apple pie that's so American that it deserves the status of an emblem. But British?
Yes, because the crust (wheat flour and lard) were intrinsically English, as were the apples, butter, and even bread crumb thickeners. And the sugar, cinnamon and nutmeg came from the far flung British Empire to enrich the affluent British pantry. Indeed, the pie form itself was an English specialty, and unrivaled in other European cuisines. One has only to look in the early English cookbooks to see the large numbers of pie recipes—both sweet and savory—that fill the pages. Hannah Glasse's cookbook (London, 1747) listed forty-three!
And the first American cookbook, a slim work written in newly independent America by Amelia Simmons (1796,) continued the tradition by offering fourteen. The crusts were as important and as varied as the fillings, ranging from cookie-like delicacies to stiffer crusts for meat pies, and rich flaky puff pastries. But relatively little is known about the pans that held them.
It was the meat pie that started it all off centuries earlier. Traditionally these crusts were tall, straight-sided constructions with sealed-on floors and lids, originally called "coffins." They held assorted meats and sauce components and were baked at length, as is a modern casserole. They appear in Dutch or French paintings, usually without any evidence of a special pan. The crust itself was the pan, its pastry tough and inedible.
It would seem that the dropping costs of sweetening and spices enabled the development of sweet pies. Colonial American easily followed English precedent again, as maturing orchards and abundant wood fuels kept home-bake ovens active. Simmons' recipes for three kinds of apple pie alone and one apple tart (not to mention those with other fillings,) reflected their increasing popularity, following the more limited offerings of Glasse and E. Smith's Compleat Housewife (London, 1758) before her.
Those early pies were far more varied but not vastly different from the ones we enjoy today. Some required different kinds of apples, perhaps a cream and egg custard mixture, or reconstituted dried apples. All other fruits in season were put to the fillings—peaches, pears, cherries, and berries. And some vegetables—squash and pumpkin, for example—were adapted as well. There were basic custard and cheese (cottage cheese forms) such as chess pie or custard pie. And in regional American variations, one enjoyed molasses and vinegar fillings. These sweet pies were often baked in a "pie-dish." Indeed, Simmons' recipe for "Orange Pudding" (actually a pie,) directed the cook to put the filling mixture "into rich puff-paste, which let be double round the edges of the dish" [italics mine].
These were sometimes made of tin, probably in recognizable slant-sided form. Others were of redware, sometimes with only slightly rounded concave cavity and no angled sides, perhaps a soup or dinner plate. In such a dish it was still possible to construct a high pie. With enough dough, the top and bottom crusts were rolled and crimped together to build up the sides, essential for holding in the juices. These were often shaped into standing rims by use of many ornamental patterns. Some fillings were conglomerates of fruit and meat, enriched by wines, spices, and flavorful fats, and called mince meat. For these, Glasse described a good pie dish as "a little dish, something bigger than a soup-plate," and in another place referred to "tin patties" of various sizes. Sometimes pies were made more festive by shaping them into miniature sizes (variably called tarts or torts) and filled with preserves.
Simmons drops some clues about the pans in her suggestion that one should use "small shallow pans or saucers," and her recommendations, in a special note, that "pastry pans, or saucers, must be buttered lightly before the paste is laid on. If glass or china be used, have only a top crust."
And then there were the age-old variations on meat pies. The favorites—chicken or veal pot pie—were made with altogether different crusts sometimes laced with mashed potato, and a rich meat and sauce filling devoid of the vegetables we expect today. In coastal kitchens there were fish pies and seafood pies of clam, oyster, and lobster. Simmons suggests "deep dishes" for meat pies of her period, and recommends that her "Beef-stake Pie" was to be contained in "an earthen vessel [called a "dish" in other similar recipes] and covered with a crust as for a chicken pie."
E. Smith's London cookbook (1758 ed.) requires "pattypans" for her "Fish Pye," a large representation of whole flounders, although our modern concept of pattypans would indicate small individual cups.
American pies were baked in large numbers in the family's brick oven. Presumably they baked well with cooler temperatures than bread, and were set into the oven after the bread came out—the second stage in a succession based on dropping temperatures. As they were placed directly on the floor of the oven, the additional shot of heat probably sealed the bottom crust fairly quickly, just as a modern oven does when using the bottom oven rack.
Early recipes sometimes recommended sealing the bottom crusts with melted butter, bread crumbs, or sugar to prevent sogging, a good trick when baking at lower temperatures, or at any temperature, for that matter.
All of this pie flurry transferred readily to the woodstove innovations, and flourished. No longer a requisite player in the mammoth weekly baking, pies could be done in either large or small quantities, and on whim. Later nineteenth-century diarists in rural New York, recording their work, noted routinely that on Saturdays they "baked bread and pies," but also spent additional hours at the rolling pin and pastry board when fresh ingredients in quantity presented themselves. Now was born the great farm tradition of eating pie at each meal. Old timers in Vermont talked about one pie per person per day; and the mid-west earned a reputation as "the pie belt." Every-where summer fruit pies vied with winter pumpkin and squash pies, and the angled-sided yellowware, agate, and tin pie pans dictated shape.
With origins in the earlier centuries, pie making accessories were now on the rise. Yankee ingenuity came up with myriad variations on earlier pie stamps, crimpers and jaggers, and pie birds, useful for beautifying or releasing undesirable steam. Wire pie lifters allowed the cook to remove a hot pie from her oven without burning herself; wire racks aided in cooling and storing, and pie safes stored the goodies (and other provisions) against flies and mice!
Recipe:
Here is Amelia Simmons' "Paste No. 3" [of a grand total of nine] that she recommended for fruit pies.
To any quantity of flour, rub in three fourths of its weight of butter, rub in one third or half, and roll in the rest.
For one 8″-9″ pie crust, this translates to 1 cup of flour (weighing 1/4+ pound), 2 tablespoons butter (1/8 pound) or a volume ratio, flour to fat, of 4:1.
Modern cookbooks tend to suggest a 3:1 ratio, which makes a more tender crust. Most interesting is Simmons' comment that half the butter should be rubbed in fine [for general tenderness] and the other half cut in [left in larger pieces for flakiness.]
What she left out was the pinch of salt and the volume of water, which should be just enough to quickly get the dough together into a ball. Why her omission? She knew that everyone made pies regularly, and her recipes simply offered variations on something commonly known.
Why the common fetish over using lard as the fat? It's the best, I think, for both taste, texture, and budget, and was most commonly used. Simmons' use of butter suggests her reach for delicacy.
With experience, a pie-maker can judge the amounts by feel. Most critical for a perfect crust, however, is the time factor. All pie crusts should be rushed, almost as if you were running late to meet an airplane. Never rework the dough once the liquid is added, as it toughens—just patch if necessary.
As to the fillings, one can play with combinations interminably. I prefer fresh fruit, sugar to taste (you mix in some sugar and then taste it,) sprinklings of nutmeg, cinnamon, ground coriander seed, etc., according to mood. Mix in some 2-3 tablespoons of dry unseasoned breadcrumbs for thickening, cut a little butter over the fruit, perhaps a squeeze of fresh lemon, and there you have it.
Pile the mixed fruit filling high in the pan to allow for slumping. Cover with a choice of top crusts: the same dough rolled to fit, or rolled and cut into strips (with a jagger) for a woven lattice crust, or a crumb crust.
Serve the same day.
By the twentieth century, "pie tins" were cheap and common. Some incorporated a rotating pin to release the bottom crust. One of my first acquisitions was a "Ladies Night at the Movies" giveaway. More recently local general stores in the Adirondacks were selling local pies in deposit pie tins, but the tins were easily worth the hostage ten cents.
Homemade pies are unbeatable, and not nearly as daunting as one is led to believe. After all, if everyone (good cooks and bad) made them, the process must have been manageable. Pie making in busy households today is not as hard as it may seem, as it can be done handily ahead in stages. Pie crusts freeze well, and may be prepared in numbers, shaped in their tins and stacked for minimal use of freezer space.
Alice Ross brings 25 years as a dedicated food professional teacher, writer, researcher and collector to her Hearth Studios, at which she teaches workshops in various aspects of hearth, woodstove and brick oven cookery. She has served as consultant in historical food for such noted museums as Virginia's Colonial Williamsburg and The Lowell National Historical Park in Massachusetts. Ross wrote her doctoral dissertation in food history at the State University at Stony Brook. Currently, she is involved in a major kitchen report on Rock Hall Museum, a 1770's Georgian mansion on Long Island. Dr. Ross' e-mail address is aross@binome.com. Her web site is www.li.net/~aross