Art Glass Cups & Saucers: Elusive Works of Art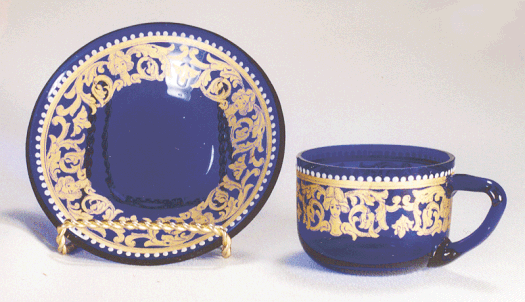 Art Glass Cups & Saucers: Elusive Works of Art – The Journal of Antiques and Collectibles – August 2000
by Susan and Jim Harran
There is an infinite variety of cups and saucers for both the new and experienced collector. Highly treasured by a number of collectors are the beautiful art glass cups and saucers made by the leading glass factories in Europe and the United States. Art glass cups and saucers are not easily found in the marketplace, as they were not produced in large quantities. The hunt is exciting, and the rewards are great when that elusive glass cup and saucer is found!
A BRIEF HISTORY
Since the earliest time, glass has been admired for its delicate yet enduring beauty. Ordinary utensils made of glass, such as tumblers, goblets, pitchers, and cups and saucers, are often transformed into works of art.
Glass is formed when sand, soda, and lime are fused together at high temperatures. The color of glass can be changed by adding specific metal oxides to a glass batch, such as cobalt for dark blue. Glass was discovered in Mesopotamia around 2500 BC and was used for beads, seals and architectural decoration. About 1000 years elapsed before glass vessels were produced. Around 1500 BC Syria and Mesopotamia emerged as glassmaking centers, and factories spread throughout the Mediterranean area.
Glass drinking cups came in many different sizes and shapes. Conical glass vessels were used both as drinking cups and as oil lamps. Many cups were in a beaker form.
The most important development in the history of glass was glass blowing discovering by the Syrians around 50 BC. A one-handled blown glass beaker dating first century AD was excavated in Egypt. It was a greenish glass with wheel cut rings and a blue applied handle and base.
Clear glass was much admired in ancient Rome, and the philosopher Pliny said, "…there is no other material nowadays that is more pliable or more adaptable, even to painting. However, the most highly valued glass is colorless and transparent…"
New centers of glass making sprung up in the Bohemian area of Europe in the 11th century. Ash from plants (potash) was used as a raw material to make glass with a lower melting point. Bohemian glass continued to flourish in the 17th through the 19th centuries.
In Venice glass factories were established on the island of Murano in the 15th century. The Venetian industry dominated the European market until 1700. In England George Ravenscroft developed lead crystal in 1675. This new heavy glass enabled cutting, engraving and decoration.
During the last half of the 19th century beautiful art glass was made in Europe, England and the United States. It flourished because of the Victorian preoccupation with the fussy and elaborate.
During the Art Nouveau movement, the art glass of Tiffany, Gallé, and Lalique captured the attention of the world with the sensuous lines, vivid colors, and iridescence. During the depression years, machine-molded glass was produced in great quantities, and inexpensive tableware was made.
DECORATIVE TECHNIQUES
Glass cups and saucers are found in a variety of shapes and decorative styles. The finest glass artists of the time decorated the elaborate art glass cups and saucers.
Enameled decoration has been used on glass since Roman times. Finely powdered colored glass is added to vegetable oil resulting in a paint to use on glass. The glass is decorated with the enamel paint and then heated in a kiln. The powdered glass pigment fuses to the surface of the softened glass allowing the enamels to adhere.
Gilt decoration was also painted on outside surfaces, adding a richness and brilliance to the piece. Ludwig Moser of Carlsberg, Czechoslovakia, produced some of the most exquisite enameled glass cups and saucers, and they are eagerly collected today.
Silver overlay decoration was used during the 19th and early 20th centuries. Silver overlay is a net-work of silver, usually sterling, which is applied to a cup and saucer by a silver craftsman after the pieces are completely finished. Many silver manufacturers were involved in this kind of decoration. Silver overlay is often engraved with floral, fruit and rococo swirls.
MAKERS
Bohemian glass has been produced as early as the 11th century. A complex technique involving etching, overlaying and flashing became popular from the 1820's to the end of the 19th century. The colors most frequently used were ruby, amber, blue, black and green, often combined with clear glass.
Popular patterns were the deer and castle, flowers, and animals. A tremendous quantity of Bohemian glass was imported into the United States and the rest of Europe. A cup and saucer, ruby flashed, in an engraved castle and trees pattern, with an applied clear handle, sells in the $125-150 range.
One of the most renown Bohemian glassmakers was Ludwig Moser. He founded a glass polishing and engraving workshop in 1857 in Carlsbad, Austria, which became Czechoslovakia after World War I. Moser employed many famous glass designers and in 1900 incorporated with his sons. His work was outstanding and includes cut colored glass with classical scenes, cameo glass, intaglio cut glass, and beautiful enameled glass.
In 1922 Leo and Richard Moser bought Meyr's Neffe, their biggest Bohemian competitor, and they are still in business today. Moser cups and saucers are some of the most prized in any collection.
Two useful books on this subject are Moser—Artistry in Glass 1857-1938 by Gary Baldwin and Lee Carno, published by Antique Publications, 1988 and Moser Artistic Glass Edition. Two by Gary Baldwin, The Glass Press, 1997.
Venetian glass dates from the 13th century to the present. Many glass factories were established on the island of Murano near Venice. Venetian glass was usually colored, very thin walled fragile glass with applied flowers and fruits with embedded gold dust. A type of filigree glass was developed and widely imitated. This striated glass, called latticinio, had a lacelike effect. Opaque white threads were incorporated in the glass and worked into intricate patterns.
Murano glass made in the 20th century is popular today. A renown glassmaker, Paola Venini, established a glassworks in 1925. He revived some old Venetian techniques, and his items bring high prices in today's marketplace. The Barovier & Toso Studios is a popular glassworks from the 1950's to the present. The company made cordial and demitasse sets in cranberry, cobalt blue and green with applied enameled flowers and heavy gold embellishments.
René Lalique began as a jewelry designer around 1900 in Combs, France. He achieved his greatest success as a glass maker in the 1920-30's, and elegant glass is being produced today. Lalique glass is often a combination of clear white and frosted glass which was treated with hydrofluoric acid. Molded birds, nudes, and flowers are popular subjects. There are many reproductions on the market today.
The Baccarat-Sainte-Anne Glassworks is one of the oldest French glass companies and was established in Baccarat, France in 1764. In the late 19th century the firm achieved international renown for their cut glass table services and decorative items, as well as their famous paperweights. A lovely amberina cup and saucer in Baccarat's Rose Tiente pattern would be quite a prize!
At the turn of the century Art Nouveau glass, originally from France, became fashionable in the United States. The most prominent glass makers were Tiffany and Steuben. Louis Comfort Tiffany created wonderful Art Nouveau art glass in 1894-1920. He imitated the iridescence found on ancient glass and experimented with new techniques. His most famous glass was favrile glass which means hand made. Gold chloride was used to achieve the gold sheen which characterizes favrile glass. Tiffany's pieces are highly sought by collectors and are being reproduced.
Lovely art glass and crystal tableware is still being made at Steuben today. The company originated in 1903 in Corning, New York, established by Thomas Hawkes and famous English glass designer, Frederick Carder. During the period 1903-1933 the company produced wonderful colored and crystal tableware and art glass, including iridescent aurene glass, calcite glass, Verre de Soir, and Rosaline glass. Rosaline glass is a pink jade type cloudy glass which often has an alabaster trim. It was also made in England by the Stevens & Williams Company. Cups and saucers have been found in this form.
Many cups and saucers can be found today in Carnival glass which was a colored pressed glass with a fired on iridescent finish. It was made in 1905 to copy the expensive iridescent Art Nouveau glass and was very popular in the United States and abroad. Over 1,000 different patterns have been identified. The companies making carnival glass were Northwood, Fenton, Dugan, Imperial and Millersburg.
Color is the most important factor in pricing carnival glass. A green Grape & Cable cup and saucer made by Fenton is valued at $375, in purple it is $475. A marigold Kitten pattern cup and saucer is $250.
During the period 1925-1940 American glassmakers produced inexpensive lines of mostly clear and pastel dinnerware. New techniques of tank molding permitted automatic pressing and pattern etching. Fancy designs were attractive and covered up defects such as bubbles caused by the pressing process.
Complete sets were used as promotion giveaways or could be ordered from Sears & Roebuck catalogs for $1.99.
A higher quality glassware made by Cambridge, Fosteria, and Heisey was made 1930-50's and sold in fine department stores. Today depression glass cups and saucers are eagerly collected.
USEFUL INFORMATION
Collectors throughout the world appreciate the unique features of glass cups and saucers, not only because of their place in history, but because they offer such a diversity in style, shape and decoration. Glass collecting in the United States is one of the most popular fields of collecting. Various collector clubs are scattered throughout the country. Antique glass shows and auctions take place all year round.
Glass cups and saucers are easy to care for and store. A glass cup not only will shatter when it is dropped, but when it is exposed to sudden changes in temperature. Never wash glassware until it reaches room temperature. It is best not to put your art glass cup and saucer in the dishwasher as the temperatures are too severe and the water pressure too great. A gentle hand washing is the best method of cleaning.
Take care when buying an art glass cup and saucer. Examine both pieces carefully. Check the handle as it's very vulnerable. Glass can be repaired quite reasonably. Edges with chips can be ground. The value is lower, but not significantly. Unfortunately, there are many glass reproductions on the market today.
Patricia Dean, in The Official Identification Guide to Glass Ware, offers these wise suggestions:
Buy from a knowledgeable and reputable dealer.
Study the type of glass that interests you. Learn about it. See it in museums, antique shows and shops.
Observe signs of age such as wear and random scratches.
Beware of too low prices. If it looks too good to be true, it probably is.
Learn the correct colors on the early pieces as colors are usually different on reproductions and reissues.
Authors Jim and Susan Harran have written two books on porcelain and bone china cups and saucers. Their newest book, "Collectible Cups & Saucers Identification & Value Second Series," published by Collector Books, has 800 full-color photos. It is a great companion volume to Book I. Both books are available from your favorite book dealers, or if you would like an autographed copy of either book, send $18.95 plus $2 postage to: Susan Harran, 208 Hemlock Drive, Neptune, NJ 07753.
You may want to visit Jim and Susan Harran's website at www.tias.com/stores/amit .
ELUSIVE WORKS OF ART BIBLIOGRAPHY
Baldwin, Gary D. Moser Artistic Glass Edition Two.. Marietta, OH: The Glass Press, Inc., 1997.
Dean, Patricia. The Official ID Guide to Glassware. Orlando, FL: The House of Collectibles, 1984.
Schroy, Ellen Tischbein. Warman's Glass. Radnor, PA: Wallace-Homestead Book Co., 1992.
"Special Uses For Glasses," Internet:
http://www.umich.edu/kelseydb/Exhibits/WondrousGlass.html