Collecting Dolls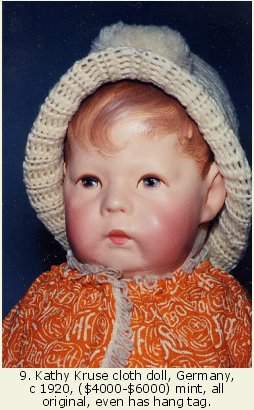 Collecting Dolls – The Journal of Antiques and Collectibles – December 2000
By Dorothy McGonagle
Christmas and dolls go hand in hand; it is where many doll collectors' interests began. Their own doll or the memory of a special doll long lost is often the progenitor of a collection. Sometimes it is the wanted doll not received, then bought as an adult, that sparks the collecting flame. The reasons are as varied as the collectors themselves.
Flying over the United States, looking down at the towns and cities, the thought has struck me that just as most towns have a "cat lady", a kindly person who shelters the unwanted, finds them homes or keeps them herself, these towns typically also have a "doll lady". Often it is the same lady, perhaps because a compassionate nature is frequently at the heart of both. But doll collecting has grown well beyond such simplicity; today it is reputed to be neck in neck with stamps and coins in American collecting popularity. Let us take a brief look at its evolution.
First, there have been dolls as long as there have been people. Dolls have served a variety of purposes, from religious representations to simple play dolls. They reflect remarkably accurately the social and cultural history of their makers and their countries of origin. They mirror the moment they were made and speak to us of what their designers or makers considered important. Dolls reflect technological developments, political statement, personal ingenuity, whimsy, and love. And there probably isn't a material made that someone hasn't made into a doll!
The earliest dolls brought to America from Europe are English wooden dolls. However, only the most affluent would have such a doll. Many of the "homegrown" dolls of America's first two centuries, simple wooden dolls made by a father's hand or rag dolls from a mother's needle have not survived. However, by the nineteenth century, advances in technology coupled with a burgeoning middle class and a change in attitude toward childhood as a special time in life resulted in dolls from Europe arriving in this country in unprecedented numbers. By the end of the century, American women were already at the forefront of collecting dolls as a hobby, an interest which expanded in the twentieth century to the formation of doll clubs. Records tell of 19th century exhibitions of dolls, many held to raise money for worthy causes (another whole story in itself) and a means by which women could "do good" while doing something that really appealed to them. Many churchwomen also made and dressed dolls to raise money for their church's missionary outreach or pastoral needs. Today these dolls are highly prized and collected both for the handmade appeal and their historical significance.
New England and the northeast area has a long history of dolls being made by enterprising women such as Izannah Walker of Rhode Island who registered the first American patent for a cloth doll in 1873. Her work is the quintessence of 19th century oil on canvas becoming a three dimensional doll, and examples in fine condition can fetch over $20,000. Another Rhode Island woman, Martha Chase, began making safe cloth dolls for her children, and started a company that lasted the better part of a century!
The first organized group of doll collectors was incorporated in 1936 as the Doll Collectors of America. Meeting monthly in the Boston area, these stalwart women recognized the historical significance of dolls and, being dedicated to research and education, mandated for themselves publication on a regular basis. Their early works, The Doll Collectors' Manuals, long out of print, are even today prized for their valuable content. The thirst for research and knowledge of their collections, many of which were family dolls, treasured and left by their mothers and grandmothers, led pioneer scholars/collectors such as Janet Johl, Eleanor St. George, and later the Coleman family to produce serious publications. The 1968 Coleman Encyclopedia of Dolls, and the companion 1986 Volume 2, remain the backbone of research. The hobby had reached such proportions that by the 1970s myriad price guides were being published. Today, the most widely used is the Blue Book by Jan Foulke.
Throughout the twentieth century, other doll clubs were forming across the country. In the 1940s they banded together under the umbrella of the United Federation of Doll Clubs, today numbering nearly 15,000 members, with doll clubs in Canada, Europe and Australia represented in the roster. Regional meetings and the annual conventions of this organization provide an unparalleled opportunity to study dolls of every material and age, from the earliest examples to the most modern of artist creations. To attend such an event is the see the many facets of the doll-collecting world.
A brief chronology of commercially produced antique dolls found in America would begin with English wooden or wax dolls, German papier mache and glazed china or unglazed parian dolls. By the 1870s bisque dolls had taken precedence over all others, and the beautiful French Fashion dolls, were not only illustrative of the splendor of the French couturier's hand and industry, but were a child's plaything as well. Every conceivable item that a woman might have in her wardrobe or toilette was duplicated for the doll; elegance and conspicuous consumption were taught to the pampered child through her doll. The bisque doll with the proportions of a child then followed, and the French bebes of Jumeau and Bru were perhaps the most beautiful of all. German competition with bisque dolls was strong, and led to examples from fine firms such as Kestner, Simon & Halbig, and Handwerck. The French dolls were luxury items when produced and were made in smaller quantities than the German, and remain the more expensive dolls today.
By the turn of the century, cloth dolls and American composition were gaining in popularity and today the numbers of collectors who favor these dolls is increasing, driving prices for examples in mint, crisp condition ever upward.
By the middle of the twentieth century, the new material, plastic, began to be used for dolls, and within a decade had completely displaced composition. These dolls represent a whole different arena of collecting. For example, they generated the terms "mint in box" and "never removed from box", which transport the doll from a well-preserved but used plaything to a doll, old but new. Gene, Tyler Wentworth and others extend this trend, being made exclusively for the collector. The collectibles market for dolls thus seems two-fold: dolls initially made for play but bought as a collectible and thus are mint, and dolls made solely for the collector. Both fields have seen prices increase depending on availability, but this world is one into which I am just now wading, and it is quite a world. Some of these are dolls made for costume's sake, and as such reflect our time with a grace and panache reflective of the French fashion and her period of glory. Barbie, now 40 something, could serve as quite a guide to the end of the twentieth century, herself alone reflecting the changes in costume, attitudes and opportunities available to women, from her early years as homemaker, shopper, nurse, teacher, ballerina, perpetual prom queen, businesswoman to doctor, jet pilot, astronaut and presidential candidate.
The doll artist world is another which has benefited from the development of equipment and materials over the last twenty years. This field has exploded to the point where some monthly doll magazines with large circulations are full of ads for these dolls, dolls which fetch prices beyond an antique German or even French doll. Whether these will hold their value on the secondary market remains to be seen. Nevertheless, the interest in dolls is extraordinary, and one can be sure that many a Christmas will be brightened by dolls for today's collectors and the collectors of tomorrow.
About the Author-Dorothy McGonagle is an internationally recognized author, lecturer, consultant, photographer, collector, dealer and appraiser in the field with over 27 years of experience. Her published works include "The Dolls of Jules Nicolas Steiner" and "A Celebration of American Dolls from the Collections of the Strong Museum," as well as other works. She has also traveled widely, lecturing in Europe, Australia, and across the United States.
She has presented numerous programs at the national conventions of UFDC, covering a broad range of doll manufacturers or collections; several programs at the Rosalie Whtel Museum of Doll Art in Bellevue, Washington; lectures on French dolls at the European Dollguild Congress in Hamburg, Germany; and selected lectures at the Australian Doll Society, Historic Hahndorf, Australia. In the summer of 2000, she traveled with "Chubb's Antiques Roadshow," the public television program produced by WGBH Boston.
She belongs to a number of professional organizations, including the United Federation of Doll Clubs (UFDC), The Doll Collectors of America, Inc. (past president), the Yankee Doodle Dollers of Massachusetts (past president), the National Antique Doll Dealers of America, the Schoenhut Collectors' Club, and JADE (Japanese-American Doll Enthusiasts).
Established in 1971 and currently the fourth largest auction gallery in the nation, Skinner, auctioneers and appraisers of antiques and fine art, conducts over sixty auctions annually. Operating out of locations in Boston and Bolton, Massachusetts, Skinner is the foremost auction gallery in New England, Dorothy is currently the specialist in antique dolls at Skinner, Inc.