The World of Gouda Pottery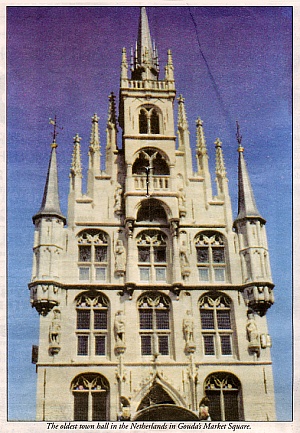 The World of Gouda Pottery – The Journal of Antiques and Collectibles – November 2000
By Phyllis T. Ritvo, photos by Gene Ritvo
A Word from the Author
Before beginning this story, let me tell you briefly about my journey along the Gouda pottery road. It began in the 1960s when I fell in love with and bought a beautifully proportioned and designed comport with the mysterious word "Gouda" on the bottom. Perplexed by the word, I asked myself, "What could this pottery possibly have to do with cheese"? Simple enough question (or so it seemed), but it took a long time to not only answer that question but also to educate myself about the many kinds of Gouda pottery that were produced and the many companies that produced it. Over the years, the boldly designed and colorful pottery became my holy grail. I tracked it down from Boston to New York to Cleveland to Los Angeles, and finally to the original manufacturing town of Gouda, Zuid-Holland, in the Netherlands (and, by the way, still the home of Gouda cheese). All of this without the Internet or eBay!  Trying to research the pottery was a night-mare, because almost nothing had been written in English; however, dealers, collectors, museum curators, articles translated from the Dutch, and my own study of the pottery provided more pieces of the Gouda pottery puzzle. Since I assumed there must be otherEnglish-speaking collectors who found this pottery fascinating and were frustrated by not having any information about it, I decided to write a book about it. Fortunately, my husband, Gene, is an accomplished photographer, and the result of our collaboration (10 years later) was The World of Gouda Pottery, published in 1998 by Font & Center Press.  -Phyllis T. Ritvo Historical photos courtesy of the Stedelijke Musea in Gouda.
Background
It should come as no surprise that Gouda pottery, one of the world's most exciting decorative art forms, developed in the Netherlands. As far back as the 17th century, Holland produced many of the great Old Master painters, including Rembrandt and Vermeer. And thanks to its early naval and commercial successes, Holland's traders brought back exciting new types of pottery and china from the far corners of the world, especially from what is now known as Indonesia and also the Asian countries of China, Korea, and Japan. Over time, Dutch artists developed their own innovative forms, color palettes, and glazes. Delftware, sold throughout the world, became one of the country's largest exports and reason for great national pride.
While many kinds of art, design, and color have always been integral to Dutch life, the ultimate expression of the people's love for visual beauty is their daily pleasure in growing and giving of flowers. This extensive artistic heritage provided an excellent climate for the development of Gouda pottery in the early 20th century.
Another important element preparing the way for the growth of Dutch decorative arts was the rapidly growing middle class in the mid-to-late 19th century. They paraded their success by conspicuous consumption, especially in the areas of home building and furnishings. Photographs from the period show rooms chock-full of pottery and porcelain along with every conceivable kind of sculpture and painting. In order to en-courage domestic businesses to enter the immensely profitable international home furnishings trade, the Netherlands relaxed its internal tax code. Plateelfabriek (pottery factory) Rozenburg opened in 1883 in The Hague and became enormously successful, even winning the prestigious 1st Prize for its magnificent "eggshell porcelain" at the Paris World's Fair of 1900.
Other Dutch companies, including Plateelfabriek Zuid-Holland (PZH), entered the expanding world ceramics market. Opening in 1898 (the first major art pottery company in Gouda), PZH later became the largest and most successful art pottery company in the country. Soon other companies (some of which had originally been pipe factories) opened in Gouda and nearby towns. They hoped to ride PZH's coattails to success, and just as PZH had zealously copied Rozenburg's and other early Dutch companies' high-glazed pottery, the newer companies copied PZH's high-glazed and, even more avidly, its semimatte pottery. Even if the pottery was produced in Arnhem or Schoonhoven, it was usually called Gouda because of the marked similarities in style and color to the art pottery made in Gouda.
A Plethora of Riches
Wherever Gouda collectors gather, they enthusiastically debate the merits of their favorite type of pottery, either high glaze, matte, or semi matte.
Some love high glaze because of its elegant colors and forms. Only PZH, of the Gouda-type companies, produced early (pre-1915) high-glazed pottery. One of its earliest design groups was a blue-and-gray series with patterns influenced by both the Arts-and-Crafts and Art-Nouveau movements. This exquisite series wasphased out by 1905 and is especially difficult to find. Two other high-glazed series closely resembled Rozenburg's turn-of-the-century pottery (not surprising since the two primary designers came from Rozenburg). Porcelain Decor had delicate pastel cross-hatched florals on a white background, while Gouda Decor was covered with mainly green, purple, and tan abstract and floral designs. Whereas early Gouda Decor designs were abstract and free-flowing in the Art-Nouveau manner, later ones were usually symmetrical with carefully outlined pattern areas.
The New Porcelain series by W.P. Hartgring began production around 1910 and lasted for about 10 years; it resembled Porcelain Decor but with brighter colors and more defined patterns. The letters "NP" on the marks distinguish New Porcelain from Porcelain Decor, which was sometimes marked "Pb" for Porcelain flowers or "Pf" (unknown meaning). Another high-glazed group from PZH consisted of portrait vases with medallions showing photographically transferred pictures of great 17th century Dutch painters, such as Rembrandt and Van Dyke.
By the late 1910s, other companies, including Kunstaardewerkfabriek (art pottery factory) Regina, Hollandsche Pijpen-en Aardewerkfabriekien (Dutch pipe and earthenware factories) Goedewaagen, and Zenith Plateelbakkerijen-en Pijpenfabrieken (pottery and pipe factories), joined PZH in producing lovely high-glazed pottery. These high-glazed objects were often in the shape of bowls, vases, pitchers, jardinieres, trays, wall plates, and wall plaques; some, such as floor vases, were very large. From the beginning, one defining characteristic of Gouda pottery was its use of interesting ears (handles) on vases, bowls, and pitchers. By the early 1920s, high glaze of any kind had gone out of style (replaced by the more contemporary semimatte glaze) and was rarely produced.
High-glazed pieces, especially those from 1898 to 1905, are rare. Along with the letters "A" through "H" for each of those years, two "E"s (for the founder Egbert Estié) were drawn in the pediment of a very large house (actually the Lazarus gate from the 17th century hospice that became the PZH logo. It has been incorporated into the arch behind the Stedelijke Musea in Gouda). The earliest geographic terms noted between 1898 and 1905 were "Zuid-Holland, Gouda" and "Z-Holland." The most common mark after 1905 until about 1917 was "Made in Zuid-Holland." (In time, the house would get much smaller, the year letters would disappear, and more production-related information and pattern names would be added.) Rarely did any of the high-glazed pieces have a pattern name marked on them.
Collectors are usually willing to pay premium prices for high glaze, especially the early pieces. (To see some of PZH's earliest and most spectacular vases, visit the Moriaan Museum in Gouda.) Other collectors admire the mottled-green matte pottery with creative abstract and floral patterns produced by PZH from about 1909 to 1922. Their subtle colors and well-executed designs often appeal to those who find the Arts-and-Crafts style to their taste. Daniel Harkink developed the early glazes, forms, and patterns for this newly named Rhodian pottery (also known as Gouda Pottery). PZH's mold-makers later added particularly interesting shapes to Gouda Pottery, including vases, covered urns, bowls, jardinieres, pitchers, pots, and candlesticks.
During the first few years of Gouda Pottery's developmental phase, only the series name, such as "Rhodian," "Damascus," and "Massa" (and sometimes the place name, "Holland") were marked on the bottom; however, by the mid-teens, individual pattern names as well as company identification began to be noted. By about 1910, a painted mold number repeated the earlier incised one. There were no date marks on the pottery between 1905 and 1918.
Another matte series developed by Hartgring for PZH around 1910 had a creamy white background with simple florals. Opening in 1907, the Arnhemsche Fayencefabriek (earthen-ware factory) in Arnhem produced white-back-ground art pottery with a decidedly Arts-and-Crafts flavor until about 1918. Many of these pieces are especially attractive. Arnhem's early logo was a cock with the word "Arnhem" around or under it; later, the cock was left off the marks.
Most collectors love the typical, brightly colored, semimatte-glazed pieces of the 1920s and early 1930s. It was probably one of these vases or jugs that first attracted them to Gouda pottery. From the usual vases and bowls to the more unusual smoking accessories and music boxes, collectors never tire of Gouda's endless variety, whimsy, and exciting, often surprising, color combinations.
Some collectors choose one type of object to pursue, such as inkwells or candlesticks, while others have favorite patterns. (The author knows one person who can't get enough "Purdah" and another who loves "Damascus.") Many find the variety of exciting patterns within the "Decor Breetvelt" series (named after one of PZH's most creative artists) of special interest. One can never become bored with Gouda pottery because one could spend a lifetime looking and never find all the patterns and forms that were produced during those halcyon years.
By this time, PZH had numerous marks on its backstamp. Not only was there the previous information, such as company identification (the word "Plazuid" [the contraction of the company's name] began to be noted in 1928 and "koninklijke" or the English translation "royal" was used after 1930), geographical information (the most common terms were "Made in Holland," "Gouda," and/or "Gouda, Holland"), date marks (symbols were used from 1918 to 1932 [see sidebar]), pattern names (sometimes just their in-house numbers), mold numbers, and decorator initials, but new information, such as glaze types, disguised markings, and in-house codes also took up space.
Gouda Pottery Value Levels
I. Famous Designers
II. Early High Glaze 1898-1905
III. Large Objects
IV. Later High Glaze 1906-c. 1930
V. Core Objects c. 1910-1932
VI. Depression Years 1933-1939
VII. After World War II 1946-c. 1980
VIII. Copies, Reproductions, and Modern-Day Versions c.1920s-present
Current View
For years, Gouda pottery lived in the shadow of English, French, and German ceramics and was handicapped with the snobbish view that Dutch pottery was only earthenware, manufactured, and "middle class." Only in the last few years has Gouda pottery begun to take its rightful place in the pantheon of attractive artistic earthenware. As with many fashionable trends, Gouda pottery was out of favor until "re-discovered" by traveling exhibitions of Dutch ceramics and by interested collectors. Although Gouda ranges from the ordinary to the spectacular, many people are only now beginning to see Gouda pottery for the exciting and varied decorative art form that it is.
A number of museums in the old pottery-producing towns have begun to focus on the decorative and industrial arts in relation to each town's history, and some of the pieces being bought and exhibited are truly magnificent. Former employers and employees are also generous in adding to the collections. Museums in Gouda, Utrecht, The Hague, Rotterdam, Nieuw Buinen, and Leeuwarden have especially fine collections.
By the early 1920s, many newly established and converted factories were copying PZH's enormously successful dark-bordered, semi-matte Gouda Pottery. Huge amounts of pottery with thousands of pattern names and hundreds of forms poured from factories in Gouda as well as those in Arnhem, Schoonhoven, and other Dutch towns. Soon every flower was named, every city was mentioned, and every girl's name was identified until the designers ran out of pattern names and began using nonsense words and plain letters.
During the 1920s, almost half of the citizenry in Gouda was involved in some way with the art pottery industry. Not until late in the decade did the market begin to soften; a broad-based strike in the major factories, the beginnings of the Great Depression, and changes in customer taste caused the Gouda pottery industry to seriously contract in preparation for the crisis years of the thirties. To save money companies had to fire most of the decorators, and the pottery produced after 1932 lost much of its complexity and excitement. Factories had to concentrate on producing practical dining accessories, commercial orders, and either simply painted or drip-glazed pottery. Those companies that survived included PZH, Regina, Zenith, and Plateelfabriek Schoonhoven. Late in the thirties, the rather ordinary "Rullo" series was introduced and had some success, but World War II finally spelled the end of Gouda's great art pottery era.
Time Line of Dutch Pottery Factories
A. Early Influences Years of Operation
| | |
| --- | --- |
| De Porceleyne Fles | Pre-1880-Present |
| Rozenburg | 1883-1914 |
| Holland | 1893-1920 |
| Brantjes//Haga | 1895-1907 |
| Purmerend | 1903-1906 |
| De Distel | 1895-1923 |
B. Gouda Pottery Factories
1. In Gouda
| | |
| --- | --- |
| Ivora | Pre-1880-1965 |
| Zenith | Pre-1880-1982 |
| Goedewaagen | Pre-1880-Present |
| Regina | 1898-1980 |
| Zuid-Holland | 1898-1964 |
| Eduard Antheunis | 1910-1933 |
| Flora | 1946-1980 |
2. In Other Towns
| | |
| --- | --- |
| Rembrandt | 1906-1926 |
| Arnhem | 1907-1936, 1942-1946 |
| ESKAF | 1919-1934 |
| De Rozeboom | 1919-1920 |
| Schoonhoven | 1920-Present |
| Ram | 1920-1935, 1936-1945 |
| Gelria | 1927-1932 |
Gouda Pottery Principles
Patterns with birds, insects, human figures, or landscapes are rarer than abstract or floral ones;
High glaze is more valuable than matte, and early high glaze (which was more likely to be painted freehand) even more so.(Although not Gouda pottery per se, high-glazed pieces from the influential precursor factories of Rozenburg, Distel, Purmerend, Holland, and Brantjes are often both beautiful and desirable.);
High-glazed pieces with white or blue backgrounds are usually more prized than those with dark ones;
Size counts. Large pieces are more important than small ones, even though miniatures have their own devotees;
Factory-marked wares are usually more valuable than unmarked ones; however, prototypes, experimental pieces, and studio articles may be of special interest;
The older, the better.
Brief Summary of Gouda Pottery Periods
I. Before 1898: Clay potteries in Gouda produced mainly pipes, building tiles and basic ware for farm and home.

II. 1898-c.1913: Plattelbakkerij Zuid-Holland opened and was the only major company in Gouda manufacturing decorative pottery.

III. c. 1914-1926: New companies and reorganized pipe factories entered the ornamental pottery field in Gouda and nearby Dutch towns.

IV. c. 1927-1935: Shifts in public taste and a variety of economic difficulties forced design and production changes, if not outright factory closings.

V. 1936-1939: The Gouda ceramics industry enjoyed a short-lived revival of prosperity.

VI. 1940-1944: Germany occupied the Netherlands and very little ornamental pottery was made.

VII. 1945-1963: Revitalized and newly formed factories tried to stave off international competition and economic problems by concentrating on the production of tableware, souvenirs, and commercial goods.

VIII. 1964 to the present: Most factories either closed, merged, or moved away.
Getting the whole story…
To order a softcover edition of The World of Gouda Pottery ($39.95 plus $4.00 for s/h/i), go to www.goudapottery.com You may also send a check or credit card information (VISA or MasterCard) to In Dutch at P.O. Box 95, Weston, MA 02493 or fax an order to 781-788-9643. Please include your telephone number and/or e-mail address.