What are Figural Tobacco Jars?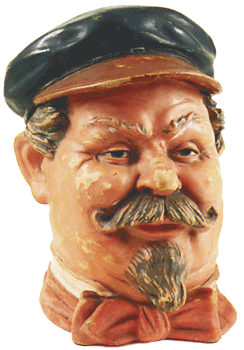 What are Figural Tobbaco Jars? – The Journal of Antiques and Collectibles – September 2000
by Joseph Horowitz, M.D.
Many of us can recall the calm deliberative pipe smoker encased in his aromatic cloud. A major component of his life style was a proper storage container for his precious weed. This tobacco jar or humidor usually had a place of honor near his easy chair and during the Victorian era it was frequently in the form of a human or animal head or figure. Some of these figural tobacco jars have survived and are prized by a growing number of collectors. What makes these containers so appealing today?
About four years ago I dropped into a shop in an English town well known for its antiques and asked if they had any figural humidors. Following a head to toe inspection the response was a starchy, "We don't deal in bric-a-brac". One year or so later I made a similar inquiry in New Orleans and was told in a frosty tone, "It's not our kind of item". Shortly thereafter this same shop was advertising a 'rare black humidor' for well over three thousand dollars. I knew of two locations where the identical jar could have been purchased at that time for about five hundred dollars.
Most figural jars are ceramic, primarily terra-cotta plus a fair number of porcelains. Less common are figural's carved from wood, molded from papier mache or cast in bronze. Modeled as heads or full figures of man and beast, they are lifelike and colorful. There are men, women and children, occupational, historic, humorous, ethnic and mythological figures. In size they range from a mere four inches to commanding figures more than a foot in height.
Peak production occurred during the middle and late Victorian era when pipe smoking had replaced snuff as the primary form of tobacco utilization. The Industrial Revolution was at its height and mass production in ceramics was enhanced with coal fired kilns. Breakable ceramics traveled with relative impunity and at lower cost on railroads than on wagons. Production of the more modest pieces must have been enormous because we still see large numbers today.
Bohemia, with its ethnic German potters, was the primary source of figural tobacco jars. The principal producers were Johann Maresch of Aussig, Bernhard Bloch of Eichwald, Wilhelm Schiller & Son of Bodenbach and Josef Strnact of Turn-Teplitz. Their work was marked and the bulk of their wares were usually finished without a glaze. The occasional majolica glazed tobacco jar was rarely factory marked. There was one major German source, Conta and Bohme of Possneck whose specialty was heavy porcelain figures. They are usually not marked but if marked the mark is impressed in hard to find interior surfaces. Their weight, color range and unglazed mating surfaces make them easy to recognize. In the early 1900s they produced a large number of unmarked small bisque heads, including many black and other ethnic groups. Recent unearthing of a Conta and Bohme catalog confirms their previously disputed origin.
Schafer and Vater produced a series of small bisque tobacco jars in their standard pink or green tones and Schierholz and Son created in parallel the beautifully modeled so-called "Musterschutz' character steins and figural tobacco jars, all in porcelain.
Aside from a modest number of Staffordshire style pieces there are few English figural jars. If English ceramics are your thing check out the extensive variety of Doulton non-figurals. There are a few French and even fewer Dutch or Portugese figurals. American figural humidors are pretty much limited to a series of five good size painted heads from Dickens-Weller. They currently cost about $700 to $800 except for the very rare skull which will bring upwards of $ 1000. They may be of more interest to Dickens-Weller collectors than tobacco jar buffs. Collectors have established a standard vocabulary which makes them easy to categorize.
Heads are the most common form. They outnumber all other forms of figural jars, they are lifelike and they emphasize personality. Middle age and older male heads with strong features predominate. Feminine heads are usually idealized children and young women. There is an abundance of ethnic heads which tie in with the Victorian " Age of Discovery" and the universality of tobacco usage by this time. Heads vary in size from 4″ to 12″. Many of the smaller and more common majolica heads should be available for $65. to $ 100. As they get larger and more elaborate, prices escalate. However several of the best large majolica heads are not that scarce as the aforementioned New Orleans jar suggests. The ethnic heads include blacks, native Americans, Arabs and Oriental styles.
The extensive variety permits many collectors to specialize in miniatures, monochromes, matte polychromes or high glaze finishes, bisques or porcelains. Marks, especially on majolica heads are rare suggesting that many probably originated in any of the eight thousand small Bohemian potteries which preceded the larger ceramic factories of the last third of the nineteenth century. Some heads were created as multifaces wherein the same or similar figures are repeated from two to six times around a single jar and are examples of technical virtuosity.
Full figures are usually from 6″ to 12″ in height. The gamut runs from simple country women and highly decorated ladies to XIXth Century recognizable historic figures. These pieces generate the most interest and competition for rare pieces is keen. Full figure jars lack the vitality and personality of the heads. The latter part of the nineteenth was the late Victorian era characterized by a growing middle class which paid lip service to sentimentality, domesticity and sobriety. As a result, the figures, no matter how well done, lack animation and often appear static and posed. Fortunately some Continental pieces offer a balance with sly humor and parody. This is particularly evident in the significant number of animals in human dress and carrying on human activity.
Animals, especially when finished as majolicas are cross-collectibles, sought after by tobacco jar people, animal figural collectors and those interested in majolica. Fortunately a fair number are abundant and have helped to stabilize prices in this area. Composites are figurals consisting of separate and unrelated components such as a head or bust atop a barrel or sack. Johann Maresch was the predominant producer of this style. Most are well done and were produced in large numbers since switching bases and tops back and forth permitted a maker to have an extensive line without the need to create new molds. They have not caught on with collectors and I feel represent a good buy at this time.
Miscellaneous are exactly that. Imagine a tobacco jar shaped like a hat box, champagne cork or football and you will have some idea of this extensive assortment. Most carved wood tobacco figurals are in the form of animal heads with lids which may be separate or hinged. They are handsome and well delineated and dealers usually refer to them as Black Forest or Swiss carved. I suspect that many have started life on duplicating machines with a few hand added details to provide authenticity. Prices begin at the $700 level. Rarely we come across a true one-of-a kind superb hand carved piece which will rank with any other fine sculpture and will be priced accordingly.
Easily molded papier mache is usually seen in the form of good size heads with features suggesting an oriental source. Even though they are uncommon I feel they are overpriced at $700 to $1,000.
Bronze figurals are commanding and handsome additions to any collection. Prices begin at $1500 and soar rapidly. Be sure you are getting what you pay for since some pieces have a bronze finish over a less costly metal. I have seen about a dozen true bronzes and despite a thorough search I was unable to find any identifying mark. There are a few large cold bronzes such as the Vienna bronze birds which draw a price of $2500.
The past few years have seen an increase in fakes and reproductions. An especially flagrant fake is a very well made bulldog wearing a bowler. It has most of the look and feel of an old piece. Somehow not all of the "Made in China" labels were removed or erased from the three thousand which have flooded flea markets where it's usually priced at $35 (which it's well worth) to antique shows where it's listed at $350 by some well meaning but uninformed dealers who were obviously taken in. There are a number of black jar reproductions which are showing up, obviously hoping to cash in on the demand for black collectibles. Most lack detail and should not be difficult to spot. It's worth noting that an original black jar will bring 30-50 percent more than a comparable non-black jar.
Some figural jars are quite large and have been advertised as cookie jars. Some of our best finds have been on recognizing the difference since any figural of this size should be worth much more than an 'old cookie jar'.
A given jar may vary in one or more ways: size, color, finish and even composition since some jars may be found in both terra-cotta and porcelain, Any of these may effect its price or value. We have also seen identical jars bearing different factory marks. They obviously came from the same molds but was this piracy or a licensing agreement?
Some jars, particularly the porcelains of Conta and Bohme were created with varying levels of decoration from modest painting to rich appliqué and gilding. Such variety would presumably cover a broader market. This abundance permits collectors to specialize, but must be taken into consideration when comparing price and value.
Roughly half of all figural jars have a sponge hole. Obviously the other half don't. The sponge hole is an opening on the lower surface of the lid which would take a moistened sponge to minimize tobacco dryout. The sponge hole adds nothing to the value and its absence does not diminish its worth.
Figural humidors are rarely air tight. Lids don't fit closely and tend to slide around. There are some excellent waxes for holding top to base. A couple of small dabs around the rim will do the trick A word of warning about your matte finished or non-glazed figurals. Do not attach top to base with sticky tape. Paint may come off with tape removal and even if it doesn't the tape will leave a mark. Wipe your jars gently. Washing is risky unless they are glazed.
Beware of the term mint. For the most part these jars are more than one hundred years old and show evidence of use such as base wear and rim chips. Small chips are common, especially on terra-cotta which is relatively soft. Most chips are not evident when the jar is closed and should have minimal effect on value.
For the past few years groups of figural tobacco jars have been showing up consistently at several well advertised auctions, each held several times annually. Michael Strawser's majolica auctions feature a good number of majolica tobacco jars with emphasis on animals and heads. Many of them are in good supply and their prices are stabilizing. The stein auctions of Gary Kirsner feature a number of the less commonly seen full figures and prices are high with many pieces going to phone bidders. However this a a good site if you are in the market for the more desirable and unusual rare pieces. Andre Amenlounx has told me that he will be featuring tobacco jars in his stein auctions. In the past four months I learned of two auctions, one on Long Island, the other in Maryland, each of which featured more than seventy-five jars. For whatever reason, there was little phone bidding and only a few collectors on the floor. General antique dealers were able to buy stock for resale at prices which were ridiculously low. Moral—check out as many live auctions as possible.
The Society of Tobacco Jar Collectors was founded in 1992 and has more than 100 members in this country, Canada, England, France and Australia. The Society publishes a quarterly newsletter with articles, photographs of unusual finds and reports of sales and auctions. For information contact The Society of Tobacco Jar Collectors at 1705 Chanticleer Drive, Cherry Hill, New Jersey 08003.
Society of Tobacco Jar Collectors
The Society of Tobacco Jar Collectors is a world-wide group of people dedicated to the collection of "figural" tobacco jars and the proliferation of information about these jars. Most of these jars were made around the turn of the century in Central and Eastern Europe.
The Society has been in existence since 1992 and has grown to nearly 100 members. We have an annual meeting in the Fall which allows us to gather and discuss the latest trends, see new acquisitions and to sell or trade jars with members from other parts of the world. Annual dues for the Society are $35 which entitles you to receive a newsletter four times a year, free advertising in the newsletter for those who want to sell and access to the latest information concerning values and auction results You also receive printed material related to the figural tobacco jars and an invitation to join us at our annual meetings.
The Society of Tobacco Jar Collectors meets annually at various locations around the country. We have, in the past, met in Washington, Boston, Baltimore, New Orleans and Carmel. This year, the meeting will be held in Atlanta, Georgia on the weekend of September 7th- 9th, 2000. The meeting will coincide with the great antique and collectible shows that are held monthly in Atlanta.
The meetings usually include a guest expert speaker or informational video, a buy and sell session, a general business meeting and a very sumptuous banquet. The best part is the interaction of tobacco jar collectors relating their conquests over the past year.
In between all the meetings, time is allotted for the members to explore the host city. Most of us will head for the antique malls in a race to see who can come up with the best item. We also have a scavenger hunt planned for those who want to join. Since that weekend will have Scott's Antique Market with 2500 dealers and Lakewood Collectible Market with 2000 dealers, expectations are high. Headquarters for the meeting will be the Embassy Suites in Buckhead, Atlanta Georgia.
For more information you can contact the Society at 1705 Chanticleer Drive, Cherry Hill, New Jersey 08003, (856) 489-8363, fax: (856) 489-8364 or e-mail: Agurst @aol.com.
Book Review: Figural Humidors – Mostly Victorian
by Joe Horowitz, M.D.
FTJ Publications, Baltimore, MD 21209
Buy it Here:
Figural Humidors – Mostly Victorian is the latest and most complete resource for information concerning figural tobacco jars. This colorful, illustrated work was released in the fall of 1998 and provides a comprehensive reference book for anyone, either collector, dealer or art historian etc., with an interest in tobacco jars.
The 950-plus colorful illustrations range from modest terra-cotta heads to elegant porcelain figures. Tobacco jar evaluation is important and the author has defined the elements which make a figural desirable and valuable. There is a detailed appendix which grades jars in terms of relative scarcity and availability and relative value.
This book can also be purchased directly from the publisher: FTJ Publications, 3011 Fallstaff Road, Baltimore, MD 21209; email: jfigtobjat@aol.com.
About the author: Joe Horowitz, M.D., has collected figural tobacco jars since his retirement 35 years ago. He has written for several antiques publications and published "Figural Tobacco Jars" in 1994 before publishing his most recent book, "Figural Humidors – Mostly Victorian".
He is a founding member of the Society of Tobacco Jar Collectors and serves as editor of its "Tobacco Jar Quarterly."