Bottled Up Designs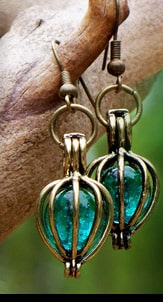 Rescue and Restore
An avid glass and bottle collector, Laura Bergman, who fashions herself a "Reclaim Artist," has spent countless hours poking through the many old glass and bottle dumps scattered throughout the natural wooded habitats and rural farmlands where she lives in the Pennsylvania Amish Country looking for inspiration for her jewelry line based on reclaimed glass.
Always a digger and collector, Laura started out using the reclaimed glass she came across in projects with her kids. "I had never made jewelry or worked with glass, so this business has been an experience in trial and error." Over time, however, Laura learned how to grind, fire, and reshape glass so she could work with practically any piece she found to create her unique earrings, necklaces, and rings.
Laura's eco-friendly jewelry is truly 'A Little Piece of History for you to Wear.' "Every piece comes with a little history of the glass used, and how or where I reclaimed it."
Bottled Up Design pieces sell for $26-$67, and are handmade from 100% reclaimed antique glass and bottles, and carefully designed to be organic using no solder or flux, and sterling wire recycled and milled in the United States.
Laura uses a lot of Depression glass plates and mason jars in her jewelry. "I tend to migrate to the more common bottles you find because there's so much of it that has been thrown away over the years." She hopes her jewelry inspires people to think twice before throwing something away. "I've learned from experience that anything can be reused; to take a second look at things."
For more information and to order your unique piece of reclaimed history, visit Laura's web site at www.bottledupdesigns.com and Like her business on Facebook at
www.facebook.com/bottledupdesignsjewelry