Collector's Showcase: December 2015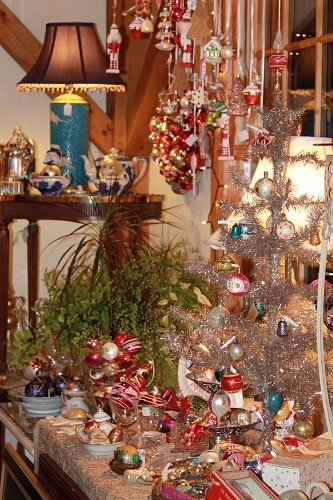 Collecting Christmas
Sarah Noss is in the holiday spirit year-round as an avid collector of Christmas ornaments and items.
As the proprietor of Heaven on Earth Antiques & Design in Sherborn, MA, it is a passion she shares with her customers, who know her store as the place to visit and shop during the season.
Sarah started collecting Christmas memorabilia for the nostalgia the items evoked. "I was a child from an old Yankee family so the spirit of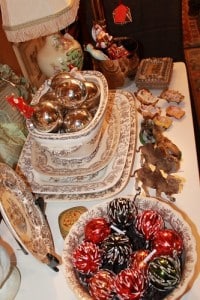 Christmas was very important to us. I guess my collection is about getting Christmas back after living abroad for much of my youth." Now she says she collects "anything that reminds me of that period from my childhood and beyond" for herself and the store.
Sarah's collection contains a little bit of everything, "from the purely nostalgic to ornaments from all over the world, & especially ones that reflect different cultures." These include linens and fabrics, American, German and Polish ornaments, antique figural ornaments, angels, nativity sets, knee huggers, Shiny Brites, plastics, pinecone men, vintage cards and postcards, gift wrap and boxes, woodens, and more. "Some people collect based on colors, or periods, primitives, themes… I collect Christmas."
How big is Sarah's collection? "Let's just say there's a storage unit involved." And that's in addition to her shop, which each November 1 is transformed into "'Ornamentia', as the people around town refer to it. Everything has trees and bulbs."
More recently Sarah's interests and collection have expanded beyond early traditional German, American & Polish ornaments to include Chinese, Indian, Scandinavian, and any indigenous decoration that has been transformed into an ornament. "For example, Chinese enameled metal fish and other animals make lovely ornaments. The Indians have long used velvet with gold and beaded or sequined embellishments, and they too are fashioning lovely colorful elephants (and Christmas trees, etc.) as ornaments!"
Sarah's interest in "ornamentia" extends to its history, and how the items have evolved over time. "Ornaments in America have evolved in part due to our relations with other countries at different points in time. If we were at war with Germany it stands to reason that we weren't buying from them at that juncture. Then again if we had done harm to a country and its peoples, part of the reparations would be to help them build new industries, and the appetite for Christmas items has always been strong."
Today, many varieties available, but nothing compares to "the experience of holding your own history in your hand and placing it lovingly on a tree with great care. Many early family ornaments did not survive the transcontinental nature of my youth, but I have been able to reprise the experience by replacing them over the years and I am equally fond of them along with ones I have received as gifts!"
It is the personal history the collector brings to the items selected for their collection that brings joy and has the greatest value. "One of the real connectors with people and their ornaments is they want things that remind them of their past. Something figural that evokes nostalgia and their love for the holiday or some milestone from that year."
What advice does Sarah give to aspiring collectors? "Reach into your own personal background and interests and collect what you love."
You can find Sarah and her collection of everything Christmas at Heaven on Earth Antiques & Design at 20 North Main Street, Sherborn, MA or online at www.Heavenonearthdesigns.com
Collector's Showcase: December 2015