What's Selling on eBay: December 2015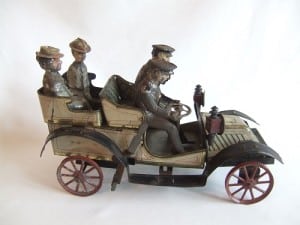 by Deborah Abernethy and Mike McLeod
$3,750 (19 bids, 9 bidders): Antique German Carette Wind-up Tin Toy Car – All 4 Orig. Passengers & Headlights.
This is an early 1900s German tin car by Georges Carette. This car is an excellent example of Carette's work and is featured on the cover of the book, "The Great Toys of Georges Carette". It is in fairly good condition for its age and has all four original passengers and original headlamps. The lithography on the body is in fairly good shape, but the passengers have more wear. The driver is missing the tabs on his bottom that would hold him in the seat. He is also coming apart and has a bit of solder on his bottom. There are various dings and rusty spots. There are two wires on one side of the car. It doesn't look like they are holding anything together, but I didn't want to remove them. The tires are missing, as well as the canopy; otherwise, everything seems to be there. There is no key with this piece, so I couldn't tell if the spring is working for the wind-up mechanism. There are no photos of the underside, but it is in good condition, with just a few minor rusty spots. Approximately 12 inches long x  5 inches wide x 7.5 inches high.
(Photo: eBay seller funkyarchaeology.)
DBA: Given the condition of this car, I would say that the seller got a good deal.  This price is pretty much the "going rate" for this object in a good condition. This one exhibits missing parts and some rust. George Carette was a Frenchman who married a German woman from Nuremberg. He founded the company bearing his name in 1886 and became a major player in the luxury tin toy industry. His company made other objects such as phonographs, optical objects, and music discs. He never gave up his French citizenship and was deported from Germany during WWI, and the company ceased to exist in 1917. George Carette died in 1925.
$7,200 (71 bids, 21 bidders): Coleman Lantern ARC 250 Hanging 316 Rare Gas Outside Lamp System.
1914 Coleman No#250 in great used condition, some scratch marks and a few small dents. I have not seen one like this. They made lamps that ran off a central gas tank. They were used with the hollow wire system. This has all of its original parts, down to the globe. The globe has some chips on the edge of the openings, and there is a crack at the top of the rim. This almost looks just like the ARC Lamp No#316 but without the tank. But this has parts that the arc does not, like the gas lines running up inside the lamp through the top and coming together at the top. This is where the main line attaches. There are some photos from the Coleman book showing the lamp.
(Photo: eBay seller bubblesbarbie.)

DBA: The Coleman lantern was developed to extend the working hours of farmers. This is the same configuration as the first of Coleman lanterns produced, except that the fuel container below the globe is missing. I have never seen the tankless version of this lantern, although one of its first demonstrated uses was at a night football game. This early Coleman lantern was 20 inches high and weighed fourteen pounds with an empty fuel tank. Improvements made the lantern lighter and thus, easier to use. These improvements occurred early in the manufacture of the Coleman lantern, so this arc version is very rare. Even rarer is the tankless version, which is probably why it has been sold for $7,200. I could find a 316 (with tank) for sale for $2,000.
$3,600 (34 bids, 13 bidders): Lockheed Super Electra Travel Agency Manufacturer Model Airplane.
This is an antique/vintage wood and metal model Lockheed Model 14 Super Electra Airliner Travel Agent or Manufacturer Desk Model. I purchased several very old model aircraft from the estate of a man that worked for Lockheed and then Douglas aircraft manufacturers in the 1930s through the ë60s, which is where this came from. This model is large with a 33-inch wingspan and is in pretty good condition. It has a Northwest Airways logo on both sides, and the number NC17382 is the number of the first Model 14 that Northwest put into service in 1938. The model looks to be very accurate, but has a couple odd details. One being the tricycle landing gear, but possibly they experimented with that design. The other being the tail empennages are a little off in shape in comparison to the ones seen on a model 14, possibly replaced? That being said, the remainder of the aircraft is very accurate to scale. There is a stamping "Model 14" on the base bottom. The cockpit has very detailed pilots and equipment visible inside. There is a mechanism inside the model that makes both propellers spin when you spin just one. The model is dirty, and the paint has crackle lines in the paint, but overall, it is a very rare and very attractive old model airplane that would look great in any travel agency model collection.
(Photo: eBay seller Gypsiegirlz.)

DBA:  I did find some similar age and size model aircraft that sold at auction.   The three highest sales were $3,000, $2,200 and $19,000. It is hard to find comparable sales for rare objects such as this. I suspect that this particular airplane had some experimental features that did not make it into the production line of the Super Electra. The average buyer would not have knowledge of those features and that may be a factor in why this one sold for much more than other models.
$3,483 (86 bids; 15 bidders): Authentic 18thC French Tapestry, L'Adolescence Romantic Couple.
Measuring 65 inches wide by 71 inches tall, this authentic hand-sewn French tapestry is from the 18th century. Overall, this original tapestry is in very good, clean condition, and the colors you see are the true colors. Titled at the bottom, "L'Adolescence," this tapestry depicts a young French couple flirting with each other. Sometime in the 19th century, linen was hand sewn to the back. They also added rings across the top so you can display it.
(Photo: eBay seller wwolst12.)

DBA:  A tapestry is a weft-faced weaving with no warp threads exposed. These objects require quite a bit of skill, not to mention time, to make. It is not "sewn."  Actually, this is a part of the image of the Aubusson tapestry "L'Adolescence" by Nicholas Lancret, circa 1750 which was sold by Sotheby's in 2010 for $31,250. This makes me think that it is a Jacquard weaving from that time period. With no photographs of the back of this object and with the linen sewn covering the back, this cannot be determined at this point. If this is an 18th century hand-woven tapestry, the buyer got a good deal. If it is a Jacquard tapestry from the 18th century, then this would be the "going rate".
$9,500 (59 bids, 9 bidders): Batman #1 DC Comics Old Classic Comic Book Rare Highly Collectible!
See pictures to assess the grade of the book for yourself. Sold as is. The entire book appears to be intact with all coupons and ads unclipped! The bottom staple is loose on the comic, but it is still in there and hasn't affected the pages.
(Photo courtesy of eBay seller sipple_2004.)

DBA: This comic book #1 was published in the spring of 1940. An average copy is estimated to be worth $22,000 (by Overstreet, 2015). Comic books are graded on their condition using a scale of 1 to 10, with 9.8 being Mint/Near Mint. The highest price for this comic book with a 9.2 grade is $567,625 in 2013. Prior to that sale, one sold for $275,000 with a grade of 8.5. This one had a Billy Wright pedigree.
The story is that Billy Wright started collecting at nine years old and had 345 comics published between 1936 and 1941, including an Action Comics #1 that introduced Superman. After his passing, a nephew found the collection in an upstairs closet while cleaning the estate. This collection sold for $3.5 million at Heritage Auctions in 2012. I would say the buyer got a fantastic deal at $9,500.
Deborah Abernethy is a certified appraiser with the International Association of Appraisers.  She can be contacted at 404-262-2131 or Deborah@expert-appraisers.com. Her website is www.expert-appraisers.com.
What's Selling on eBay: December 2015