Larger & More Difficult Casino Items to Collect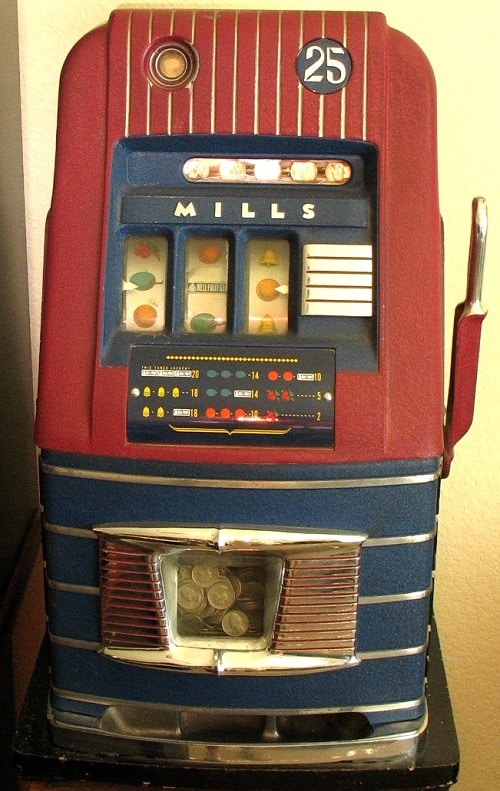 Larger & More Difficult Casino Items to Collect
by Sheldon Smith

If you remember the last time I wrote about casino collectibles, I said that I would address the larger and more difficult items to collect. I did not say you couldn't find them — just that they were large and difficult to collect. Actually, I should have added that, in many cases, they are much more expensive than items we had previously discussed!
So let's get started by seeing what all I am talking about! Large items such as slot machines, table layouts, parts of table layouts, i.e., the wheels and slot glass are just a part of the larger and more expensive items I am addressing today.
Slot machines were originally developed by Charles Fey in the 1890's when he first presented the "Liberty Bell." slot machine. This machine was so enjoyed and loved that its popularity allowed Mr. Fey to open a Slot Machine Factory in 1896. Slot machines take on many different forms.  There have been some with rotating roulette wheels, two to a machine; and some have been miniature slot machines called trade stimulators.  Even the latest video poker machines across the universe of casinos are all derivative of the classic slot machine. Their popularity as a collectible is well established. (see pictures)
Table layouts are another very interesting item.  They are sometimes difficult to collect and are sometimes expensive – but, sometimes not.  One of he layouts I am displaying here (shown with the permission of the new owner) was originally presented by the MGM Casino to the boxer, Evander Holyfield. Unfortunately, when he fell on hard times, he had to auction off the layout. Many layouts are thrown away regularly as the casinos make new ones to promote events and change their table games! (see  pictures)
Slot machine glass will round out the story for today.  Once upon a time, the slot machines had incredibly beautiful front top glass covers on them. In recent years, slot machine manufacturers have switched to plastic or Plexiglas.  For the most part, they no longer carry the name of the casino on them. That is a large drawback when collecting slot glass. I have several examples, one that was bought by a friend of mine but unfortunately didn't make it through the mail. Still a gorgeous piece and representative of a bygone era! (see pictures)
That's it for now. Next time around, we are going to focus on the most expensive gaming memorabilia bought in recent times! Do you know how much a chip or a slot machine can sell for?  You won't believe it!
Sheldon and Christine Smith are now the co-chairs of the 2015 convention of the Casino Chip & Gaming Token Collectors Club, Inc. (www.ccgtcc.com) taking place in June 2015 at the South Point Hotel-Spa-Casino in Las Vegas.  They have over 1450 $1 Nevada casino chips in their collection! Sheldon is the current President of the Southern Nevada Casino Collectible Club (SNCCC). (www.snccc/weebly.com)