Space memorabilia brings $610,000 in Dallas auction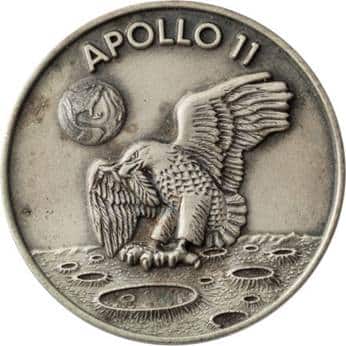 May 22, 2015 event at Heritage Auctions sees strong interest; Apollo Mission Robbins Medals, Apollo 13 material, all bring heightened interest; $50,000 realized for Apollo 11 Robbins Medal; Maurer prototype camera brings $10,625
DALLAS – An Apollo 11 Robbins Medal, originally from the collection of Mission Support Crew Member Jack Swigert, realized the hefty final price realized of $50,000 in Heritage Auctions' $610,000 May 22, 2015 Space Exploration Signature® Auction, signaling strong collector interest in Robbins Medals across the board.
Two Robbins Medals – one from Apollo 16 and one from Apollo 15, both also originally from Swigert's collection – brought equal, impressive prices realized of $15,000 each, while Robbins Medals from Apollo 13 and Apollo 8, again from Swigert originally, both brought final prices realized of $13,750.
Top among the Apollo 13 offerings, which just celebrated its 40th anniversary as NASA's most successful failure, and which was specially featured in a large grouping in the auction, was a trio of Apollo 13 material in the form of a flown Coiled LM Utility Light Cord, Netting, and Beta Mission Insignia, which realized $12,500. Mounted on a plaque as presented by astronaut Fred Haise to Lunar Module maker Grumman's George M. Skurla, the material is united by an engraved plate on which Haise basically thanks Skurla for saving the life of the crew with his incredible spacecraft:
Another key highlight of the auction came in the form of a prototype of the J. A. Maurer 16mm Data Acquisition Camera, an early version of the legendary "DAC" as carried on Gemini and both the Lunar Module and Command Module of all the Apollo lunar missions. It finished the auction with a final price realized of $10,652.
Space memorabilia brings $610,000 in Dallas auction