Heritage Auctions to auction Apollo 13 artifacts, May 22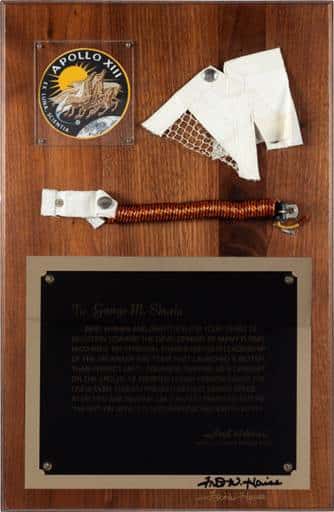 Apollo 13 Lunar Module flown parts, Apollo 13 flown American flag among the offerings highlight
DALLAS – In celebration and honor of the milestone Apollo 13 mission 45 years ago, Heritage Auctions will feature a variety of rare Apollo 13 artifacts as the centerpiece of its May 22, 2015 Space Exploration Signature® Auction, a sale consisting of the finest flown, signed or astronaut-owned articles of Space history, as well as related books, manuals, photos and hardware relating to the entire Space program.
Could it really be 45 years ago? It was April 17, 1970, when the world was finally able to breathe a collective sigh of relief: Apollo 13, the seventh manned Apollo mission – and the intended third moon landing – had launched on April 11. Two days later, on April 13, the lunar landing was aborted after an oxygen tank exploded, crippling the Service Module. For the crew, Commander James Lovell, Command Module Pilot Jack Swigert and Lunar Module Pilot Fred Haise, the mission had become, simply, about survival.
Top among the offerings is a grouping of Apollo 13 material in the form of a flown Coiled LM Utility Light Cord, Netting, and Beta Mission Insignia (estimate: $20,000+), mounted on a plaque as presented by Haise to Lunar Module maker Grumman's George M. Skurla, with an engraved plate in which Haise basically thanks Skurla for saving the life of the crew with his incredible spacecraft.
"My personal thanks for your leadership of the Grumman KSC Team that launched a better than perfect LM-7. Aquarius," writes Haise, "serving as a lifeboat on the Apollo 13 aborted lunar mission, saved the crew even though pressed beyond design specs."
Other highlights from the mission include: an Apollo 13 Flown Silver Robbins Medallion, Serial Number 156, originally from the Personal Collection of Mission Command Module Pilot Jack Swigert (estimate: $7,000+) – just one of a number of Swigert-owned lots in the auction, sale including an Apollo 11 Robbins Medal – and an Apollo 13 Flown American Flag on Crew-Signed Certificate (estimate: $5,000+), originally from the Personal Collection of Mission Commander James Lovell, also signed by Fred Haise.
Also being offered is the Apollo 13 and 14 flown Lunar Bible number 14-9, one of only 12 rare and highly sought-after complete 1,245 page Microform Bibles created for these Apollo missions and flight-certified by Apollo 14 moonwalker Edgar Mitchell. Appropriately, it contains the account of God's creation of the Moon in Genesis 1:16, and was printed in miniature out of necessity, given the size and weight constraints for flight to the lunar surface. Beautifully presented in a 22K gold reliquary, it is expected to bring $75,000+.
Heritage Auctions is the largest auction house founded in the United States and the world's third largest, with annual sales of more than $900 million, and 900,000+ online bidder members. For more information about Heritage Auctions, and to join and receive access to a complete record of prices realized, with full-color, enlargeable
photos of each lot, please visit www.HA.com.
Heritage Auctions to auction Apollo 13 artifacts, May 22