Norman Rockwell Museum Presents "Roz Chast: Cartoon Memoirs"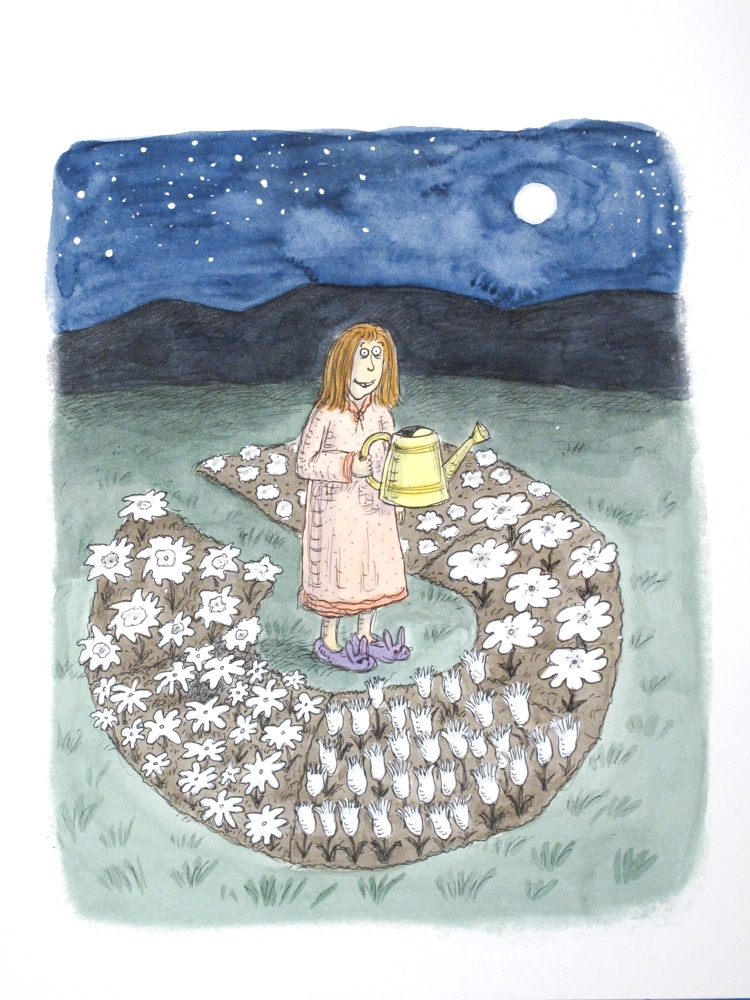 Exhibition Highlights Career of Celebrated "New Yorker Artist" and Award-Winning Graphic Memoirist
Stockbridge, MA, May 19, 2015—Over the past 37 years, readers of "The New Yorker" have been enjoying cartoonist Roz Chast's signature style and wit. In her humorously poignant 2014 graphic memoir, "Can't We Talk About Something More Pleasant?" Chast delved into her personal life, chronicling her experiences dealing with the needs of her aging parents, and examining the nature of her relationship with them. The book, her first memoir, won "best autobiography" from the National Book Critics Circle, as well as recognition as a National Book Award finalist for non-fiction and "outstanding cartoonist of the year" from the National Cartoonists Society. Most recently, she received the prestigious Heinz Award for her "uncompromising" vision and creativity.
This summer, a new exhibit showcases the cartoonist's gift for humor; "Roz Chast: Cartoon Memoirs" will be on view at Norman Rockwell Museum from June 6 through October 26, 2015. "We are thrilled to be able to share Roz Chast's work with our visitors," notes Norman Rockwell Museum Deputy Director/Chief Curator, Stephanie Haboush Plunkett, who curated the exhibition. "'Cartoon Memoirs' will reveal the full range of Chast's talents as a cartoonist, visual storyteller, and observer of the world around her." "The art of Norman Rockwell and other illustration masters helps reflect and define who we are as a people," adds Norman Rockwell Museum Director/CEO, Laurie Norton Moffatt. "Roz Chast's artwork reminds us, with humor, of our frailties and vulnerabilities, as Rockwell often did." From her timelessly funny cartoons for "The New Yorker" and lively children's picture books, to her intricately-painted pysanka eggs and hand-made textiles,
"Roz Chast: Cartoon Memoirs" will feature artworks representing the breadth of Chast's entire artistic career. A highlight of the exhibition will be nearly 120 original drawings from her award-winning memoir, "Can't We Talk About Something More Pleasant?" which tackles the sensitive subject of caring for the elderly, with thoughtful insight and humor. During the run of the exhibition, the Museum will offer a forum to explore this difficult topic through Chast's remarkable visual material, in addition to related programming. A special summer gala and exhibition opening will be held on Saturday, June 6, from 6 to 11 p.m., with the artist in attendance. The exhibition is sponsored in part by Dena and Felda Hardymon, and Amy C. Liss.
"I don't know what it's like for other people, but I love seeing original artworks that have been reproduced in books and magazines," notes Chast. "It's a total thrill because you can see the scale that the person is working, you can see the paper that they worked on, and you can see their mistakes and patches. I remember seeing the drawings of Charles Addams, and it's just like seeing a movie star. I just love the cartooning medium. It's about storytelling and making other people laugh, which is really important to me."
About Roz Chast
Artist Roz Chast has loved to draw cartoons since she was a child growing up in Brooklyn. She attended Rhode Island School of Design, majoring in Painting, but returned to cartooning after graduating. Since 1978, Ms. Chast has worked as a regular cartoonist for "The New Yorker," which has published over 800 of her cartoons. She previously worked for "The Village Voice" and "National Lampoon," and her work can also be seen in such publications as "Scientific American," "Harvard Business Review," "Redbook", and "Mother Jones." Chast has written or illustrated more than a dozen books, including "What I Hate;" "A Friend for Marco;" "Too Busy Marco;" "Theories of Everything;" "The Party, After You Left;" " hildproof;" "Mondo Boxo;" "Proof of Life on Earth;" "The Four Elements;" "Parallel Universes;" "Unscientific Americans;" "Poems and Songs;" and "Last Resorts." In 2006, "Theories of Everything: Selected Collected and Health-Inspected Cartoons, 1978–2006" was published, collecting most of her cartoons from "The New Yorker" and other periodicals. She also illustrated "The Alphabet from A to Y, with Bonus Letter, Z," the best-selling children's book by Steve Martin. Released in 2014, Chast's award-winning bestseller, "Can't We Talk About Something More Pleasant?" is a graphic memoir, combining cartoons, text, and photographs to tell the story of an only child helping her elderly parents navigate the end of their lives.
Ms. Chast lives in Ridgefield, Connecticut, with her husband Bill, and two pet parakeets. Learn more about the artist's work at www.rozchast.com
About Norman Rockwell Museum
Norman Rockwell Museum is the preeminent museum of American illustration art. Dedicated to art education and art appreciation inspired by the enduring legacy of Norman Rockwell, the Museum stewards the world's largest and most significant collection of Rockwell art, and presents the works of contemporary and past masters of illustration. The Museum's holdings also include Rockwell's last studio, moved from its original location to the Museum grounds, and the Norman Rockwell Archives, a 200,000-object collection undergoing digital preservation through ProjectNORMAN, "A Save America's Treasures Project." The Museum is home to the Rockwell Center for American Visual Studies, the nation's first research institute devoted to the art of illustration. In 2008, Norman Rockwell Museum became the first-ever museum recipient of the National Humanities Medal, America's highest honor in the field. Norman Rockwell Museum is located on 36 park-like acres in Stockbridge, Massachusetts, Rockwell's hometown for the last 25 years of his life. The Museum is open year-round; closed Thanksgiving, Christmas, and New Year's Day. From May through October, hours are 10 a.m. to 5 p.m. daily; from November through April, hours are 10 a.m. to 4 p.m. Monday through Friday, and 10 a.m. to 5 p.m. on weekends and holidays. The Museum will be open 10 a.m. to 7 p.m. on Thursdays during the month of August. Rockwell's studio is open May through October, 10 a.m. to 5 p.m. Museum admission is $18, $17 for seniors, $10 for students, $6 for kids and teens 6 to 18, and free for Museum members and children 5 and under. Visit the Museum online at www.nrm.org.
Norman Rockwell Museum Presents "Roz Chast: Cartoon Memoirs"