Tag Archives:
badge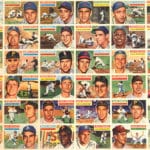 Results of Recent Auctions From Near and Far by Ken Hall An uncut sheet of 110 Topps baseball cards from 1956 sold for $32,200 at an Americana Auction held June 10th by Blackwell Auctions in Clearwater, Fla. Also, a Los
By Deborah Abernethy and Mike McLeod $1,140 (46 bids, 13 bidders): Art Deco Tharaud Limoges Pierrot Holding A Globe Lampe Berger. In excellent condition, no chips no cracks. About 9 3/4″ high. Extremely rare Art Deco Pierrot Lampe Berger. (Photo:
by Deborah Abernethy and Mike McLeod $3,301 (24 bids, 14 bidders): Large Antique Majolica Figural Bottle, Stork Umbrella Glasses & Hat After doing some searching on the net, I found that this large antique Majolica Stork Bottle is quite rare.