The Buyer's Market
WANTED: Old Law Enforcement Badges, Police, Sheriff, Marshal, Railroad Police, Fish & Game, Also want antique pistols, rifles, shotguns, one or a collection. Also want WWII medals, daggers, helmets, flags, swords, German, Japanese, U.S. Top cash paid. Call 916-300-8045 or 916-622-9710 or emandpilot@gmail.com
WANTED ICE MEMORABILIA: Porcelain signs, badges, tools, delivery bags. Anything to do with the ice industry-harvesting. Joe Pedro, 9 Whitcomb Ave., Ayer, MA 01432. 978-772-2971 or email: icetools2@comcast.net
RAILROAD ITEMS WANTED. Also wanted: casino chips, porcelain signs, insulators, sports cards, coins, and old west items. Call 916-663-2463.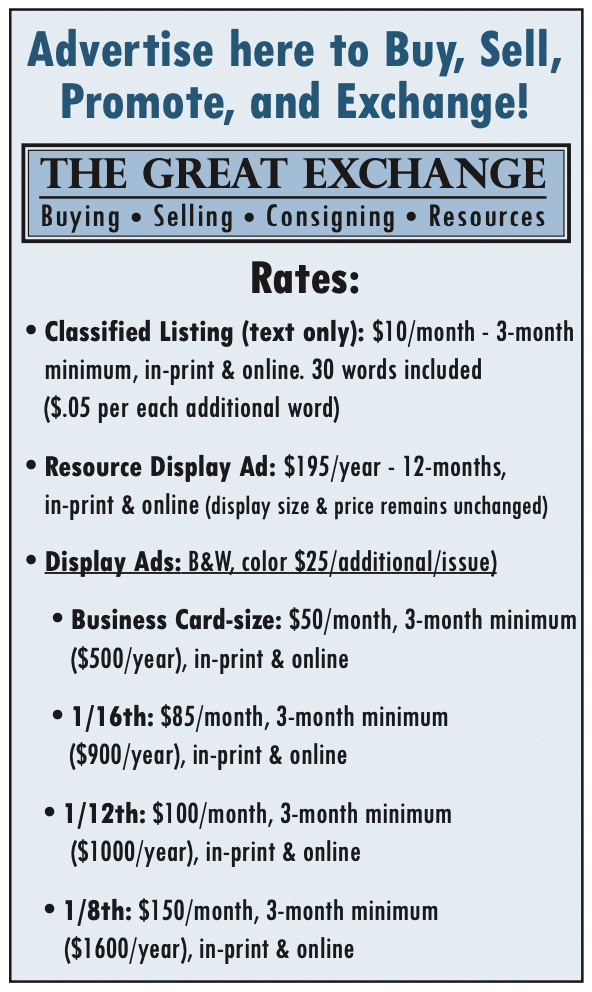 The Seller's Market
FOR SALE: Collection of potties, chamber pots, bedpans, wooden seats. Over 20 in total. Wood, porcelain, enamel, ceramic. Looking to sell the entire collection to one buyer to start or expand a collection with these specialty antique and unique items. 413-329-6784, betz01230@yahoo.com.
FOR SALE – EARLY AMERICAN HARDWARE: 77 tray lots of Victorian, Eastlake & Turn-of-the-Century. Door knobs, backplates, hinges, handles, pulls, locks, and gas valves.
Call Bob: 724-322-4157, 9am-5pm daily.

Services