Collecting the American West – A Vast Frontier
by Brian Lebel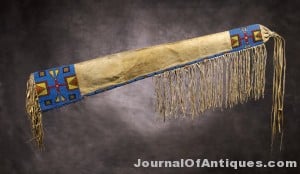 Whether your collecting interests lean toward the historic or the romantic, fine art or folk art, twenty dollars or twenty-thousand, the art and artifacts of the great American West have something for you. We think we know what we mean when we say, "the Old West," or even, "Cowboys," but the fact is, these are very broad categories, and might mean very different things to different collectors or enthusiasts. Maybe you're interested in the post-Civil War expansion, or Kit Carson and flintlock rifles, quilled pipe bags and the indigenous tribes of North America, Charlie Russell paintings of cowboy life, or props from John Wayne or the Lone Ranger. They're all collectible, and they're all American.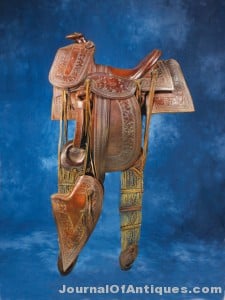 Because of the wide variety of categories and interests, collecting the West is fun and easy (if you are smart and careful; more on that later). You can start with a pair of North and Judd spurs from the flea market for $10 and be on your way. Maybe you find a pair of spurs from 1890 and then add a 1940's Sherriff badge, and well it looks like they belong. Down the road you might decide you want to focus exclusively on 19th century spurs, and you don't need the badge. Now you have what we in the industry call, "inventory." Don't be afraid to start broad while you decide what really interests you. And go to shows. Talk to people. Lots of them.
Price is another area where there is room for all comers. You might buy a fine photograph of Buffalo Bill Cody for $200, or the only known photo of Billy the Kid for $2.3 million. A Colt Single Action used by a Texas cowboy might set you back $2,000, but Wyatt Earp's is more like $350,000. The collector should find his or her own comfort zone. But you should try to buy the best examples in your price range. Again, do your research, whether that's online, at shows, in galleries or shops, at auctions or at the library. And don't believe much of what you see on reality television.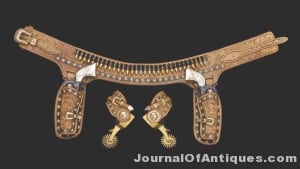 As for decorating with these pieces, you could go with the vibrant colors and bold patterns of the American Indian, or you might like the warm, rustic look of the relics of the pioneers and the frontier. Western paintings range from those of Thomas Moran (1870s) to Joe Beeler (1970s), and both deliver the color and feel of the West in very different styles and price ranges. Movie or travel posters add a colorful punch to your wall and in many cases can be more affordable than original art.
One of the areas particularly close to my heart is the era of the Wild West shows that were popular from the 1880s to the 1920s. Buffalo Bill, of course, but also Pawnee Bill, Thompkin's, 101 Ranch, and many others who endeavored to capture history while they were making it. Collectibles from this era range from photos, posters, programs, firearms, costumes and assorted other memorabilia. You can buy an authentic show souvenir for $20, or Annie Oakley's Winchester for hundreds of thousands. Incorporating a pair of moccasins or a pipe tomahawk into this collection looks natural and is perfectly appropriate.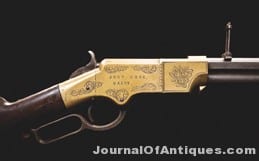 Some historians will tell you that the "real" American West was a short period of time between 1870 and 1890: the Indian Wars period. But the reality is more complex than that. From the 1630s frontier, to the Mexican War, to the Wild West, there are centuries and countries to be explored. Mexican artifacts fit nicely into any Western collection (consider the Vaqueros, for example), and in recent years have seen growth in both interest and value, as is evidenced by the auction sale of Pancho Villa's last saddle for over $700,000.  The California Gold Rush (1840s-50s) is an important part of the American West, and collectibles include early California items, mining and gold pieces.


Pick a subject: the Trail Drivers, Pony Express, Cowgirls, Brothels, the Railroad, and branch out from there.
Everybody loves a cowboy, of course, and cowboy collectibles cover a wide territory as well. You might have two pair of identical looking spurs. If you only want to decorate your mantel, you buy the $300 August Buermanns; but if you want to collect the best, you buy the ones marked, "L.D. Stone" inside the band. Spurs are a world unto themselves and can run anywhere from $50 to $100,000. Reminder: talk to people; ask questions; use reputable dealers. Perhaps you like saddles. An early half-seat from the 1885 Sears Catalog might cost $400, but the similar half-seat with the Main & Winchester San Francisco mark is closer to $60,000. This is why you must work with dealers you trust. Don't know if your dealer is reputable? Ask around. Go to shows. The Internet is great, but it is no substitute for someone looking you in the eye.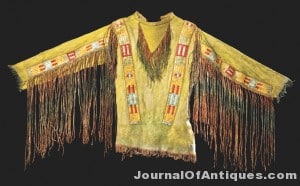 Native American artifacts are yet another huge area of consideration and interest for collectors. You might collect Navajo rugs or Yavapai baskets, or both. Many people like to collect beaded items, but quilled items can be just as colorful and visual, and also have the rarity factor. Condition really matters here, as does age. But remember, not everything that looks old actually is; and vice versa. Fraudsters have ways of aging new pieces to give them a convincing patina. On the other hand, I have seen pieces from the mid-19th century that, by virtue of luck, care or both, look pristine.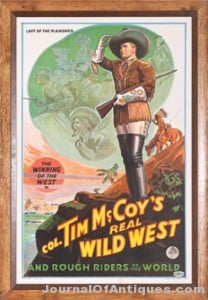 If you simply have to have a Frederic Remington oil painting, you can spend a million dollars or so. If you love the image but not the price, you can opt for a 1940s oil on canvas reprint for $75. There are choices; go with what fits your budget, and what fits your style. Edward Borein original pen and ink drawings can be had at auction for a fraction of the price of his oil paintings, but you might actually prefer his watercolors, which fall somewhere in the middle. The difference between the three is somewhere in the range of $2,000, $150,000 and $60,000, respectively.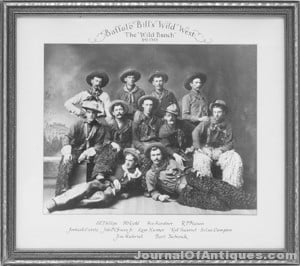 Since we sold the photograph of Billy the Kid at auction in 2011, I have been inundated with calls and emails from people who believe they have photographs of famous Old West figures. So let's talk photos for a moment. First, a general, baseline price for most old photos of cowboys or Indians is about $50. Yes, original photos of famous people can be worth much, much more. And no, just because he has a mustache, does not make him Wyatt Earp. Unless you have some actual provenance to support your claim that your photo is of Jesse James's long lost brother, you likely have just a photograph. Part of the problem, I've found, is that families have stories, and someone may have been told their whole life, "This was your Great Grandma's picture of Butch Cassidy." Well, they sold a lot of those funny bowler hats back in those days, and that is probably just your great uncle, Bruce. Don't get me wrong, western photographs are a great collecting area, but do your due diligence.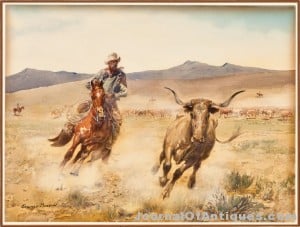 No consideration of western collectibles would be complete without the Hollywood West. If you have fond memories of those 1950s television shows, or epic old western films, you might want to collect vintage posters, which can range from $10 to $5,000 depending on condition and rarity. If you want something really special, purchase yourself one of John Wayne's cowboy hats. Or how about the Lone Ranger? His mask is in the Smithsonian, but you can purchase his Bohlin gun rig at our auction this June. If you're on a budget, you might skip William S. Hart and Tom Mix in favor of Charles Starrett. It's all out there, and can be fun to find.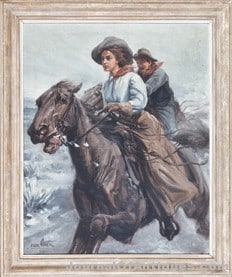 One of the reasons I find the American West so fascinating is that it is still evolving. Contemporary artists and craftsmen are preserving our heritage while simultaneously creating our artistic legacy. From prison-made horsehair bridles of the 20th century to the finely tooled leather of a 21st century TCAA artist, we are constantly defining and re-defining western art. There are artists and craftsmen across the Americas who are honoring the artistry of their ancestors, and their pieces are equally worthy a space on your shelf. In some cases, contemporary art can be a more affordable way to begin a collection, particularly if you think you are in it for the long haul. Charlie Russell traded his paintings in taverns; they're worth potential millions now.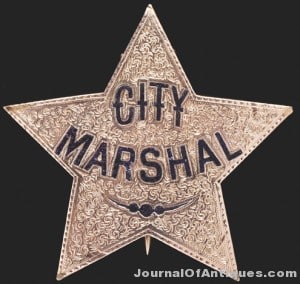 It is worth your time, money and effort to look for great examples in your price range. Attend the major western antique shows and meet dealers. Talk to them, ask questions. Find reputable dealers that specialize in your areas of interest. Preview auctions in person whenever possible. Be smart when you shop online; there are great bargains to be had, but do your research. Common sense should always prevail: if it seems too good to be true, it probably is. Collecting the west is a way to collect both art and history, whatever your tastes or budget. And one final consideration, and perhaps the best part of this wide, western collecting world, is the really amazing and interesting people I've come to know over the years. The people I meet who are fascinated with western Americana are people with passion. You can "Go West," and find yours.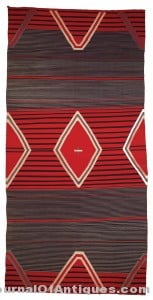 Brian Lebel BIO:
Brian Lebel founded the Old West Show & Auction 24 years ago in Cody, Wyoming when the Western collectibles market was a tiny community of collectors and enthusiasts. Now held annually in Denver, Colorado, Lebel's Old West Show & Auction is the largest Western collecting event in the nation. This year's event will be held June 21-23, 2013 at the Denver Mart, and includes a three-day dealer show, and exciting live auction on Saturday night. This year's auction highlights include items from the collection of Clayton Moore, TV's original Lone Ranger. In addition to the event, Lebel also handles private sales and appraisals, and has consulted with top collectors, museums, galleries and insurers. He can be reached at brian@denveroldwest.com. Visit denveroldwest.com for more information.