Throughout the year, Journal of Antiques & Collectibles publishes special print supplements as resource information for our readers, social media followers, and subscribers. Their content, designed to inspire active market engagement, and their targeted distribution among dealers, collectors, antiquers and enthusiasts, also make them great advertising opportunities:
Brimfield Show Guide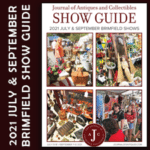 Three times a year, the Journal of Antiques & Collectibles published the Brimfield Show Guide to promote and support the May, July, and September Brimfield show weeks. The Brimfield Show Guide contains a map of show fields, a schedule of show opening dates and hours, show field ads, information about other, upcoming shows and antique shops around the region and country, and ads from local businesses looking to make dealers and show-goers feel at home while at the show. The Brimfield Show Guide can be found online and is mailed nationwide to subscribers with their magazine, distributed regionally and locally to antique shops and businesses, and during show weeks can be found on most show fields, at the Chamber of Commerce Information Booth, and in our bright red 'Take one' boxes along the Route 20 show route. For more information visit GuidetoBrimfield.com.
Annual Show Directory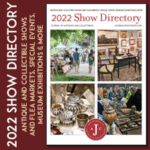 The Journal of Antiques & Collectibles Annual Show Directory is published and distributed at the start of each new year and contains ads and listings for hundreds of shows, coast-to-coast, in the year to come. The Show Directory is an invaluable, year-round resource for dealers looking to schedule their shows for the year and show-goers looking to mark their calendars early with the shows they don't want to miss. The Show Directory is posted online on the Journal website, and mailed to subscribers, antique shops, and advertised shows at the start of the new year.  Find our 2022 Show Guide Here.
Madison-Bouckville Show Guide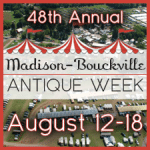 Madison-Bouckville Antique Week takes place every August in Bouckville, New York along their stretch of Route 20. This outdoor market offers antique lovers, pickers, and enthusiasts a week of fun field shopping with over 2,000 dealers and vendors spread out over 14 show fields. Although a drive, it is well worth it, and we help you make the most of your visit. Our annual Show Guide, mailed to subscribers, distributed by the Madison County Tourist Bureau, and made available on show fields, provides visitors with a map and information about all show fields, in addition to interesting articles about the Town and region, ads from local restaurants and antique shops for when they are ready to venture into town and highlights dealers that can be found on several of the larger show fields. Read a back issue here
Holiday Shopping Guide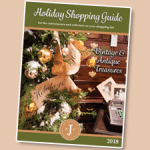 The Journal's Annual Holiday Shopping Guide is designed to inspire our readers to give the gift of nostalgia. The Guide, included in the December issue of Journal of Antiques & Collectibles and posted online, the Guide offers antique lovers gift suggestions for everyone on their list, a schedule of upcoming holiday shows and events, and ads from shops to visit around the country, decked out for the holidays and ready for the gift-giving season. Read our 2021 Holiday Guide here.
For more information on our editorial extras, email JournalofAntiques@gmail.com or Download our 2022 Media Kit.