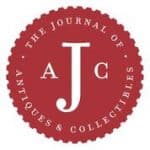 The Journal of Antiques and Collectibles is a national monthly magazine for dealers, collectors, and enthusiasts. Now in its 19th year, we provide the knowledge, news, and resources to actively engage and inspire buyers and sellers.
• We distribute nationwide to paid subscribers, antique shop owners, industry professionals, antique shows, flea markets, and auction houses. As a result, our readers are self-identified buyers, sellers, collectors and enthusiasts of antiques and collectibles.
• Our advertisers are auction houses, show promoters, and shop owners looking to reach collectors and the buying public. We make it easy for them to find a receptive audience. The fact that the majority of our advertisers have been with us for over a decade is evidence that the Journal works!
• Our editorial is a mix of industry news, information, and resource directories, selected to appeal to a wide range of readers and interests. We provide monthly, topic-specific columns written by noted industry professionals, and feature articles designed to inform and inspire market engagement.
• Our web site attracts over 60,000 visitors per month. They come to journalofantiques.com to access our Show & Auction Calendars, Antique Shop Finder Directory, and other resource directory information. Current and reliable resource listings and interesting content keep them coming back.
• We support our advertisers and look to partner in their success. We promote their business, shows, and auctions on our web site, Facebook page, Twitter feed. monthly e-newsletter, and in the pages of the magazine. We send bundles of the magazine to their shop or event for free distribution, and welcome press releases that keep our readers informed.
Stay informed and stay connected with the antiques and collectibles marketplace with a subscription to The Journal of Antiques & Collectibles and by bookmarking our web site and returning regularly to find out what's happening, where, what to do, and where to go.
Thank you for your interest and support.
Sincerely,
Maxine Carter-Lome, Publisher