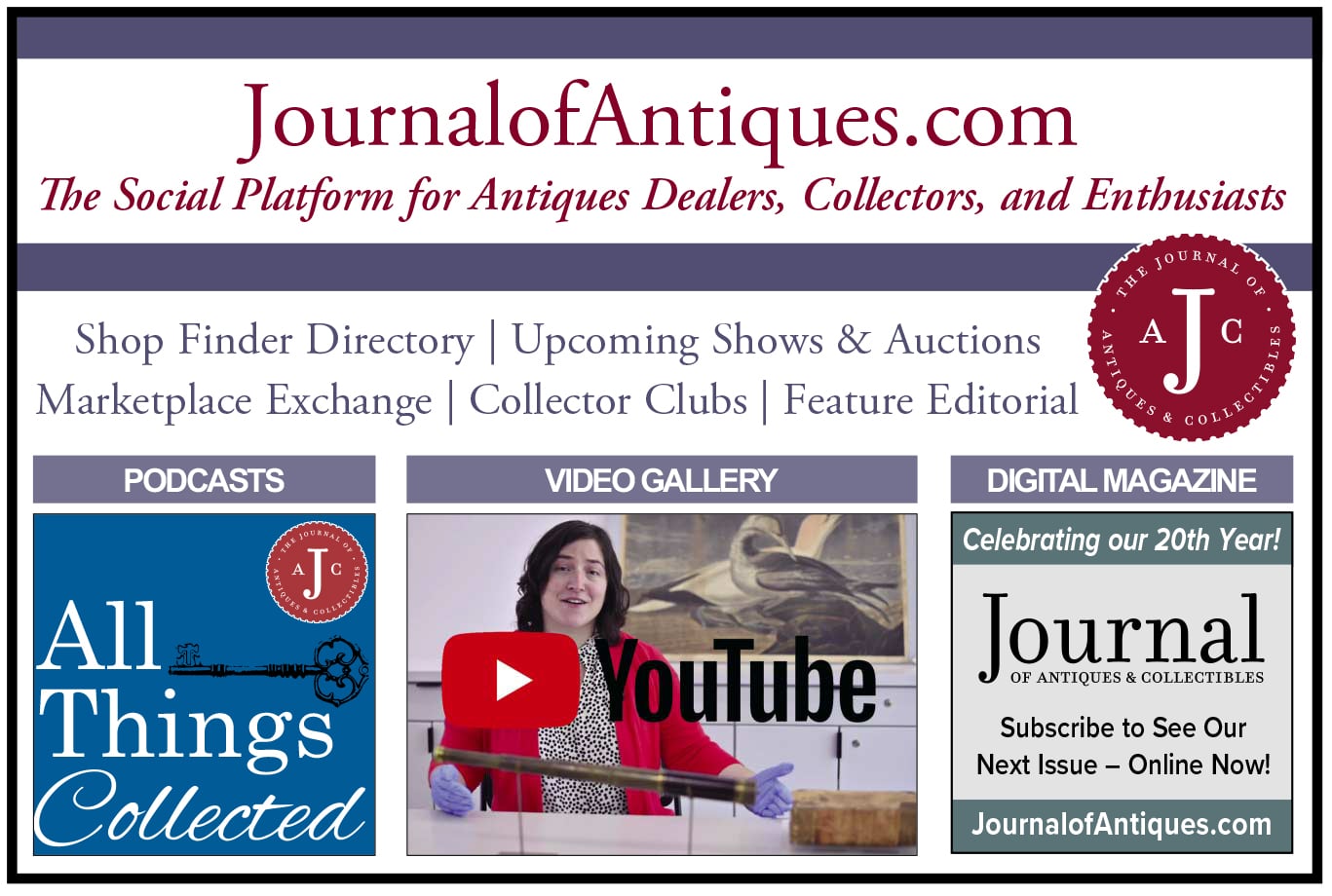 The Journal of Antiques and Collectibles is a national social platform and magazine for dealers, collectors, and enthusiasts of antiques and antique collectibles. Now in its 20th year of publication, we provide the knowledge, history, and stories behind the objects people love to collect, and the resources and information to inspire them to action.
Our Readers and Social Media Followers identify themselves as Dealers, Collectors, Antiquers, Lifelong Learners, History Lovers, Show-goers, Flea Market Fans, Antique Shop Owners, Museum Patrons, Museum Curators, Curious, Auction Bidders, Collector Club Members, Students, Buyers, and Enthusiasts inspired by our topics and motivated by our resources.
Our Advertisers are Show Promoters, Shop Owners, Auction Houses, Antique Dealers, Museums, Antique Dealer Associations, Collector Clubs, Resource Providers, Chambers of Commerce, and Buyers and Sellers.
We Offer our Readers relevant market news, current auction pricing, resource directories, event information, calendar listings, and articles and editorials of interest, delivered in print and audio, and available online.
We deliver our Advertisers, direct, targeted distribution of their display ads and paid content to our interested, self-identified, and direct-requested audience, coordinated across our reach platforms.
We Publish and Produce:
Journal of Antiques & Collectibles 
We are a national, special interest magazine providing "dealers, collectors, and enthusiasts of antiques and collectibles" curated original and aggregated content, editorial opinions, marketplace news, auction results, and resource directories.
Our editorial mission is to connect buyers with sellers, collectors with dealers, enthusiasts with collector clubs, auction houses with bidders, and show promoters with show-goers, nationwide. We look to inspire our readers to actively engage in the marketplace.
Our publications and content are ad-supported, available for free in print, digital format, audio, and online, and selectively distributed and available to self-identified buyers, sellers, and collectors of antiques and collectibles.
Journal of Antiques & Collectibles Annual Show Directory
Listings of antiques and collectibles shows, markets, and vintage bazaars. Available in print and digital, and posted online.
Journal of Antiques & Collectibles Show Guides
Available in print, digital, and online, with national and on-site show distribution. See Show Guides to the Brimfield Shows Here
Journal of Antiques & Collectibles Post-Press Update 
Twice monthly digital e-newsletter with marketplace news, pre- and post-auction news, upcoming shows and auctions, promotional advertising, and past-issue content (features and columns). Free upon request. Sign Up Here
"All Things Collected" Podcasts, Hosted by Journal of Antiques & Collectibles
 A share of monthly editorial topics, and conversations around topics of interest to our readers, subscribers, and followers.
The Antique Collectibles Show, Hosted by Journal of Antiques & Collectibles
Annual New Year's Day antique show in Sturbridge, Mass. Visit: TheAntiqueCollectiblesShow.com
Stay informed and stay connected with the antiques and collectibles marketplace with a subscription to the Journal of Antiques & Collectibles, and by Following Us on Facebook and bookmarking our website and returning regularly to find out what's happening, where, what to do, and where to go.
Thank you for your interest and support.
Sincerely,
Maxine Carter-Lome, Publisher
JournalofAntiques@gmail.com
Journal of Antiques & Collectibles is a Weathervane Enterprises, Inc. company