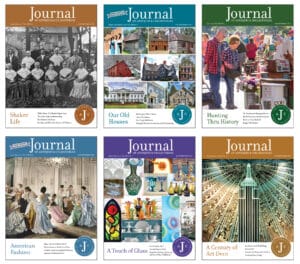 The Journal of Antiques & Collectibles is a national magazine for dealers, collectors, and enthusiasts of antiques and antique collectibles. We publish seasonally in print for distribution at antique shops, shows, and flea markets, where buyers and sellers meet, and monthly in digital, where we direct email to a self-identified and self-requested audience of 5,000. In addition, the Journal produces an e-newsletter, Post-Press Update, with updated marketplace news that is direct-emailed to over 3,500 requested recipients twice a month, and a monthly podcast series, "All Things Collected," that is introducing the magazine and its advertisers to a younger, emerging market of buyers and show-goers.
The Journal is a hybrid publication in that we are read by auction houses, antique shops, show promoters, and dealers, as well as self-identified collectors, antiquers, enthusiasts, history lovers, and life-long learners. We capture both sides of the marketplace – buyers and sellers – with editorial and opportunities designed to inspire active engagement.
Columns such as Ken Hall's "Gavels 'N Paddles" and "What's Selling on eBay,"  plus pre- and post-news from our auction house advertisers, provide readers with a comprehensive look and current insights into the auction market. Resources such as our Calendar of Shows and Auctions, Antique Shop Finder Directory, and Collector Clubs pages provide the resources active collectors and enthusiasts need to thoroughly immerse themselves in the marketplace, indulge in their hobby, and meet fellow collectors.
Our features are topic-specific, allowing us to delve deep into the various segments of the antique collectibles market each month with curated, current, and well-informed articles written by collectors, museum curators, and industry professionals.
The Journal also publishes an annual (and only) industry-wide Show Directory of scheduled antique shows, flea markets, vintage bazaars, and antiquarian book fairs across the country, and ad-supported Show Guides to the Brimfield Antique Shows and Madison-Bouckville Antique Week, reaching tens of thousands of active show-goers, dealers, and antiquers with useful show and take-away information.
We also manage an active website and greet over 15,000 guests a month, who come to us looking for show and auction information, new shops to visit when they travel, and updated marketplace news. There, they can view our gallery of curated videos on topics covered over the year in our magazine, and download our "All Things Collected" podcasts, We also share ads and industry information through our bi-monthly e-newsletter, Post-Press Update, and on our Facebook page which has over 1700 active followers.
If you are looking to reach the "trade" AND the "collector" then we are the publication and platform for you!
For more information and to speak to an advertising representative please contact Maxine Carter-Lome at