Comic Character Collectibles
BY J.C. Vaughn
Perez Justice League Cover Tops $80 K
Artist George Pérez's original 10″x 15″ cover art for Justice League of America #217, originally published in 1983, sold for $80,001 at ComicLink on December 3, 2015. Featuring Superman, Wonder Woman, Red Tornado, Hawkman, Elongated Man, Zatanna, Firestorm, Atom, Black Canary, Green Arrow and Aquaman, the cover is widely regarded as superb representation of the team, the individual characters depicted, and the artist in his early prime.
After breaking into the field in the mid-1970s and following a number of stints on other titles, Pérez landed two top series for Marvel at the same time, The Avengers and Fantastic Four.
In 1980 he moved over to DC Comics, where he landed the gig on Justice League of America. In that same era, he and his frequent collaborator, writer Marv Wolfman, co-created the New Teen Titans and Crisis on Infinite Earths.
In the years since Justice League of America #217 was published, Pérez has practiced his craft for a variety of publishers, including a return stint on The Avengers at Marvel, and presently his creator-owned Sirens at BOOM! Studios.
There is a thriving market for his original comic art, as witnessed by the price realized for this cover.
Beau Smith's Long Wait for the Dream
Given the fantasies unleashed in comic books, it should probably no surprise that there's a lot of wish fulfillment going on in those pages. That's certainly true for Beau Smith, an industry veteran who's worn many different hats in the business.
He started as a "letter hack," a prolific writer of missives to the letters pages in comic books back in the 1970s. Using his full name, Stephen Scott Beau Smith, his letters stood out, caught, and kept the attention of editors.
From their he joined Eclipse Comics, one of the early successful independent comic book publishers, and quickly became known for his good natured but relentless marketing of their products. He also, as Beau LaDuke, "the last real man in comics," became a  character in Scout, one of the company's titles.
He began working as a writer, too, eventually branching out to work for a variety of publishers including DC Comics, Dark Horse, Image and others.
Along the way he created the character Wynonna Earp, U.S. Marshal from "The Black Badge Division," a unit so secret that virtually no one in the government knows it exits. They're the folks that take on the really weird stuff, like vampires who live in trailer parks and obsessively watch The Andy Griffith Show. If that sounds like it could be simultaneously funny and serious, thought-provoking and tongue-in-cheek, that's what Smith said he intended from the beginning.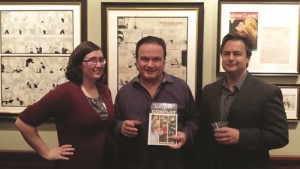 "It's been a long road, though," he said.
Originally published in 1996, the original comic book incarnation of Wynonna Earp lasted just five issues when debuted from Wildstorm Productions (then part Image Comics). In the intervening years, Smith revived the character at IDW Publishing. Company founder Ted Adams, a longtime fan of Wynonna Earp and friend of Smiths, had always seen promise in the property.
"Back before 1996 when I told Ted about Wynonna Earp, he said on the spot, 'That would be a great TV series!'" Smith said.
Now that proclamation is becoming a reality under IDW Entertainment for cable channel SyFy. Wynonna Earp, launching in April 2016, will get a 13-episode first season with Melanie Scrofano (Gangland Undercover) cast as the lead. The other key players include Tim Rozon (Being Human) as Doc Holliday and Shamier Anderson (Constantine) as Agent Dolls under the guidance of Executive Producer and showrunner Emily Andras (Lost Girl), who developed the show for television.
Overstreet Cosplay Book Debuts
For folks who are seeing cosplay (appearing in character costume at events) becoming more and more a part of the convention scene and perhaps don't know quite what to make of it, The Overstreet Guide To Cosplay has arrived.
Released November 25, 2015 in comic shops, the book made its official debut at the Virginia Comicon in Richmond, Virginia, and opens up the field to
newcomers or those who are merely casually interested. It's also geared to be thought-provoking to experienced practitioners as well.
"I'd define cosplay as any act that involves dressing up as any character from pop culture media, whether that be a comic book, video game, anime, television show, film or whatever else. It's a multi-faceted hobby that involves costume and prop production, makeup and body-painting, wig styling, and much more," said Carrie Wood, herself a cosplayer and the book's lead author.
Having worked on the book for more than a year, she finally get to sit down with a copy right before the debut in Richmond. "It was such a sense of relief to have it finished. The book process wasn't at all easy and definitely had some rough moments in it – as any major project does – so it was great to get it back from the printer and have something tangible in my hands. I'm thrilled with how it looks," she said.
With the debut in the same venue in which photography for the book had begun a year earlier, what was the reaction from the fans there like?
"It was great! We ran into a lot of the same cosplayers who were at the show in 2014, meaning that we got to show people that they made it into the book in some way, which was really cool. Everyone who saw they made it in seemed pretty hype about it, and the response we got from people at the show was nothing but positive," Wood said.
J.C. Vaughn is the Vice-President of Publishing for Gemstone Publishing.
Comic Art, Cosplay and Dreams