THOMASTON, ME:   Perfectly timed for Valentine's Day, Thomaston Place Auction Galleries' first auction of 2016 on February 13 & 14 will offer 1,200 examples of fine artwork, estate jewelry, antiquities, marine and folk art, Asian antiques, rare books and ephemera, and decorative items that are certain to ignite the passion and desire of collectors.
The sale will feature a 50 ¾" high, delicately rendered Carrera marble sculpture by Chauncey Bradley Ives (NY/CT, 1810-1894) entitled "Undine Rising from the Water" (est. $50,000-75,000), depicting the mythological water nymph emerging from the waves. When backlit, there is translucence to the draped fabric surrounding her face.
A hand colored, elephant folio lithograph by John James Audubon (NY, 1785-1851) Plate 81 from the 1830 Havell edition of Birds of America, "Fish Hawk, Male, Falco Hallaetus", will also be presented in the sale (est. $35,000-45,000).
Additional fine artwork will include: "The Kentucky Derby", an oil on board work by Haddon Sundblom (IL, 1899-1976) (est. $18.000-22,000); a 19th Century portrait of the ship "Julia G." by William G. Yorke (US/UK, 1817-1892) (est. $8,000-12,000); Antonio Jacobsen's (NY/NJ, 1850-1921) oil on canvas ship portrait of the "S.S. Horatio Hall" (est. $8,000-12,000); and an oil on canvas painting, "The Carrier", by Stephen Etnier (ME/CA, 1903-1994) (est. $6,000-8,000).  There will be a bronze sculpture by Stella Elkins Tyler (PA/NY, 1884-1963), "Dancing the Cuban Mambo" (est. $2,000-3,000), and "Two Ducks at Water's Edge", carved from a single trunk section of walnut by John T. Sharp (OH, 1944- ) (est. $3,000-4,000).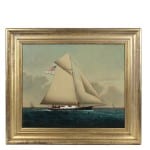 Featured among the 70-lot collection of fine jewelry and watches will be: an antique 18K gold ring with a 3.96 ct. brilliant cut emerald surrounded by 19 old mine cut diamonds (est. $10,000-20,000) and a 19th Century Russian (St. Petersburg hallmark) crescent form gold brooch set with 90 diamonds (est. $5,000-7,000).
The selection of antiquities will include an 11th Century Indian bronze statue of the deity Parvati with outstanding patina (est. $10,000-15,000); a late 17th-early 18th Century Italian Embriachi Workshop carved marriage casket with decoration depicting the Judgment of Susanna (est. $8,000-12,000); and a mid-15th Century French standing polychrome wooden figure of the Holy Mother (est. $4,000-6,000).
Of historic interest will be a diverse collection of ephemera, including: 11 original Civil War albumen photographs by Mathew Brady (1822-1896) depicting Gettysburg scenes ($5,000-7,500) and a 1632 King James Bible (est. $4,000-6,000). And the auction will offer 4 important 1960s original protest posters for the Black Panther Party and Huey Newton, consigned and designed by a woman who was a friend of Newton's.
A group of fine marine dioramas and ship models, many from the MBNA Corporate collection, will be included in the auction, led by a cased builder's model of the "Royal Sovereign" by Robert Bruckshaw on floor stand (est. $4,000-6,000).  The marine category will also offer a variety of scrimshaw decorated whales' teeth.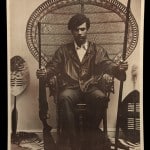 An outstanding carousel horse from a ride at Whalom Park in Massachusetts by Charles Looff will be offered (est. $3,000-5,000).  The carousel was built in 1914, and this horse was purchased by the consignor when the amusement park's fixtures were sold at auction in April 2000.  The selection of folk art will also include: a circa 1885 "General Patchin" full body running horse weathervane from the Puritan Iron Works (est. $3,500-4,500), an American eagle full body weathervane, circa 1850 (est. $2,000-3,000), and a 19th Century carved spread wing eagle plaque (est. $1,800-2,400).
Asian antiques will include over 160 lots of Chinese, Japanese and South Asian pieces, such as fine painted scrolls, bronze sculpture, carved stone pieces, cloisonné, and porcelain items.
Decorative arts to be presented will include: a rare Boston circa 1770s Chippendale mahogany chest with its original one-board molded edge top (est. $8,000-10,000), an 18th Century Dutch Colonial red sandalwood bench/settee with caned seat (est. $6,000-8,000), 2 L.C. Tiffany bronze desk sets, plus selections of silver, early lighting fixtures and carpets.   There will be many fine examples of early soft paste china, including several War of 1812 U.S. commemorative pieces, plus Chinese export porcelain and American art pottery.
The auction will begin at 11:00 a.m. on both sale days.  A complete, full color catalog, with detailed descriptions and photographs, is available, and all lots can be viewed at Thomaston Place Auction Galleries' website, www.thomastonauction.com.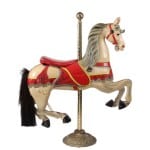 In addition to live bidding in the auction hall, Thomaston Place accepts bids via absentee, telephone, and on the internet (via Thomaston Live, Invaluable, or Live Auctioneers). The buyer's premium is 15%.  Please call 1-207-354-8141 for more information, or to reserve seats in the auction hall.
The gallery will be open for previews Monday, February 8 through Friday, February 12 (between 9:00 a.m. and 5:00 p.m. each day) and from 9:00 and 11:00 a.m. on Saturday and Sunday before the sale.
Thomaston Place Auction Galleries is Maine's premier auction and appraisal company located on U.S. Route 1 in Thomaston.  Thomaston Place is a leader in discovering Maine's antique and fine art treasures by offering Free Appraisals each Tuesday at the Gallery, creating fundraiser events for civic and charitable organizations using its unique Mobile Appraisal Laboratory, and providing house call appraisal services.  Their expertise in researching and marketing antiques and fine art has earned Thomaston Place the respect of buyers, collectors and experts worldwide.
Sweetheart of a Sale at Thomaston Place Auction Galleries on February 13 & 14