Dominance in 19th Century shipbuilding helped establish Thomaston, Maine's reputation as "The Town that Went to Sea", and local auction company Thomaston Place Auction Galleries will extend this maritime tradition with the incredible collection of fine marine paintings to be featured in their Summer Feature Sale on August 27, 28 & 29.
The sale will also include an exceptional selection of ship models and other marine items, bronze sculpture, New England paintings, folk art, jewelry, art pottery, Chinese and Japanese antiques, estate silver, and decorative items.
Thomaston Place owner and auctioneer Kaja Veilleux said: "The items in this auction were gathered from collectors and families throughout the Northeast, and we have loved every minute of building this amazing catalog. Besides us, only major museums have objects of this caliber, but at our place you will have the opportunity to buy them."
Leading the marine art category will be a wonderful seascape painting by Alfred Thompson Bricher (NY/NH, 1837-1908) titled "Near Cape Elizabeth, Portland, Maine" (est. $200,000-300,000).  James Edward Buttersworth's (NJ/NY/UK, 1817-1894) oil on canvas painting, "The Start of the 1866 Great Transatlantic Yacht Race" ($60,000-90,000), will be another featured item, along with "Sand, Sea and Sky", an 1889 work by William Trost Richards (PA/RI, 1833-1905) (est. $60,000-80,000) and "HMS 'Meander', a Pennance and a Cutter" by Thomas Buttersworth, Sr. (UK, 1768-1842) (est. $60,000-80,000).
This category will also include maritime master paintings by: William Bradford (MA/CA, 1823-1892), Francis Augustus Silva (NY, 1835-1886), Robert Salmon (MA, 1775-c. 1845), Thomas Doughty (DC/NY/MA/PA, 1793-1856), SFM Badger (MA, 1873-1919), Charles Sidney Raleigh (MA, 1830-1925), James Gardner Babbidge (ME, 1844-1919), William Howard Yorke (UK/Canada, 1847-1921), Harrison Bird Brown (CA/ME, 1831-1915), Jack Lorimer Gray (NY/Canada, 1927-1981), Percy Sanborn (ME, 1849-1929), Antonio Jacobsen (NY/NJ, 1850-1921), William Pierce Stubbs (ME/MA, 1842-1909), and many others.
There will also be over 500 non-marine paintings, featuring "Sunrise" by Albert Bierstadt (NY/CA/MA, 1830-1902)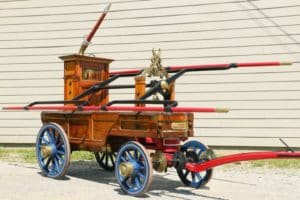 ($250,000-$350,000), plus works by Kurt Schwitters (Germany/UK, 1887-1948), Albert Herter (NY, 1871-1950), Kenneth Noland (NY/ME, 1924-2020), Edward Willis Redfield (PA/DE, 1869-1965), Aldro Hibbard (MA/VT, 1886-1972), Julien Dupre (France, 1851-1910), Neil Welliver (ME, 1929-2005), and others.  The sale will include a large group of paintings by contemporary New England and Maine artists, plus many fine bronze sculptures, including "War" by Carl Kauba, depicting a Native American Chief in full battle regalia (est. $7,000-$9,000).
A collection of photography by Clarence Hudson White (1871-1925), Alfred Stieglitz (1864-1946), Anne Wardrope Brigman (1869-1950), Edward Steichen (1879-1973), William B. Dyer (1860-1931), and Rene Le Begue (1857-1914) will be offered in the sale.
Two important pieces of firefighter memorabilia will be presented, including an 1832 New York Gooseneck Tub Engine, "Lady Washington", by New York maker James Smith for Engine Company No. 40 of Manhattan (est. $60,000-$80,000); and a mid-19th Century iron and oak two-man hose cart by M.B. Little of New York (est. $3,500-$5,000). There will also be a group of 18 ship models from the former MBNA Corporate Collection.
An important 19th Century carved pine cigar store Indian attributed to New York maker Samuel Robb (est. $30,000-$50,000), and a rare 18th Century Massachusetts tavern sign (est. $10,000-15,000) are featured folk art items in the sale.
Headlining the extensive selection of Asian antiques in the sale will be two rare pair of Japanese Meiji Period mixed metal vases, including one pair by master maker Atsuyoshi Ikko Dou (est. $10,000-$15,000), and a 14th Century Chinese carved marble qilin figure (est. $6,000-$8,000).  There will also be outstanding offerings of oriental porcelain, bronze, jade, cinnabar, scroll paintings, woodblock prints, and stoneware.
Among the many fine pieces of estate jewelry will be a platinum and 2.94 carat diamond ring (est. $14,000-$18,000), a circa 1875 caduceus form gold and ivory hairpin by Italian maker Castellani (est. $10,000-$15,000), and a custom 18K gold ring set with a an oval 6.10 carat natural Paraiba neon green tourmaline surrounded by diamonds (est. $10,000-$15,000).
The extensive selection of fine silver will feature a circa 1840 coin tea service by William Adams, New York (est. $4,000-6,000), and a group of important 19th Century sterling serving pieces by Tiffany & Co.  The ceramics category will feature pieces by Sevres, Meissen, and Rookwood, plus a large collection of art pottery created by Brother Thomas Bezanson (VT, 1929-2007).
And finally, the auction will present an extensive array of antique and modern furniture, plus a selection of decorative garden items, including bronze statues, wicker, rattan, wrought iron, and Weatherend furniture.
The auction will begin at 11:00 a.m. on all three sale days.  A complete, full color catalog, with detailed descriptions and photographs, is available, and all lots can be viewed at Thomaston Place Auction Galleries' website, www.thomastonauction.com.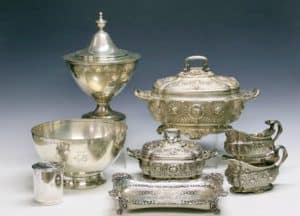 In addition to live bidding in the auction hall, Thomaston Place accepts bids via absentee, telephone, and on the internet (via Thomaston Live, Invaluable, or Live Auctioneers). The buyer's premium is 17% for live, telephone, and absentee bidders and 20% for online bidders.  Please call 1-207-354-8141 for more information, or to reserve seats in the auction hall.
The gallery will be open for previews Monday, August 22 through Friday, August 26 (between 9:00 a.m. and 5:00 p.m. each day) and from 9:00 and 11:00 a.m. on Saturday, Sunday, and Monday mornings before the sale.
Thomaston Place Auction Galleries is Maine's premier auction and appraisal company located on U.S. Route 1 in Thomaston.  Thomaston Place is a leader in discovering Maine's antique and fine art treasures by offering Free Appraisals each Tuesday at the gallery, creating fundraiser events for civic and charitable organizations, and providing house call appraisal services.  Their expertise in researching and marketing antiques and fine art has earned Thomaston Place the respect of buyers, collectors and experts worldwide.
A Bounty of Important Marine Art Thomaston Place Auction Galleries on August 27-29