The Collections of Ben Michel and Mel Flanagan to Hit the Auction Block in Cowan's November 3-5th Historic Firearms and Early Militaria Auction
CINCINNATI — Two world-class collections will combine with additional top-quality and highly desirable material during one of the most-anticipated sales of 2015 when Cowan's Auctions conducts its Historic Firearms and Early Militaria auction on November 3-5.
Anchoring the event are the specialized collections of Ben Michel, who focused on French firearms, and Mel Flanagan, who assembled an intriguing array of European and American firearms, including numerous unusual weapons.
"I have never seen the quality of European items and multi-barreled oddities like those in this auction," said Jack Lewis, Cowan's director of Historic Firearms and Early Militaria. "There are so many unbelievable pieces in both collections."
Additional consignments range from a Winchester 1866 carbine made for the Sultan of Turkey to an outstanding selection of top-grade shotguns, and from Civil War flags to original artwork created for Peters Cartridge Co. promotions.
Ben Michel collection
The auction begins on Tuesday, Nov. 3, with the collection of Ben Michel, a retired New Jersey attorney, U.S. Army veteran and former special agent in charge of counterintelligence. He is also past president of the New Jersey Antique Weapons Association, as well as a judge at major gun shows in Richmond and Baltimore.
This is Michel's second auction of significant antique firearms. In 2007 his collection of Confederate weapons was sold by James D. Julia for more than $1 million. This time around the specialty is French military arms from the 1700s to the start of World War II. The catalog serves as a guide to these weapons throughout the years, as no comprehensive book has been published in English.
The French regulation arms are grouped into approximately 350 lots consisting of handguns, long arms, edged weapons, headgear and accessories. Prime examples include Model 1855 a general staff officer's double-barrel percussion pistol made at Saint-Etienne (estimated at $35,000 to $50,000).
Other top handguns in the collection include a Model 1814 Garde du Corps du Roi single-shot flintlock pistol (est. $6,000 to $6,500), and a cased pair of LePage single-shot percussion pistols, presented in 1837 by Prince Ferdinand Philippe d'Orleans as a prize for marksmanship, and awarded to a son of Napoleonic General Pierre Andre Hercule Berlier upon his graduation from the Saint-Cyr military academy (est. $5,500 to $7,500).
Among the longarms offered is a Model 1856 System Arcelin breechloading percussion musketoon paired with a Model 1854 Cent-Gardes saber-lance bayonet (est. $12,500 to $15,000). The Cent-Gardes were a small, elite force that watched over Emperor Napoleon III.  The musketoon was experimental, and only 108 examples were reportedly manufactured.
Other material includes a Model 1850 Voltigeurs Corse double-barrel percussion musket with socket bayonet (est. $8,500 to $12,500), a rare weapon used by a special unit of Corsican infantry formed to suppress bandits on the island; Model 1861 Senegalese rifleman's double-barrel percussion rifle and bayonet (est. $8,500 to $12,500); and a Model An XII rifled flintlock carabine de Versailles (est. $7,500 to $10,000).
Edged weapons from Michel's collection include a Model An IX Imperial Guard Polish light cavalry officer's saber, engraved "Garde Imperiale" and "Chevau-Legers Polonais" on the curved Damascus blade (est. $5,000 to $6,000).
Significant examples of French headgear include a 1st Empire 3rd Line infantry officer's shako, Model 1812 (est. $30,000 to $35,000); and a 1st Empire 2nd Chevau Legers Lanciers of the Imperial Guard enlisted czapska, an important specimen from one of Napoleon's famous guard units (est. $25,000 to $30,000).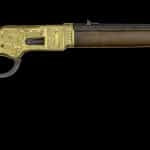 Mel Flanagan collection
The second day of the auction, Wednesday, Nov. 4, begins with the collection of Mel Flanagan, a World War II Navy veteran who served aboard the U.S.S. Douglas H. Fox, which saw action against the Japanese. Following the war, Flanagan worked in construction in his family's cement business. It was during this time he began collecting firearms, with special interest in the blunderbuss. He also sought alarm and trap guns, pepperboxes, sword and knife pistols, knuckle-dusters, derringers and a variety of oddities. His collection gained national attention when he was invited to join The American Society of Arms Collectors in 1996. He is also a former president of the Colorado Gun Collectors Association.
A glance at his collection quickly reveals one thing — Flanagan specialized in the unusual.
"Never has there been this large a collection of those great oddities," said Lewis.
Among the blunderbusses offered are a rare pair of English brass blunderbuss flintlock short rifles by J&W Richards, with spring bayonets, circa 1800 (est. $9,000 to $18,000); Madrid flintlock blunderbuss by Soto, circa 1744, having an engraved and silver-inlaid barrel  (est. $7,500 to $15,000); Irish over/under, elliptical-barrel, percussion blunderbuss by Rigby, with a spring bayonet, circa 1823 ($7,500 to $15,000); early pair of English flintlock brass blunderbusses by N. Gregory, circa 1700 (est. $6,000 to $8,000); and a cased pair of brass blunderbuss pistols by Westley Richards of London, circa 1830 (est. $6,000 to $8,000).
Longarms from the Flanagan collection include a seven-barrel percussion volley gun by Henry Harrington of Southbridge, Mass., the receiver dated 1837 (est. $7,500 to $15,000).
Handgun rarities include a French 25-shot Guycot chain pistol, a sliding cover concealing the chain of ammunition cups (est. $8,000 to $16,000), and a scarce seven-shot percussion turret pistol by C.B. Allen of Springfield, Mass., having engraved metal grips (est. $7,500 to $15,000).
Also offered are a pair of horseman's flintlock pistols, rare because they are equipped with spring bayonets (est. $7,000 to $14,000); Wilkinson & Son seven-shot turret underhammer percussion pistol, English, with an extra cylinder (est. $7,000 to $14,000); flintlock fokos or combination miner's axe/pistol, having an engraved iron head, the stock heavily inlaid with bone and pearl in whimsical animal scenes (est. $7,000 to $14,000); English flintlock four-barrel "duck foot" pistol by Forth of York (est. $6,000 to $12,000); two-barrel percussion knife pistol with folding triggers and an ornate leather sheath (est. $6,000 to $12,000); and a very high-grade European 18-barrel engraved percussion pistol (est. $6,000 to $12,000).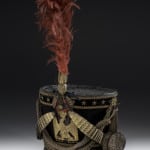 Other outstanding items
The second day of the auction continues with fine items from other consignors.
Anticipated as the top lot of the sale is a Winchester 1866 carbine attributed to Conrad F. Ulrich and made for the Sultan of Turkey (est. $150,000 to $300,000). The walnut stock is paired with a gold frame, buttplate and sling swivel base. The exhibition-quality firearm features high-relief engravings depicting deer and a nude goddess.
High-relief Winchesters are among the most sought after and desirable of all American firearms, and the engraving is considered the ultimate 19th-century artwork on guns. Fewer than 10 high-relief 1866s are known. Of those, this is the only saddle-ring carbine.
This gun was legally imported in a process that took nearly six years. Winchester presented a number of highly finished arms to the Turkish sultan and important officials in order to gain contracts for arms, with the largest number of 1866 muskets going to Turkey.
An impressive selection of shotguns is led by an A.H. Fox presentation-grade special double-barrel 12-gauge shotgun built for William H. Gough and engraved with hunting scenes (est. $75,000 to $125,000). Gough was responsible for the design of the Parker A-1 specials. He also engraved hundreds of guns for Colt and Winchester. This is without a doubt the finest Fox shotgun ever made, and possibly the finest American shotgun of all time. 

Other examples include a Lefever "thousand dollar grade" double-barrel, 12-gauge shotgun, engraved and with an inlaid gold bird (est. $40,000 to $60,000); Lefever Optimus-grade, 12-gauage, double-barrel shotgun, engraved and with gold inlay (est. $35,000 to $50,000); and an A. H. Fox E-grade shotgun, 12-gauge, double barrels, also engraved and with gold inlay (est. $25,000 to $40,000).
Two standout flags highlight the Civil War material — a Confederate first national flag captured in New Orleans by Capt. Edward W. Thompson of the 1st Maine Light Artillery (est. $40,000 to $60,000), and an exceptionally rare Confederate flag having a hand-sewn skull and crossbones flanked by "Jeff Davis / His Marque," a souvenir taken by Capt. Horatio P. Kile of the 41st Ohio Volunteer Infantry, possibly at Confederate camps at Corinth, Miss., in May 1862 (est. $15,000 to $25,000).
Among the Civil War firearms is a Confederate Leech & Rigdon percussion revolver (est. $20,000 to $30,000). Also offered are a Colt factory prototype 3rd Model Dragoon percussion revolver, formerly in the Colt factory collection (est. $30,000 to $60,000), and the only known engraved and gold-inlaid Colt London 3rd Model Dragoon, likely a display model used by Samuel Colt for promotional purposes (est. $30,000 to $60,000).
Other historical items in the sale include a U.S. Springfield Model 1873 trapdoor carbine, the serial number within the range of those used at Little Big Horn (est. $35,000 to $70,000). The gun comes with documentation from previous owners regarding its possible capture at that historic battle.
Artwork includes an original painting by Philip Goodwin for a Peters Cartridge Co. poster, oil on canvas, depicting a caribou near a lake (est. $30,000 to $50,000). The work came directly from the family of George King, former president of Peters. This is the first time it has been offered for sale. Also available is the original artwork for a Peters 1918 calendar, oil on canvas, depicting a hunter holding a shotgun and followed by two pointers and five puppies (est. $30,000 to $50,000).
Other promotional items include a King's Great Western Powder Co. oak display case, the gold-lettered glass door revealing 17 vials of powder made by the Cincinnati company ($5,000 to $10,000).
The second day continues with a cased pair of dueling pistols by Simeon North of Middleton, Conn., one of only a few sets known and believed by one authority to have been previously owned by President George Washington (est. $25,000 to $50,000). "In nobody's auction do you see a pair," said Lewis.
There's also a Model 1866 Winchester Henry-marked rifle (est. $25,000 to $50,000); Genhart 10-shot percussion turret brevette pistol having deep-relief engraving with gold numbering of the chambers on top of the turret (est. $20,000 to $25,000); cased three-barrel target rifle made by Brown Manufacturing Co. of Newburyport, Mass., engraved by L.D. Nimschke (est. $20,000 to $25,000); and a Bowie knife by Thomas Turner, Sheffield, England, circa 1845, German silver with an ivory handle (est. $20,000 to $25,000).
Automatic weapons include a prototype .32-caliber automatic pistol marked for English maker Webley & Scott and said to have been given to Harrington & Richardson for trial purposes (est. $16,000 to $18,000), and a Colt Model 1921 Thompson submachine gun (est. $15,000 to $30,000).
Among the selection of headgear in this session is a Model 1839 Mexican War officer's forage cap attributed to William Wallace Bliss, chief of staff to Gen. Zachary Taylor (est. $9,000 to $15,000); and three Republic of Texas officer's shakos  — cavalry, infantry and marine (est. $2,500 to $4,500 each).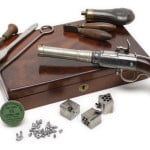 Beyond military items, the second day's listings include a 1903 Rex motorcycle, English, restored in 1975 (est. $20,000 to $30,000).
Rounding out the sale
More than 800 lots round out the sale on the third day, Thursday, Nov. 5, ranging from sets of Model 1881 officer's dress helmet cords and tassels from the late Indian Wars to World War II Mauser bolt-action rifles to a cartridge box from the American Revolutionary War. Estimates begin as low as $100 on many items.
There's commonality throughout all three days. "This sale has quality, it has rarity, it has it all," said Lewis. "It will be one of the most fantastic auctions ever offered by an American auction company."
Auction previews are scheduled for noon to 5 p.m. Monday, Nov. 2; and 8 to 10 a.m. each day of the sale (Tuesday through Thursday, Nov. 3-5), with the auction beginning at 10 a.m. each day. Bidding is also available live through Bidsquare.com.
For more information, phone Cowan's Auctions at (513) 871-1670 or visit Cowans.com.
Cowan's Auctions Historic Firearms and Early Militaria auction, November 3-5