James D. Julia, Inc., the world's leading firearms auctioneer, will conduct their Fall Firearms Auction on October 5th-7th with a preview on October 1st and 2nd. The first session on October 5th will be the inaugural Sporting and Collector Firearms auction and will include over 730 fine and outstanding firearms in the more affordable range of $2,000-$8,000. For years, Julia's has distinguished itself as selling more high-end, expensive, rare firearms than any other firearms auction house on Earth.  Now with the new Sporting & Collector Session which begins on October 5th, our sales will also include more affordable firearms.  Julia's has also distinguished themselves as selling more high-end, iconic collections than any other auction house and their 3-day Fall extravaganza tops all the previous; representing at least 18 major collectors and collections.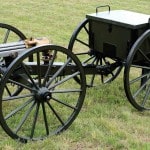 The October 5th sale is very strong in quality sporting arms.  A beautiful Parker VE Grade is estimated at $12,500-17,500.  A fine Remington 1100 Grade F Four Skeet Set carries an estimate of $8,000-12,000; and an A.H. Fox AE Grade 16 ga. Special is estimated at $8,000-12,000.  A gorgeous High Art Ithaca Dollar Grade Knick Model Single Barrel Trap gun is one of the many superb Trapguns to be offered in this session.  This one carries a presale estimate of $6,000-10,000.  Fine international shotguns and double rifles will also be strongly represented in this sale including a custom Gold Inlaid Krieghoff Model 32 estimated at $10,000-20,000.
The first session will feature a number of items from the Phil A. Bleakney Estate Collection including Winchester, Colt, and Civil War items.  A group of exceptional Civil War carbines includes a Minty Green Breech Loading Carbine estimated at $4,000-6,000.  A private single owner collection of Colt Semi-Automatic Pistols include a very rare 1907 US Army Test Pistol estimated at $10,000-15,000.  The Rod Fuller Estate Collection of High Grade Brownings will be strongly featured together with the William Henkel Collection of Winchester Mod 70's and a portion of the superb Robert Burg Collection of Outstanding Sporting Arms.  Various Winchesters will include a very fine Model 1894, estimated at $7,000-11,000, and an extraordinarily fine Model 42 Gold Inlaid Walter Kolouch engraved 410 ga. shotgun, lot #1457, estimated at $7,500-10,000.  Another important engraved Henry rifle includes history of having been owned by Civil War General McCook and was later gifted to King Kalakaua of Hawaii and later to Princess Kawananakoa. This terrific gun from the Land of Pineapples is estimated at $150,000-250,000.
The second session of the auction begins Tuesday, October 6th and concludes on Wednesday, October 7th.  This 2-day session will feature the rare, expensive, and historically important guns Julia's has come to be known for.  This two day event features selections from some of the finest collections and estates on the planet, including the Estate collection of William West of Big Bore Double Rifles, The Estate Collection of Noted Author/Scholar Larry Baer together with rare Sporting guns from the Bura Collection and the Fuller Collection, an Important Private Collection of High Quality Marlins, and many others.  The remarkable items on offer from these collections and this overall event are certain to attract the attention of collectors, historians, and museums, and will again help to cement Julia's position as the leading fine firearms auction house in the world.
The first day of the Extraordinary Firearms auction includes a spectacular assembly of sporting arms. Two Fabbri Titanium Action Pinless Sidelock Ejector Single Trigger O/U Game or Pigeon Guns are each estimated at $100,000-150,000; a Stunning Custom Ordered Pair of Grifnee Engraved Holland and Holland Royal Deluxe Sidelocks are estimated at $85,000-125,000; and a Sublime Masterpiece of Functional Sporting Art, the Exceptional Ken Hunt Relief Sculpted James Purdey .410 Sidelock Ejector is estimated at $80,000-120,000.
This Extraordinary Firearms auction has probably the largest selection of high grade Brownings to come to auction ever! Over 100 fine examples from this important manufacturer are represented.  Many are from the exceptional Rod Fuller estate – all are remarkable in their own ways.  Highlights include an Extraordinary Original Two Millionth Browning Auto-5 Presentation  at $65,000-95,000; a 20 Gauge Browning Diana Grade Superposed Three Barrel Set Engraved By Dewil estimated at $12,500-17,500; and an Early .410 Gauge Browning Diana Grade Superposed Engraved By Watrin, estimated at $7,500-12,500.
There's certain to be huge interest in this auction's fine collection of large sporting and big bore rifles.  It's impossible not to notice a Humongous Holland and Holland Four Bore Double Elephant Rifle in outstanding condition.  This extremely rare firearm is estimated at $60,000-90,000.  Other highlights include an Incredible Golden Age Holland and Holland Royal Deluxe Hammerless Ejector Double Rifle in .577 Nitro Express, Most Likely Made For His Highness Sir Rana Ranjit Singhji Of the State Of Barwani (estimated at $60,000-100,000;) a Royal Hammerless Dangerous Game Double Rifle (estimated at $45,000-65,000;) a Fine Holland and Holland 8 Bore Ball and Shot Double Hammer Gun, (estimated at $70,000-90,000) and more.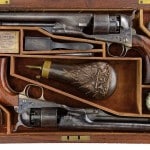 A John Rigby .470 Boxlock Ejector Double Rifle was once owned by Philip H. Percival, Noted As "The Dean of African Professional Hunters,"  Percival Inspired Hemingway's Character "Pop" in "Green Hills Of Africa." Philip Percival guided Teddy Roosevelt, Baron Rothschild, and Ernest Hemingway, among many other celebrities, on hunting adventures. Percival also worked with Bror Blixen – Finecke, and was the mentor of Harry Selby. Hemingway also modeled the fictional hunter, Robert Wilson, in "The Short Happy Life with Francis Macomber" after Percival; his Rigby will carry an estimated of $75,000-150,000
Tuesday's sale will also include spectacular factory engraved Marlins.  Many are from a single owner private collection. A Rare Engraved and Gold Inlaid Marlin Mod 1898 D-Grade Shotgun Two Barrel Set is estimated at $55,000-75,000.  Other marvelous Marlins include the Extraordinarily Rare, One of a Kind Engraved and Gold Inlaid Model 39A Donated to the National Shooting Sports Foundation (estimated at $45,000-65,000) and an Exceptionally Rare Probably One of a Kind Deluxe Engraved Model 1892 Lever Action Rifle with Cheekpiece, (estimated at $45,000-65,000.) Single Shot Rifles include an Extremely Rare Developmental Pistol Grip Rigby Model Marlin Ballard Single Shot Target Rifle That Belonged to Famed Shooter, HG Bixby with One of His Silver Trophies, estimated at $20,000-30,000.  Also from the famous Dr. Richard Labowskie Collection is a very fine and rare early Sharps #1 Creedmoor rifle estimated $25,000-35,000.
Wednesday, October 7th will include over 800 fabulous lots and start with wonderful Winchesters, a One of a Kind Engraved Deluxe Winchester Mod 1866 Carbine Made for King Alphonso XII of Spain.  This exceptionally fine example with full Spanish Royal family provenance is estimated at $200,000-300,000.  Another highlight is most certainly an Extraordinarily Rare and Important Winchester Model 1865 "Patent Carbine" Serial Number 3.  This examples is "the first true production Winchester firearm," with total production of 700, and is a NRA silver medal estimated at $125,000-$175,000.  A Very Early Winchester Model 1876 Open Top Rifle That Belonged to Famous Sioux Indian Chief Sitting Bull is estimated at $35,000-55,000.  From the Bleakney Estate Collection is an extremely rare 1873 rifle in very fine condition and should bring easily $15,000-25,000.  From the Dr. Ed Lewis Collection is a fine special order inscribed Mod 73 Deluxe estimated at $15,000-25,000, as well as a number of volcanic rifles and other rare models, many with original case coloring.
Quality Colts are also a standard at Julia Auctions.  An Extremely Rare Cased Baby Paterson is estimated at $150,000-250,000.  However, the most important historic Colts in the sale are the cased pair of Mod 1860 Armies to Col. James Cameron, "Compliments of Col. Colt." Colt was an entrepreneur extraordinaire and at the outbreak of the Civil War presented special Colts to all the right people.  Cameron was Commander of the 79th N.Y. Highlander, later K.I.A. at Bull Run but most importantly to Colt was his brother Simeon Cameron, who was Lincoln's Secretary of War; Simeon also received a cased set from Colt.  James' rare cased set is estimated at $100,000-150,000.  Additional highlights include a Fine Cased Colt 3rd Model Dragoon with a Very Rare 8″ Barrel (estimated at $60,000-90,000;) a Fabulous Cased Colt Model 1851 Navy estimated at $55,000-$75,000, and many more.  Also included are a number of fine Colt Single Actions.  Many are from the Bleakney Estate, one of which is an exceptional early Nimschke engraved SA with ivory grips and extremely fine condition.  It carries a presale estimate of $40,000-60,000.  A scarce etch paneled front SA in fine to very fine condition carries a $35,000-50,000 estimate.  One of the most valuable Colts, however, is a rare Model 1875 Gatling gun on carriage with limber in caliber 50cf.  This outstanding and rare Gatling gun comes from an old private collection with a presale estimate of $200,000-300,000.
Civil War and Indian War weapons are also another area in which Julia's has regularly and consistently presented some of the most outstanding items to ever come to auction.  Included in this sale is the Confederate Collection of well-known Confederate collector, Jim Maconkey.  Known for his discerning taste, Mr. Maconkey's extremely rare early New Orleans Cook rifle, SN 197, carries a presale estimate of $25,000-35,000.  Another standout is his extremely rare and extremely fine, C.H. Rigdon CSA marked revolver estimated at $40,000-60,000.  In addition to outstanding firearms, the Maconkey Collection also includes a select group of outstanding Confederate fighting knives or Bowie knives.  His unique brass hilted identified, "T.L. Pruett" Prattville Alabama made D-Guard Bowie knife is estimated at $20,000-25,000.  Select items from other fine collections include a rare Confederate Texas made Dance revolver, SN 46, having an inlaid silver Texas star in the stock.  It is from the Ron Bridges Collection pictured in North-South Trader article, Vol. I, #5.  It carries a presale estimate of $45,000-65,000.  Important Confederate flags will include a fine and most important historic Army of Northern Virginia Battle Flag carried by Tucker's Naval Brigade at the Battle of Sailor's Creek.  These marines were under none other than Robert E. Lee.  The flag at one time was in the Mariner's Museum in Wilmington, NC.  The flag comes to sale and presents an extraordinary opportunity for the most advanced of Confederate vexillologists.  It carries a presale estimate of $125,000-250,000.  A Henry inscribed to Confederate Colonel Dudley W. Jones of the 9th Texas Cavalry is estimated at $70,000-100,000.
In addition to the McConkey Confederate knives, there are a fabulous grouping from the John Ashworth Collection.  One of the most notable is the Confederate Bowie made at Etowah Iron Works in Georgia identified to Captain E. M. Seago complete with its original scabbard.  This phenomenal knife is estimated at $40,000-60,000.  The Ashworth Collection includes a small but very select grouping of these rare knives.  His "Confederate States Armory" Clip Point D-Guard Bowie is probably one of the finest known and an early 19th century label indicating that it was picked up on the battlefield of Ilka, MS by Major E. H. Smith of the 105th Illinois.  This carries an estimate of $20,000-30,000.  Also an extremely rare and fine early American silver mounted guardless "Coffin Hilt" Bowie knife in original scabbard was recently discovered and fresh to the market.  There are very few of these 1830 vintage American Bowie knives that have survived and this is a recent discovery carrying a conservative presale estimate of only $20,000-30,000.
Also included is a variety of other interesting and historical lots such as a rare historic bow of the famous Lakota Sioux Chief Gall.  Gall was Custer's chief Indian scout.  The bow is estimated at $20,000-40,000.  A few very select advertising items include the original water color artwork for Iver-Johnson's 1906 calendar depicting a beautiful equestrian female leaping a fence.  This spectacular piece of original artwork at one time hung in the offices of Iver-Johnson and carries a presale estimate of $15,000-20,000.  Another extraordinarily rare piece of advertising is the 1904 Harrington & Richardson calendar.  This is one of only two known such calendars and in outstanding condition it carries a presale estimate of $15,000-20,000.
This sale will also include more of the famous Elliott Burka Collection of rare Remingtons.  Elliott probably had the biggest collection of rare Remington Cane Guns in existence.  This sale will include and extremely rare Remington Coral Gutta Percha Cane Gun conservatively estimated at $7,500-9,500.  This is one of only a couple known to exist.
In past auctions, Julia's set and reset the world record for Kentucky rifles sold at auction and while this auction does not include any world records there are nice quality guns including the incise carved Curly Maple Kentucky by G. Feder pictured in plate 61 of Joe Kindig's Collection.  This fine gun originally in the Kindig Collection is estimated at $18,000-25,000.  Also an incredible near mint cased pair of LePage percussion large bore holster pistols with raised gold and silver inlay carries a presale estimate of $35,000-50,000.
The latter part of Wednesday's sale will include some outstanding Military and Class III items and will feature a historically important Colt SMG 3 Machine gun fully transferable in caliber 308.  This is the very gun which was held back by Colt in the "Pattern Room".   In outstanding condition, an ultimate rarity for any collector of Class III.  It is estimated at $150,000-250,000.  The final offering of the Evergreen Ventures Collection formerly on loan to the Evergreen Aviation and Space Museum in McKinnville, OR includes a Nazi proof WWII ZB-26 machine gun with a presale estimate of $13,000-18,000.  Also included in this category is an outstanding DWM Brass Maxim on original tripod with carriage wheels.  In near excellent condition, it is estimated at $35,000-45,000.
This sale includes more treasures from the renowned Dr. Geoffrey Sturgess Collection of Zurich, Switzerland.  An extraordinary SN 30, 1899-00 Swiss/UK Trials prototype Luger rig is estimated at $60,000-90,000.  An impressive and rare Gabbet-Fairfax Mars M1901 pistol with an extraordinarily rare original holster comes to the auction with a presale estimate of $40,000-60,000.  A group of rare and desirable Colt semi-auto pistols will also be featured in this sale. From the William Smith Collection is an extremely rare Navy Contract Mod 1900 in very fine to extremely fine condition estimated at $17,500-27,500.  From the Collection of Marion Williams is a rare Springfield Model 1903 Mark 1 with very rare Mark 1 Petersen device.  In great condition, it carries a very conservative presale estimate of $10,000-15,000.  Perhaps one of the more interesting military items in Wednesday's session will be the fantastic Cold War/Vietnam Era M59 Armored Personnel carrier.  In excellent condition, it is a truly unique piece of Militaria.  Just what you need to get your kids safely to school with an estimate of only $60,000-80,000, about the price of a new Chevy Suburban.
For more information contract James D. Julia's at 207.453.7125 and ask for Department Head, Francis Lombardi or Wes Dillon.  Or contact us via email at FLombardi@jamesdjulia.com.  An impressive three volume lavish color set of catalogs is available; one for each day.  The price is $39/each or all three for $100.00.  Auction preview days include Friday, Saturday and Sunday, October 2nd, 3rd, & 4th from 9.00 am to 5.00 pm and days of sale, 8.00 am to 10.00 am.  The Auction is scheduled for Monday, Tuesday, and Wednesday, October 5th, 6th, & 7th starting at 10.00 am each day.  The auction will be held at James D. Julia's auction facilities at Route 201 in Fairfield, Maine.
James D. Julia, Inc. 3-Day Fall Firearms Auction will include and introduce their new Sporting & Collector Firearms Session