James D. Julia will be holdings its annual August Fine Art, Asian & Antiques sale on August 24th-26th, 2016.
This nearly $6 million sale is chock-full of the highest quality and most desirable merchandise and has rightfully earned its reputation as one of the most anticipated auctions of the year. The sale offers an astonishing selection of fine, decorative, and nautical art; antiques and Asian articles; historical items; and many remarkable, one-of-a-kind treasures as well.
The first day of this event includes over 650 lots and makes waves with some truly outstanding paintings and bronzes. These include Edward Willis Redfield's River Decorations (estimated at $80,000-$120,000) and two works by Andrew Wyeth, River Greys and By The Lower Dam. Each is estimated at $20,000-$40,000. Another mane attraction in this elite category would be Wilhelm Kuhnert's Resting Circus Lion Couple, estimated at $30,000-$50,000.
Year after year, Julia's is universally acknowledged for its leadership in the categories of works featuring Maine artists and themes, as well as Rockport School paintings. Vivian Milner Akers' Bird Brook Winter, estimated at $8,000-$12,000, is certain to take flight with enthusiasts. It is the largest Akers that Julia's has had the pleasure of selling. And it's a family affair when it comes to the amazing selections of works by Maine's own Peirce family. Waldo Peirce's Autumn Leaves With Kittens (estimated at $8,000-$12,000) and Gabrielle In A Cap (estimated at $4,000-$6,000) are truly pretty as a picture. This sale also features several paintings by his lesser known, but not lesser talented wife, Elzira Peirce. These include Key West (estimated at $2,000-$4,000); Family Group (estimated at $1,500-$2,500); and Ring Necked Lady, estimated at $1,000-2,000.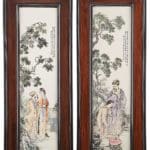 This sale's selection of Rockport School paintings is outstanding and features favorite Cape Ann artists including Gruppe, Glackens, Morrell, and Gillette, among many others. Aldro Hibbard's Winter Landscape, Vermont, and Anthony Thieme's Gloucester Fisherman are first class all the way. Both are estimated at $8,000-$12,000.
Keeping with the theme of school spirit, Julia's is pleased to present a fine collection of paintings from the Pennsylvania New Hope School of artists. These impressionist style works include Kenneth Nunamaker's farm inspired Plum Blossoms (estimated at $20,000-$30,000) and Arthur Meltzer Once A Barn, estimated at $8,000-$12,000.
The bronze selections in day one of this sale are heavy favorites. Jud Hartmann's monumental 48" x 24" Susquehannock depicts a Native American Indian as described by The Voyages of Captain John Smith from 1607-1609.  It is estimated at $10,000-$20,000. Rolling right along, Abastenia St. Legar Eberle's joyful Girl With Roller Skate takes the wheel with its $10,000-$15,000 estimate. According to our catalogers, this is the first example sold or offered in recent auction history.  And two small bronzes of horses by Renee Sintenis are estimated at $6,000-$9,000 each.
Day one also includes a fine selection of works by Canadian artists. There's certain to be boatloads of interest in Jack L. Gray's Chockle Cap, Lunenburg Co, Nova Scotia, which is estimated at $20,000-$30,000. And for those who prefer land over water, Frederic Remington's pen and ink wash on paper Trail Riders is a solid choice and is estimated at $15,000-$25,000.
Auction day two features over 600 lots of outstanding American and European antiques, furniture, historical items, and nautical paintings and hardware at center stage. Paintings featuring seafaring vessels of all types make a huge splash in this upcoming sale. It's all hands on deck with Fitz Henry Lane's New Bedford Harbor. This unsigned oil on canvas is housed in a fabulous Eli Wilner & Co. frame and will be included in the online Fitz Henry Lane catalog raisonne published by the Cape Ann Museum (www.fitzhenrylaneonline.org). It is estimated at $300,000-$500,000.
Other nautically themed highlight paintings include James Buttersworth's Yachting In New York Harbor (estimated at $20,000-$40,000) and several works by Montague Dawson, including his The Lofty Trader -The Scottish Moors Built 1890 – estimated at $40,000-$60,000. Robert Salmon's Outward Bound, Long Island Head, Boston Harbor is estimated at $20,000-$40,000. James Bard's Portrait Of The Steamboat Daniel S. Miller On The Hudson River is estimated at $50,000-$80,000. An outstanding two sided watercolor featuring the ship "Factor" on one side and the Bark "Vermont" on the other comes with full family provenance and is estimated at $5,000-$10,000.
Collector's favorite Antonio Jacobsen is well represented with six examples including Portrait Of The American Black Ball Line Ship Columbia, estimated at $8,000-$12,000. Also included are six works by Thomas Hoyne including his Parting The Crest Helen G. Wells At Gloucester; Taking A Bath On Georges; and Five To Port 1983. Each is estimated at $15,000-$25,000.
Low tech, nautically inspired "hardware" is prominently featured throughout the second day of this sales event. The eagle soars with a mid-19th C patriotic carved paddle box lunette from MA, estimated at $20,000-$30,000. Also of interest is a collection of outstanding, early, and all original Nantucket lightship baskets, one of several fine lots from the Mayhew-Pinkham-Coleman Family Estate of Nantucket, MA. These families and their descendants were the earliest residents of Nantucket Island, with roots in the 17th C. These six early swing-handled baskets are estimated at $3,000-$5,000.
This auction offers a fantastic array of decorative and functional items, including a fine selection of antique clocks. Up-to-the-minute clock highlights include an Abel Hutchins New Hampshire clock with rocking ship movement (estimated at $6,000-$8,000); a handsome and important Aaron Willard Clock (estimated at $20,000-$40,000); a Chippendale Simon Willard clock with a Roxbury case, estimated at $3,000-$6,000; and a Chippendale Mahogany dwarf case clock by Walter Cornell. This petite treat is only 38-3/4″ tall and is estimated at $8,000-$12,000.
Quality antique furniture is another signature category for Julia's. Highlights here include a Boston William & Mary walnut gateleg table from the early 18th C originally owned by the Butler-Sigourney families of Boston and Oxford, MA.  It is estimated at $25,000-$50,000. Another is a MA carved mahogany dropleaf dining table with a "Cumberland" mechanism in the manner of Thomas Seymour. This remarkable piece is from the Leverett Saltonstall estate and is estimated at $18,000-$20,000.
Also on offer are two remarkable chests including a MA figured mahogany blocked end reverse serpentine chest of drawers from around 1770, estimated at $3,000-$5,000. And an early 18th C three-panel MA pilgrim oak chest carved with the initials "RS" is estimated at $10,000-$20,000.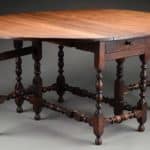 Enthusiasts looking to add large, visually interesting treasures to their collections need to look no further than this sale. A cigar store Indian Princess trade figure attributed to Samuel Robb of New York features a maiden with a feather headdress. She is estimated at $45,000-$65,000. A circa 1875 tobacconist figure of an Indian attributed to Thomas Brooks is estimated at $35,000-$45,000. And two early 19th C carved and painted pigeon trade signs which were originally mounted around the perimeter of the Pigeon Cove Inn in Knob, ME are estimated at $2,500-$3,500 each.
Top selections of weathervanes include a copper E.G. Washburn and Co. leaping stag weathervane estimated at $10,000-$15,000. And it's off to the races with a late 19th C Chackney horse weathervane estimated at $8,000-$12,000.
It wouldn't be a Julia's sales event without some remarkable and unexpected historical items and flags, and this sale more than delivers in these important categories.
Bidders are certain to get into a heated battle over a rare and historic New England Long Fowler inscribed and dated "1776." This important firearm, deaccessioned from a local historical society, was used by Benjamin Baldwin at the Battle of Bunker Hill. Baldwin's Fowler is estimated at $6,000-$8,000.
Also on point here is an officer's saber inscribed to "Little Big Horn" survivor and Congressional Medal of Honor recipient Captain Edward Godfrey, Company K, 7th US Cavalry. Godfrey's sword, along with a photograph of him holding it, is estimated at $8,000-$12,000.
One incredible lot, an archive of the submarine USS Nautilus' journey beneath the North Pole, includes a small flag inscribed "This was presented to me by the Skipper of The USS Nautilus SSN 571 after her North Pole run 3 Aug 1958" signed by C.W. Nimitz. This archive, which includes ephemera, insignias, and patches, is estimated at $8,000-$12,000.
This sale also features two very interesting Civil War-era flags. The first, a silk, hand sewn Civil War Battle Flag of The 92nd New York Infantry, is the only known surviving flag of this unit. It is estimated at $8,000-$12,000. The second is a Confederate battle flag marked on the hoist by Thomas Alexander Brander, artillerist in the Virginia Artillery, Army of Northern Virginia. The flag has highly credible family provenance dating it back to the Brander family and is estimated at $4,000-$6,000.
Textiles and folk art have a strong showing in this sale. A gorgeously rendered, 1765 schoolgirl pictorial needlework sampler from Essex County, MA will put collectors in stitches with its $12,000-$25,000 estimate. A colorful 19th C applique album quilt is a thing of beauty and is estimated at $6,000-$9,000. Folk art selections include a 19th C carved Bergen County, NJ blue painted corner cupboard (estimated at $10,000-$15,000) and a stunning late 19th C carved Abraham Lincoln inspired inlaid carved walnut wall mirror, estimated at $15,000-$25,000.
Other categories featured during the second day of this comprehensive sale include rugs, stoneware, accessories, Object d'Art, and antique silver, among many others. Sterling highlights here include a Hester Bateman silver sugar bowl urn, estimated at $3,000-$4,000 and a covered silver sugar urn with the hallmark of Joseph Richardson of Philadelphia, estimated at $4,000-$6,000.
The third and final day of Julia's annual summer auction is dedicated to contemporary decorative arts, unusual offerings, and Asian art. Over 750 lots of exciting, high quality, and intriguing merchandise are on offer.
A collection of 19th C Quimper pottery adds an appealing French accent to the mix. Of particular interest is a lot of four fine pieces of Quimper, including an unusual pair of bellows-formed wall pockets. The lot also includes a tray and compote; this quartet is estimated at $3,000-$5,000. A fabulous six-piece sterling beverage service, in the "Champlain" pattern and manufactured by The Ellmore Silver Co., is estimated at $4,000-$6,000. And a monumental Le Funi urn by Gio Ponti, only one of three examples known, is estimated at $50,000-$100,000.
Everyone knows by now to expect the unexpected at Julia's Fine Art, Asian & Antiques sales – whether they be in the auction gallery, on the phone, or participating online. A great surprise is an antique Swiss music box by Piallard Vaucher Fils. This example plays twelve operatic selections by Verdi, Handel, Donazetti, Rossini, Faust, and others and it is estimated at $4,000-$6,000. A second surprise is an enormous collection of British, Edwardian, and American postage stamps, lovingly curated by a local Maine resident over the course of a lifetime.  The stamps have the equivalent face value of about $300,000; the collection is estimated at $16,000-$20,000. And it's impossible not to get hooked on this third surprise highlight – a collection of 18k & 14k gold, gold on silver, sterling, gold-filled, silver filled and silver-nickel crochet holders with changeable hooks patented in 1924 by Brooklyn jeweler Samuel H. Burns. This is a salesman's kit which includes display samples of each of the 13 different production models plus additional stock and related ephemera. This most unusual archive is estimated at $3,500-$5,500.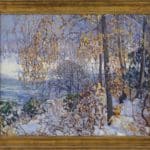 Day three also features about 250 fine Asian items, including furniture, sculptures, paintings, jewelry, cloisonné, jades, and porcelain.
An intricately carved Chinese bamboo brush pot is a breath of fresh air and estimated at $8,000-$10,000. An impressive early 20th C Chinese cloisonné footed censer, decorated with Taoists masks, is estimated at $3,000-$4,000, while a Ming Dynasty-era cloisonné basin is estimated at $6,000-$8,000. And an absolutely exquisite, green jade bowl dating from the Qing Dynasty is estimated at $4,000-$6,000.
Another highlight is an impressive, 19th C Chinese export Rose Mandarin dinner service in the "bird in the lantern" pattern.  This lot includes traditional tableware plus matching platters, serving dishes, nesting bowls, tureens, and other service items. It is estimated at $17,500-$22,500. Also of note in the porcelain category is an important Republican period pair of porcelain plaques By Wang Dafan, estimated at $30,000-$40,000.
More information on James D. Julia's outstanding three-day Summer Fine Arts, Asian and Antiques auction, as well as the full catalog, can be found online at www.jamesdjulia.com. This auction has a full-color, detailed, and illustrated print catalog available for $45. In addition to pre-bids, telephone bids, and in-person bids, James D. Julia accepts bids via Invaluable.com as well as Bidsquare.com.  Bill Gage, Tony Greist, and Katya Tilton welcome your questions and inquiries; they can be reached at antiques@jamesdjulia.com or by calling 207-453-7125.
This event will host its preview starting on August 23rd, 2016 from 9am-5pm.  All items are available for examination starting at 8am each day of the event.   The auction will be held on August 24th- 26th, beginning at 10am each day at Julia's facilities at 203 Skowhegan Road in Fairfield, Maine.
James D. Julia's August 3-Day Fine Art, Asian & Antiques sale, August 24-26