Excerpt from an interview with Warren Dotz
Warren Dotz is an author of award-winning, graphic design books published by American and foreign imprints such as Random House, Chronicle Books, Insight Editions and Graphic Sha Japan. A theme common to his publications is the "Art of Commerce," particularly package label and promotional illustration. As a pop culture historian with a special interest in brand spokes-characters, his commentary has also appeared in notable publications such as Advertising Age, Brandweek and the New York Times Magazine. Artifacts from Warren's collections have been displayed in exhibitions in San Francisco and Japan and many of his books can be found in museum gift shops such as The Museum of Modern Art and Centre Pompidou, Paris. Warren lives and works in San Francisco and New York City. His collection of advertising characters is one of the largest in existence.
Some Background on the Emergence of Advertising Characters
Advertising characters are fascinating to study and collect because they lie at the intersection of business, design, and the modern mythology of pop culture. The Jolly Green Giant is almost a modern day harvest god, if you think of it. In his early incarnations he represented foods that were healthful just as the Quaker Oats Man represented purity and quality. Characters like these represented a "value" and this was a common selling point in nascent American advertising.
As early modern-day advertising became more refined, characters were developed to specifically emphasize their products' unique selling proposition in relation to their competitors. This led to characters such as the Morton Salt Girl who, with the jingle "When It Rains, It Pours!," reinforced the message that only Morton Salt wouldn't become sticky during humid weather.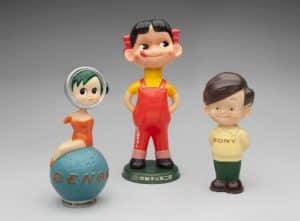 Moving forward … advertisers realized later on that their character didn't necessarily need to deliver a compelling argument; a character that people remembered fondly, that instilled warm fuzzy feelings, could be just as or even more effective. Speedy Alka-Seltzer and the Pillsbury Doughboy also extoll their product's virtues but we really just like how they make us feel. Many of the brand mascots were designed to be animated and tell an ongoing story along with a whole family of ancillary characters. Cap'n Crunch is a good example of how in the 60s advertisers began to appeal directly to kids. Notably so because the animated bumbling sea captain and his crew of four children were conceived and designed even before the cereal was formulated for release. A testament to the then flourishing power of the brand mascot.
But it's not just old stuff. New icons are created all the time. And old ones are updated and brought back to the marketplace. Why? Because they work like crazy. They stick in the mind and connect people to a brand. They sell product. They help to differentiate one near commodity from another. And employers love them too: they don't demand raises, union negotiated residuals or health insurance.
The Start of the Warren Dotz Collection
My first influences as a young boy was attending the 1964 Worlds Fair. Visits to the iconic and thoroughly modern corporate pavilions were really formative in my interest in logos, packaging and brand spokes-characters. My favorite venue was the IBM Pavilion — a structure in the shape of a giant egg — with the IBM logo embossed repeatedly on its shell. I later was to learn that this magnificent structure was designed by Eero Saarinen, its content and films by Charles and Ray Eames and the IBM logo by Paul Rand. No wonder it made a big impression on me!
On the home front, my NYC neighborhood had a Chicken Delight with a fiberglass chicken holding a bucket of drumsticks on its roof (That's common in this crazy ad character world … animals serving up parts of themselves), a Buster Brown shoe store, a Sinclair gas station with its "Dino" dinosaur mascot and a new hamburger outlet with golden arches (and opening day visit by a clown named Ronald McDonald). And of course there were Saturday morning breakfast cereal commercials too.
Even with all these influences I only began to collect ad character figures in my thirties. First a vinyl Pillsbury Doughboy at the Berkeley Flea Market, then a Reddy Kilowatt bought at a store on Los Angeles' Melrose Avenue and then a Ghostbusters movie figure, the Stay Puft Marshmallow Man. He was Hollywood's fictitious mash-up of the Michelin Man, Cracker Jack's Sailor Jack and Poppin Fresh. They say that once you have three, it's a collection. Now I own three thousand! (And I also own that roof-topping Chicken Delight chicken.)
The Progression of the Collection
At first — before there were online auctions — I'd collect most any advertising figures I could find at flea markets and collectible and toy shows. It might explain why I have many different versions of Mr. Peanut or Colonel Saunders (figures, bobbin-heads, banks, salt and pepper shakers).
I started to compliment them with flat artwork from brochures, decals, stickers, signs, pin back buttons and magazine advertisements. Some of the flatwork provided historical perspective for the figures while other items captured the icon in some earlier or later period style. Most importantly there have been many advertising characters that never existed as a 3-D representation (or not as intricately depicted as they can be in print.) Of course as a collector there is nothing more rewarding to finally finding an advertising icon in the figural form when you thought none existed. (Sometime that might be corporate in-house awards or executive desk ornaments, rare store displays or TV commercial cartoonist model. Overtime my "flat" adverting icon collection became so large that I presented the best of them in two recent books, Meet Mr. Product and Mr. Product (Insight Editions, 2015).
Over time, like all collectors in a field of collecting, my tastes have become more refined. I'm attracted to well designed and well made figures and store displays, especially larger items. I have presented my collection in galleries and museums, and at the SFO Museum. The larger pieces add to the drama of the exhibitions.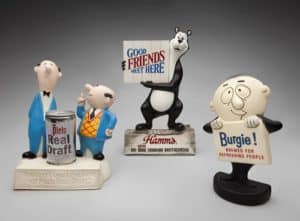 Advertising Mascots Over Time
By the late 50s vacuum tubes where transitioning to transistors. Along with that came portable transistor radios and color TVs. And along with television came commercials with their iconic cartoonish spokesmen and "critters." For the first time ever, those commercials were aimed at kids. Concurrently, the fast food franchise market exploded. With their shared formula for success, similar menus and building design, fast food chains needed to differentiate, and so were born the "fast food" advertising mascots depicted on signage, packaging, television commercials, and as gifts in children's meals.
Advertising icons can be timeless. But it is important not to confuse "timeless" with "never-changing." Indeed, many successful icons have developed or been updated over time. Some characters – like the Jolly Green Giant and Betty Crocker – have been around for more than 80 years, with each evolving to fit the times. Bob's Big Boy and the Campbell's Kids have become slimmer in the age of fitness and Tony the Tiger has become down right buff. In my books, Meet Mr. Product and Mr. Product you can see characters changing in many ways, even with fashion; for example those Campbell's Kids as 70s groovy flower children.
Mid to Late 20th Century
I think characters from this period had more "personality." The most curious and interesting characters happen to be the ones that were not bankrolled by major corporations. Perhaps they were less "filtered" or "focus-grouped" but they are definitely the overwhelming favorites of the graphic designers and animators who buy our books. Another group of less well known but interesting characters were ones shaped by their era. When secret agents, super heroes and astronauts were popular so too came advertising characters such as Bond's James Bread (Bond bread), the Man from Glad (Glad bags) and Oster appliance manufacturer's Super Pan. Even established characters like the Hush Puppies dog was sent into space, helmet and all.
What Qualities Make for a Lasting Icon?
In my mind a "lasting" icon and a "good" icon are two separate concepts. Lasting icons, for what ever reason, have been with us for decades. Usually their success can be attributed to being the spokes-character for a major company or product line. They have been "bank-rolled" for success. And once they become imprinted in our minds, they become famous, sometimes even undeservedly. A good icon in my mind is one that is well-designed or has a memorable personality that achieves tremendous synergy with the product … even if it was used for only one advertising campaign.
In regards to "personality," simply put, an advertising character, whether fictional or real, has a face. Whether it be man, woman or anthropomorphic fruit or vegetable, having those eyes and mouth makes them "human." And with human features they elicit empathy as well as gain our attention. Although Kellogg's has a distinctive logotype for its products it could never compete with the benefits they've gotten from Tony the Tiger, touting the greatness of Frosted Flakes or Toucan Sam promoting Froot Loops cereal.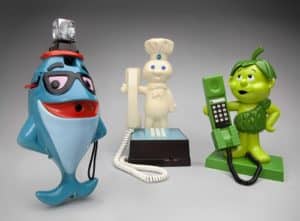 Ad-ing It All Up
I realized very early on with my collection that people would respond to it in a very positive and emotional way. There is always one character that will set off someone's fond memory of growing up. It makes it a thrill to show off your collection. And you will undoubtedly get your viewers smiling as hundreds of smiling faces look back at them.
Unlike some collections that are frozen in time, advertising characters are still being used, transformed and introduced by companies. Not only that, there's been a resurgence in promotional bobbin-head figures that are readily available. The new personalities include the Geico Gecko, Progressive Insurance's Flo and updated versions of The Michelin Man, Burger King and Jack-in-the Box have been issued.
People are much more sophisticated these days to advertising and the fact that advertising and ad characters in particularly are here to manipulate us into buying and doing things. However, even with all this savviness we still allow them to entertain and charm us.
To see a video overview of his 2014 exhibit at the SFO Museum at the San Francisco International Airport, go to warrendotz.com/exhibit.
Advertising Icons: The Warren Dotz Collection