by Deborah Abernethy and Mike McLeod
$440 (79 bids, 10 bidders): Steampunk 1889 Eye Dr. Scope Ophthalmometer Medical Tool Optometrist.
Here's an antique ya just don't see every day! I believe it's called an "Ophthalmometer," which an eye doctor used over 100 years ago for examining a person's eyes. The maker's name is printed in the casting on the side and it reads: "F.A. HARDY & Co. MAKER CHICAGO". The big domed shape part turns 360 degrees along with the two brass pointers/arrows in front of the plate full of numbers. Comes with some extra parts, some type of plates and some electrical parts. Measures just about 21 inches high x 20 inches long x 16.75 inches wide, and on the numbered plate with the pointers it also reads: "Pat. May 9 1889." A very cool looking medical tool/instrument that displays very well and will certainly be the talk of any room you place it in!
(Photo: eBay seller searchnstein.)


DBA:
An Ophthalmometer is an instrument to measure the size of a reflected image on the convex surface of the cornea and lens of the eye. It is used for determining astigmatism. This type of equipment is not seen every day in the marketplace but does not have a strong collector's market. The same type of equipment has sold at auction from $50 to $225, so $440 is a good deal for the seller.
$455 (13 bids, 10 bidders): 1850 hand forged ice skates w/ wood platforms & button finials skating.
We've been cleaning out our New Hampshire family estate. These were up in the rafters, and we almost didn't see them, and now that everyone in New England is virtually snowbound, it's a good time to make use of them. I'd date them to about 1850.
The steel runners are hand-forged and have a fabulous decorative curled design, fastened with screws to what appears to be maple platforms. The runners are in very good condition without any cracks or breaks. The wood bases have holes drilled through the sides for leather straps, but I havenít a clue if these strapped to your shoes back in the day or to boots. They measure 13.5 inches in length.
The leather is old and was very brittle – I put some mink oil on the leather which has softened them up a bit. One has a leather heel strap, while the other one is missing. This leather remains brittle and is now only to be used for decoration. The platform bottoms appear to have some old finish – no makers mark that I can find but possibly by Andrew Hotchkiss & Sons of Sharon, Conn.
(Photo: eBay seller hausdezign.)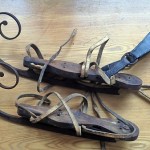 DBA:
These circa 1850 skates are rare in the marketplace. It is hard to say whether the buyer or seller got a deal. I did find one similar pair of skates offered for sale on Etsy for $250; however, these were missing the straps. I have also seen similar skates selling at auction for upwards of $3,000. These are very attractive in design.
$450 (25 bids, 13 bidders): 19th C. Antique German Sterling Silver Repousse of Form Pin Cushion.
The pin cushion is in the form of a Victorian period shoe with beautiful floral repousse designs throughout.  The pin cushion is top quality from top to bottom and looks to be all original, including a rich purple velvet material. The pin cushion is marked on the bottom "sterling," and you can just make out "Germany" as well. The pin cushion is in excellent condition with minor signs of age and use but no real damage, no large dents and no cracks or repairs of any kind. It is also one of the large and most impressive examples I have sold, measuring 6.25 inches long and sitting 3.25 inches tall with a quality total weight of 127 grams.
(Photo: eBay seller: joanies_house_of_treasures.)

DBA:
Repousse is a metalworking technique in which the design is made by hammering on the back to make a design on the surface. We have at least two collector categories here: pin cushions and sterling silver. The price is a retail value and is in line with other similar objects.
$3,819 (26 bids, 10 bidders): Cast Iron "PERFECT REGISTERING" Mechanical Bank.
This mechanical bank was made by the J.&E. Stevens Co. and patented January 10, 1893. It was designed by Charles Bailey, one of the foremost bank designers. I have never seen this on eBay, and it is considered one of the scarcest and most difficult to find of the mechanical banks. There are no cracks, breaks or other damage and shows normal wear. This is a wonderful example of the Perfect Registering bank. It was manufactured in very limited quantities, and because of its overall attractive appearance, it is considered by collectors and the seller to be one of the prize mechanical banks to own.
The Perfect Registering Bank is, as the name implies, a registering bank (that shows amounts as coins are deposited). However, it is definitely also a mechanical bank since the figure of the girl moves down the track as coins are inserted and the operating lever pressed. The bank is a fine example of Bailey's artistry in using flowers, animals, and figures in their makeup. This, of course, required much more time and effort in making the original patterns; however, the end result was a more interesting, attractive, detailed mechanical bank.
To operate, a dime is inserted in the provided slot located in the front top edge of the left end section of the bank. A lever located in this same end section is then pressed. In so doing, the girl moves forward, and the pointer in her right hand indicates the amount now in the bank. A little dog at her side moves along with her. At the end of the wall is a soldier. When the amount approaches five dollars, the dog on the track stands up. When the dog is pressed back down, the right end of the bank swings open and the coins are retrieved. The bank works properly and is approximately 6 inches long, 5.5 inches wide and 4.5 inches tall.
(Photo: eBay seller thingsnsuch100, Jack Allen. Jack also has a YouTube.com channel called "TheBankcollector4" that describes various mechanical banks and how the Perfect Registering bank operates.)

DBA:
The buyer got a tremendous deal.  An identical bank was sold at Morphy Auctions in 2012 for $20,000. Another one was sold for $9,000 in 2013 that was missing its paper label. In doing an extensive search for identical model banks, the prices have varied from $1,100 to $24,000. The $1,100 one had the original paper replaced, and all others were in different degrees of "original finish."  Mechanical banks have been very collectible for years, and prices have not dropped.
Deborah Abernethy is a certified appraiser with the International Association of Appraisers. She can be contacted at 404-262-2131 or Deborah@expert-appraisers.com. Her website is www.expert-appraisers.com.
What's Selling on eBay: September 2015