Mechanical Spacebanks
by Raymond Reines
"I believe that this Nation should commit itself to achieve the goal before this decade is out of landing a man on the Moon and returning him safely to Earth." ~JFK: May 25, 1961.
This ambitious challenge was presented by our 35th president just 20 days after America successfully launched its first astronaut into space and a mere three-and-one-half years after the world's first satellite was successfully launched and orbited the Earth. The Race for Space had begun, and the impact on our society and culture, as well as the world, was tremendous!
Countless manufacturers produced various products depicting spacemen, rockets and planets, and everything from toys to oven mitts celebrated space travel. During a period of time between the late 1940's and late '60's/early '70's, three American companies produced pot-metal mechanical toy banks in honor of the United States' efforts and achievements in the Race for Space. Two were in East Detroit, Michigan: Duro Mold & Mfg., aka, Duro Mold & Pattern, mainly produced household fixtures but found their space age-themed Atomic mechanical bank a hit, and Astro Mfg., which was started by two brothers who quit Duro to strike out on their own in 1957. The third,Vacumet, Inc., operated out of St. Clair, Michigan. The molds were later altered to designate three model types as commemoratives when the first astronauts were named, as well as noting both Alan Shepard's and John Glenn's historic achievements. These manufacturers' intriguing toys have become coveted collector's items today.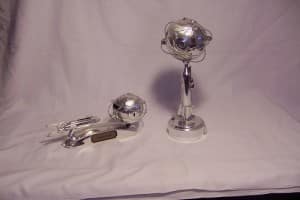 Many of these banks were marketed and sold to financial institutions whom then actually gave them away (or sold them at cost) as incentives when parents brought their children in to open up a saving's account. The water-transfer decal labels affixed to these toys proudly displayed the names of these institutions with sayings such as, "Watch your savings soar at…Main Street Bank!" On occasion, private groups would also order a batch and place their label on them. Many of these fragile labels have either partially or fully disintegrated in time, so finding a bank with its complete label is a treat.
Few of these toy banks have survived in never-played-with condition, with all of their pieces, or with the original box. Fewer still survive that were the actual salesman's samples having a blank label (if they had a label at all), or one simply stating, "Your Institution Here," or something similar. Finding a complete model type in mint condition and with its original box is truly finding a treasure. During the production periods of both Duro and Astro mechanical banks, the company contracted to apply the various finishes to the toys was Vacumet in St. Clair.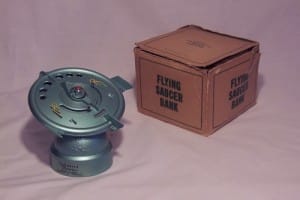 Duro was the first company to close, and Astro acquired the rights to its mechanical banks. Vacumet later acquired the rights to the molds just before Astro closed its doors, and it produced several of the various model types before they themselves ceased to exist sometime in the early 1970's.
My interest in these intriguing banks began in an antique store in the north Georgia foothills of the Appalachian Mountains. Not exactly in working condition, the Strato Bank I held had a $128 price on the tag. Having looked as though it had literally fallen off a truck, I quickly set it back in its place on the shelf. But from that moment onward, I've kept a special eye out for these fascinating mechanical banks, and I have amassed quite a collection in my antiquing travels.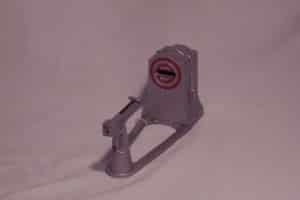 Unlike the earlier cast-iron mechanical banks produced overseas and in America during the middle- to late-1800's, whose market had been compromised by the cheap Chinese reproductions and outright fabrications, these white-metal (or "pot" metal) toy banks are not as easily faked. I've seen just one example of a cast-iron reproduction, which is easily recognized as a poor example. On the other hand, the Japanese tin lithograph "copies" of the same era (Strato, Berzac Missile and Plan-It) have become even more coveted by collectors, despite demanding thousands of dollars. Plastic copies of the Missile and the Mercury Banks have also been produced, and they are somewhat collectible themselves.
One may find these intriguing old pot-metal toy mechanical banks for an average retail price of $75-$185 for the more common model types in near-mint and mint condition and from $300 to $750 for the rarer models. One may potentially double those figures if the original boxes accompany the banks.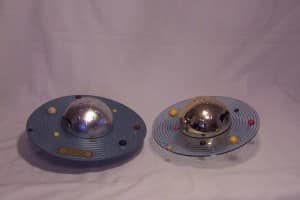 Here are the model types and their rarity with values estimated from low to high in condition, and including the original boxes:
The Atomic Bank by Duro, 1949.
While most of these didn't seem to have labels at all and came in just one color, silver-grayish, with a red bull's-eye, a few have been seen with banking institution labels. It fires the coin in via a spring-loaded mechanism. The bank measures 8.5 x 4 x 3 inches. It is valued at $75-$190; add $50-$100 for original boxes.
The Mercury Rocket Bank by Duro, 1952.
Earlier models employed a simple block as the launch mechanism, which fires with an identical spring-loaded mechanism. This feature was later modified to resemble a small bomb or airplane. This model, like the Atomic Bank, primarily came in a silver-grey matte finish, but I have an elusive and extraordinarily rare silver chromed version, as well as the extremely rare green model, of which I actually own four specimens. These were also produced overseas, the German model being modified with several differences: larger coin trap; absence of the words Mercury or Rocket Bank; an altered emblem omits the star; and the rear end has been hollowed out. It measures 8 x 2.25 x 1.5 inches. Value: $80-$165 for common, $150-$225 for green, and $180-$390 for silver. Original boxes: $50-$150. German model $175-450, box $75-$200.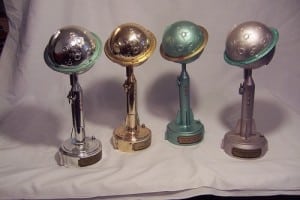 The Strato Bank by Duro, 1953.
This model came most commonly in green with rare appearances in both chromed and matte silver. I've seen one in gold chrome as a commemorative and another in matte gold as a non-commemorative model. I've also seen a couple painted in the orange-and-brown scheme of the Sportsman Bank, but they were from foreign banking institutions. It fires the coin in via an identical mechanism. It measures 8.25 x 3.5 x 2.75 inches. Value: $65-$180 for common: $80-$220 for silver chrome; and $110-$230 for matte gold. Commemoratives: $75-$210 for silver chrome; $90-$260 for matte silver; $110-$295 for green; $130-$350 for gold chrome. Original boxes: $50-$150.
The Flying Saucer Bank by Duro, 1956.
The only color I've seen these in is green, but there's also a silver-chromed edition. It has a completely unique firing mechanism, which sends the coin in a semi-circular motion into the bank. It is 4 x 5 inches. Value: green, $300-$850 and silver chrome, $375-$1,000. Original boxes: $100-$450.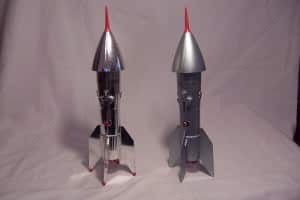 The Guided Missile Bank, a Berzac Creation, 1957.
Manufactured by Astro Mfg. This was brothers John and Steven Berzac's debut bank after leaving Duro Mold and starting Astro in their garage. The firing mechanism is identical to the others, except it is situated vertically. The bank is 13 x 3.5 inches, including the tapered red rubber nose cone. Common matte and chromed silver, $50-$140; rare gold chrome, $55-$165; and a one-of-a-kind green in the possession of the Berzac Family, not for sale. Original boxes: $50-150.
The Vacumet version, which came bare and ready to be custom painted by its new owner, also came complete with adhesive paper stickers and all rubber pieces. This model lacked Astro's symbol on each side of the upper fuselage. Most were painted white by their new owners, hence; the values are: $75-$185 painted, $95-$215 original bare artifact, less without stickers and rubber pieces, as is the case with all Astro bank models.
The Satellite Bank by Duro, 1958.
This model also came later in commemorative types and in most colors but green and blue-gray. Produced primarily by Duro, these were acquired and produced by Vacumet, though slightly modified (the top lip of the base has a ridge and the windows are filled in, and excluded the marble "satellite.") The firing mechanism is also situated vertically. It is 10.5 x 3.5 inches. For various finishes, $70-$175; commemoratives, $85-$190; original boxes, $50-$150.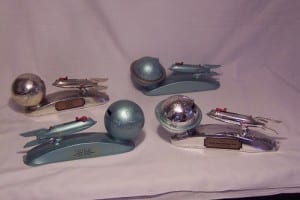 The Destination Moon Bank by Duro, 1959.
Commonly in chromed silver and somewhat rare in gold chrome (given for new, premium accounts), very rare in matte green, and extremely rare in matte silver. The firing mechanism is situated vertically. First produced with a bare ring, this bank was later modified as a commemorative model* to honor our first astronauts, the honor molded into the metal ring which encircles the Moon and noted: "1st U.S. Direct Hit April 26th-1962" on the inside of the base.
Some commemorative rings are marked on both sides, honoring two different occasions, doubling the artifact's collector potential. It measures 10.5 x 3.5 x 4.5 inches.
Non-commemoratives: silver chrome, $60-$160; gold chrome, $75-$185; green, $110-$350; and matte silver, $150-$385. Commemoratives: add $65 across the board. Original boxes: $50-$150.
The Plan-It Bank by Astro, 1959.
Not as mechanical as the rest; consisting of a rotating metal ring of colorful rubber planets around the chromed sun, this bank would simply drop the coin into itself as you slowly turn the ring. Some were made with clear plastic rings (Vacumet) while others were the bluish metal (Astro). The suns were either silver or gold chromed, respectively. These were very educational as the planets' orbital cycles were molded onto the ring by each of the celestial bodies. The bank measures 4 x 9 inches. Value: $110-$300. Original boxes: $50-$175.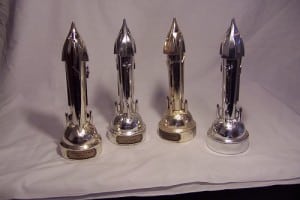 Note: A modification of two of the eight different model types, the Missile-Sphere (modeled after the Destination Moon) and the Rocket-Sphere (modeled after the Strato,) were made in 1961 by a different company, R.M.S. Sales Corp. in East Orange, N.J., to commemorate the 1964-1965 New York World's Fair. Banks are 10.5 x 3.5 x 4.5 inches and 8 x 3.5 x 3.25 inches and only came only in the chromed-silver finish. The Moons on these highly coveted collector's items have been replaced with the Unisphere, the symbol of the Fair that year. Values: Missile-Sphere, $250-$400 and Rocket-Sphere, $300-$575. Original boxes: $175- $250 and $200-$300, respectively.
As a disabled veteran, I find pleasure in antiquing and have discovered what I consider to be "sleeper" artifacts. My research has led me on a journey which is still unfolding today, beginning in Georgia and taking me to the launch place of America's Space Race: the Kennedy Space Center in Cape Canaveral, Florida. I'd even had the opportunity to donate full sets of these intriguing artifacts to four prominent American museums. The Smithsonian is most notable, and the collection can be found on their website in the Air & Space Museum's Social & Cultural Collections., search "Duro Berzac."
Other sets are in the Early Space Exploration Museum at the KSCVC in Cape Canaveral, the Cosmosphere in Kansas, and the Intrepid Sea, Air and Space Museum in New York City. Also in NYC at the Queens Museum of Art is what was my entire NYWF collection, which includes a Missile Sphere.
Raymond Reines has a showcase in Broad Street Antique Mall on Chamblee's Antique Row in Chamblee, Ga.
Price estimates are based on: extremely limited and older reference/price guide publications (none of which cover every single model type and finish produced); Reines' buying experience, including antiquing hundreds of stores and malls, as well as online; research conducted during the past five years; and several conversations with Cary Berzac, the son of John Berzac, creator of Astro Mfg. with his brother Steve after they left Duro Mold in 1957.