Selling Your Gold: What You Should Know
Jewelry, Gold and Precious Metals
by Edward Lewand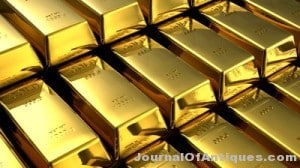 As a professional independent appraiser, over the years people have come to me to sell their gold. During the consultation, I would sort out their gold into what should be sold for gold weight and what should be sold as jewelry (usually antique). I would give them the breakdown of the price for 18-karat gold, 14-karat gold, and 10-karat gold for that day and, then show them the price a gold refiner would pay for the gold (or the price the jeweler would get when they sell gold to the refiner). I would instruct them how, if they buy from the public, how to sell their gold to a refiner and to look for a price as close to the amount cited that day. This article is to help educate you on how to sell your gold and optimize your return as well as other important information about gold.
Special Note: One must understand that most states and municipalities have laws to protect the public in the case of stolen goods. Jewelers may have to hold gold or jewelry up to 30 days, reporting to the police what they have acquired, after which they are free to resell the pieces to the public or melt it. (As you will see later in this article, even if gold dropped $200.00 an ounce, the actual difference in what the melt value would be is very small.)
After I have concluded my consultation with a client, I would ask him/her to let me know the prices they were cited. The difference in values from a certified jeweler to the "we buy gold stores" was amazing. I lecture on appraising jewelry (at NYU) and how to buy and sell jewelry and antiques, so let us start with the basics of what is gold and how it is priced and broken down.
Gold is an element, its symbol is Au and it's atomic number is 79. It is yellow when it comes out of the ground and is mixed with different alloys to produce the purity or karat and colors that we see (see chart of alloys).
Gold is weighed in the Troy system, which is approximately 10% heavier than the avoirdupois system that is used every day. The grain (not gram) is the smallest unit of measurement and is the same in both systems; however, from that point on, the systems differ.
Within the jewelry trade, there are two weights that are used; the Pennyweight (abbreviated as dwt.) and the Gram (g). Usually, you see the price per gram when you buy gold because the price per gram appears to be lower than the price per pennyweight but, the truth is, they are the same. There are 20 dwt., in a troy ounce and 31 grams in a troy ounce. Always be careful when buying gold because the gram price will appear to be less than that of a dwt.
Because gold and jewelry have been popular for thousands of year, many countries have set standards for the sale of jewelry and gold in their countries. In the United States, the minimum standard is 10K, which means that nothing can be sold as gold that is less than 10k. In England, it is 9k and in Germany 8K. In France, it has traditionally been 18K, but this changed in the 1990s to 14-karat which I have found is seldom used.
To estimate the price of scrap gold for the day (or the price of gold in general), you take the gold price, for example, let us say gold is $1,600 an ounce for the day, we would take the price of gold less 5%. This is just the number I use. Some refiners pay more and will only take 2% while others will be more. Shop around for the best price. Some dealers have been going to stores and buying gold and taking it to the refiner and charging a few percent for their fee. Over the years, I have learned that most jewelers do not know how to estimate the price of gold and trust what someone will tell them. (Remember, trust has to be earned. If someone tells you something, just because they have a reputation, it does not always mean they are correct.)
To figure 14-karat which is 58.5% (stamped sometimes "585") gold, take the price of gold for that day, let's use $1,600 x 95% (or less 5%) would equal $1,520, multiply by 58.5% (the amount of gold for 14-k) would equal to $889.20 per oz of 14-karat gold. Take this figure and divide by either 20 for dwt. = 44.46 per dwt. of 14-karat gold or 31 for the price per gram or $28.68 per gram.
To figure 18-karat which is 75% gold (stamped sometimes 750), take the price of gold for that day, let's use $1,600 x 95% (or less 5%) would equal $1,520 and multiply by 75% (the amount of gold for 18-k) would equal to $1,140 per oz of 18-karat gold. Take this figure and divide by either 20 for dwt. =  57 per dwt. of 18-karat gold or 31 for the price per gram or $36.77 per gram.
So if gold drops $200 per ounce, the difference is about $6 to $7 per dwt. In most cases, I have found most of the reputable buying companies buy back from the refiner's price by 20% to 30%. You can track the price of gold at Kitco.com and look up historical data to see how much gold drops in a 30 day period. I have never really noticed a drop of more than $200 to $300 per ounce in a 30-day period.  It does not mean it hasn't or can't happen so one should always do your own research. Hopefully, I have given you the information to help you research and obtain the highest and best price for gold. Good Luck!
Other Useful things to know
Did you know that, when an item carries a quality mark, the law requires that it also carry the manufacturer's or seller's trademark? However, it does not require it to have a quality mark. Most jewelry tradeshows require that all vendors have registered trademarks. A hallmark is issued by a government assuring the quality of the gold while a trademark is the manufacturer's mark for identification
If you have any questions or concerns, please feel free to contact me by email ealcas@msn.com. Look for future articles on Buying your diamond, Selling and buying estate jewelry, Appraising: the pro's and con's (how to).
Gold fineness
To figure out the percentage of gold take the karat and divide
by 24 Example 10 divided 24 = 41.7% the part of gold in 10k
Weights
Troy weight
1 grain (gr)    = 0.0020833 ounces    = 0.0648 grams (g)
24 grains    = 1 pennyweight (dwt.)    = 1.5551 grams
20 pennyweights    = 1 troy ounce    = 31.1035 grams
To convert Pennyweight (dwt.) to grams: dwt. x 1.5552 = Grams
To convert Grams to dwt.: you can divide by 1.5552 or multiply by 0.6430
Edward Lewand, GG, ASA, AAA is a graduate gemologist and an accredited appraiser from the Appraisers Society of America and a certified member of the Appraisers Association of America. He is also the director of the Antique Jewelry and Art Conference "Jewelry Camp" and educational program on Jewelry and small antiques. He is available for lectures for luncheons, clubs and charitable events and fund raisers by offering appraisal days.