by Jessica Kosinski

Every period in history had its trends and things it was known for. The Art Deco period was no different. It was a period when Americans were looking toward the future. Many pieces of furniture and art made in that time had designs that were considered "ahead of their time" or "streamlined" compared to their predecessors. The pool of materials used in design also expanded rapidly during the Art Deco period. One such material that became quite popular was chrome. Let's take a peek at how and why chrome items were so popular throughout the Art Deco period and which ones still interest collectors today.
Chrome and Its History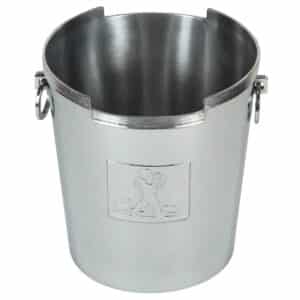 Chrome, or chromium, is a type of metal also called "poor man's silver." It is usually applied in the form of a thin coating, also called plating. Often, it is applied over nickel or another type of metal, and can also be applied over plastic in some circumstances.
In the early 19th Century, a process called electroplating was invented. That process involved placing certain metal objects in a solution of what was at the time liquid gold. When electricity was applied, the gold adhered to the metal objects. This allowed certain objects to be covered (plated) in gold rather than entirely made out of gold.
Electroplating only works when metal objects are dipped into very specific solutions. In 1920 a man named Dr. George J. Sargent wrote a paper stating he had discovered the exact combination of components to use in which chromium electroplating would work. However, it was not until four years later that the process was officially developed at Columbia University.
Perfect Timing
The perfection of the chrome plating process coincided beautifully with the birth of the Art Deco period. As people sought out styles with cleaner lines but unique appearances, nothing fit the bill more than chrome plating. However, the popularity of chrome took a few very interesting twists and turns along the way.
It Began with Jewelry
One of the first uses for chrome plating was in the field of jewelry production. Specifically, it was used to strengthen and reinforce platinum wedding rings against getting scratched. Those fortified wedding rings were so successful that chrome-plated jewelry of all types quickly became popular, especially rings and earrings. The Jakob Bengel Company became one of the biggest producers of such jewelry throughout the Art Deco period. That jewelry is still popular with collectors today.
In fact, the popular PBS series Antiques Roadshow appraised a Jakob Bengel necklace at $900 to $1,200.
The Progression to Furniture and Appliances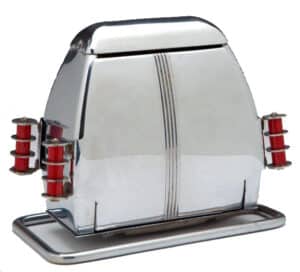 The Art Deco movement really began overseas. It didn't truly hit the U.S. until around 1930, but when it did it hit hard. Nowhere was that more evident than in furniture stores and skyscrapers. Designers like Paul Frankl and Donald Deskey (the designer of Radio City Music Hall in New York City) were producing lines of furniture that were clean, glossy, and streamlined. Many of them featured chrome-plated legs or other components. Soon, home appliances were also featuring glossy, chrome-plated finishes. Art Deco style toasters became particularly popular throughout the 1930s and into the 1940s.
It Also Included Actual Art
Although one of the largest Art Deco statues in the United States was made with aluminum, chrome-plated statues were also popular. They could be found in France, Germany, and eventually made their way to the United States.
In addition to stand-alone statues, artistic figural chrome plated items like bookends were also produced. There were even many types of lamps produced with chrome-plated bases or other features. Eventually, it seemed like everywhere one turned there was sure to be chrome.
Eventually, it Expanded to Plumbing and Automobile Parts
One of the reasons for the ever-increasing popularity of chrome besides its sleek, shiny style was the production of chrome plating kept becoming cheaper as time passed.
By the 1950s the Art Deco period was over, but chrome was as popular as ever. It just took on a lot of more utilitarian uses. For example, it was commonly used in vehicle production. It also became one of the primary components of plumbing equipment. Even today, chrome-plated faucets and other plumbing remain popular. That is because it is shiny and resistant to wear or rust.
Art Deco Chrome to Collect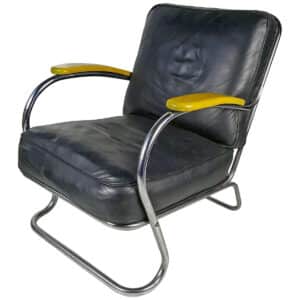 One unique thing about chrome-plated items as collectibles is they are extremely long-lived. That is why so many Art Deco chrome pieces from the 1920s and 1930s have survived for the last 100 years or so. Therefore, you have a lot of choices when it comes to items to collect.
The Art Deco era chrome pieces you might choose—depending on the space and budget you have, as well as your style—vary from small appliances to a stylish Electrolux vacuum. Pieces produced by Chase Brass and Copper Co. are quite popular. Many of those pieces sell for hundreds of dollars today, and some sell for thousands. They include vases, ashtrays, and bookends. Pieces designed for Chase by Rockwell Kent are particularly sought after.
If such pieces are out of your budget, don't worry. You can find plenty of less expensive Art Deco chrome pieces to collect. Just be aware that many were reproduced.
It is important to familiarize yourself with the designers, styles, and maker's marks that interest you so you can avoid accidentally purchasing pieces that are not authentic.