by Paula Higgins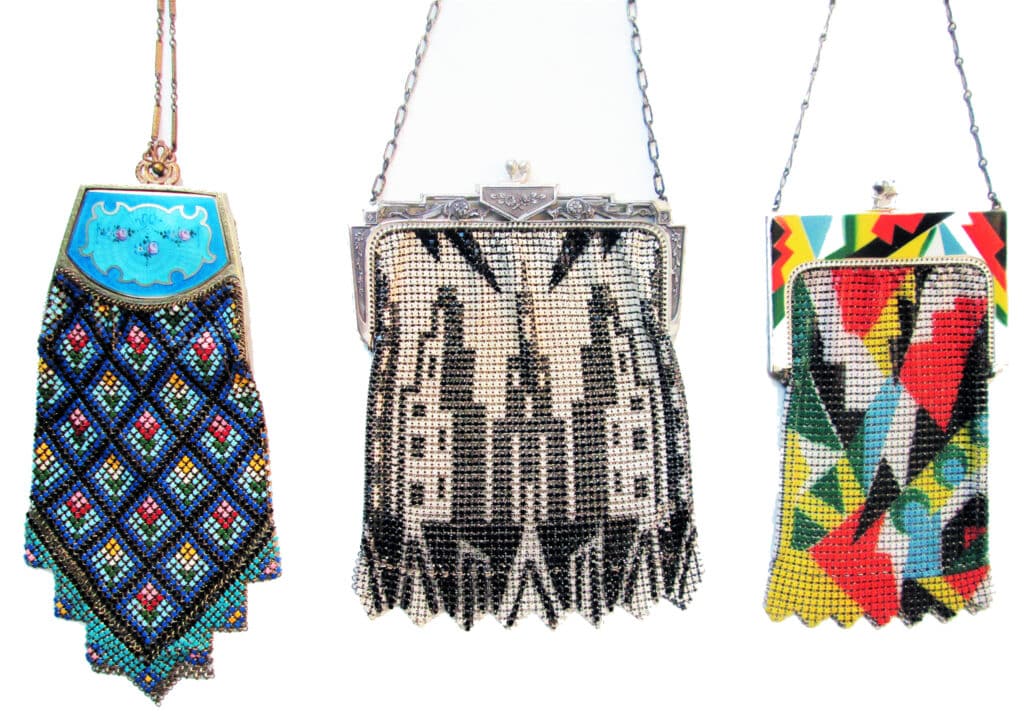 Art Deco purses are highly sought after, currently among the most desired of all antique and vintage purses. Their designs can be described as chaotic, streamlined, graphic, and non-representational. Creating a strong visual impact with bold, sophisticated designs and unexpected color combinations, they reflect an aesthetic in direct contrast with traditional artistic concepts.
The Art Deco Period dates from 1910-1935, but the term "Art Deco" originates from The Exposition Internationale des Arts Decoratifs et Industriels Modernes (Paris, 1925). Prior to the 1925 exhibition, many artists and art movements influenced the Art Deco Style. Examples are the Wiener Werkstatte and the Vienna Secession, the Society of Decorative Artists (France), the Ballet Russes, Cubism, Dadaism, and Modernism. Other influences came from archeological discoveries in Egypt, Greece, Mesoamerica, Africa, and Asia.
Art Deco design impacted architecture (Berlin, London, Chicago, Detroit, New York), metalwork (Despre), sculpture (Chiparus, Erte), multi-disciplinary decorative arts (Wiener Werkstatte), furniture (Ruhlmann, Saarinen, Dufrene), jewelry (Lalique, Cartier), painting (de Lempicka, Icart) and fashion (Erte, Poiret, Delaunay, Chanel, Lanvin, and Bakst).
Art Deco Beaded Purses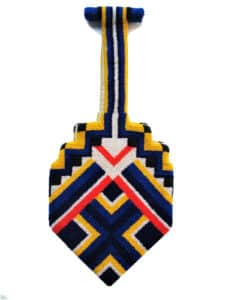 Art Deco beaded purses were designed by artists in Austria, Germany, and Switzerland. Artists were inspired by each other and to some degree, there was "cross-pollination." For example, Sophie Taeuber-Arp, a Swiss artist, studied art in Munich, Germany.
The Wiener Werkstatte was founded by Koloman Moser, Josef Hoffman, and Fritz Waernedorfer in Vienna, Austria. The workshop was open from 1903-1932. Artists from the Wiener Werkstatte were very influential across all design spectrums. Existing pieces are avidly collected and bring very strong prices.
Purse designers at the Wiener Werkstatte included: Maria Likarz-Strauss (beaded, leather, fabric), Josef Hoffman (leather), Dagobert Peche (leather, beaded, fabric), the Floge sisters (fabric), Bruno Ruffenstein (beaded, fabric), Wilhelm Gmeiner (fabric, beaded), Dora Wibiral (fabric), Mathilde Flögl (fabric), Irene Schaschl-Schuster, Fritzi Low (beaded), Felice Rix-Uno (beaded). Each artist had a unique perspective, and in some cases, a purse is easily identified as belonging to a specific artist.
The name Wiener Werkstatte is synonymous with elevated design. If an artist made a network purse, they would incorporate cube-shaped beads as part of the design. Fabric purses made by Bruno Ruffenstein were large, ruffled, and occasionally fringed. His purses were never an after-thought and were an integral part of his fashion design – not to be overlooked. Artists of the Wiener Werkstatte designed different types of purses including misers, coin purses, framed handbags, reticules, and wallets.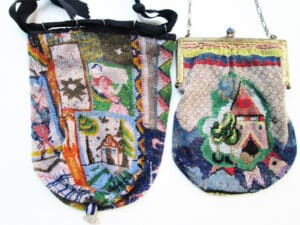 Maria Likarz-Strauss was the most prolific of the Wiener Werkstatte purse designers. An example can be seen in this article. While Maria was known for geometric designs, she also designed beaded purses with unusual figures, often including fanciful scenes and castle-like buildings. Her scenic designs were always intriguing and thought-provoking.
Wiener Werkstatte purses can be seen on the MAK Museum website online. Navigating via the German language is easiest (click on "De" and then "Sammlung"). Type in words such as "Taschen" and "perlenbeutel" and you will see examples of their purses. You can also type in the names of individual artists under "Sammlung." The Nue Gallerie in New York also has a display of Wiener Werkstatte fashion accessories online, including beaded purses. Examples can be seen on Pinterest as well.
It is important to note that auction houses, online sites, and museums have wrongly attributed purses as designed by the Wiener Werkstatte, when they were actually made by German Werkstattes and possibly by the Swiss artist, Sophie Taeuber-Arp.
Swabian (German) beaded purse expert, Sabina Schurenberg, in her book, Perle fur Perle, identifies purses designed by Swabian beaded purse manufacturers, which were formerly thought to be by the Wiener Werkstatte. The Swabian/German Art Deco designs stand on their own for creativity and artistic merit.
Swabian/German Art Deco Purses—especially those produced by the Johannes Harter Co.—are excellent examples of the Art Deco style. Harter hired the Swiss artist, Louis Camille Graeser, to create beaded purse designs. Graeser's designs are a mix of lines, angles, and circles – all on one purse. A lot is going on design-wise, but they are visually striking and clearly not generic in nature.
The Gumunder Perl-Industrie in Germany also produced some unique and beautiful Art Deco purses. As design preferences changed from the romantic, 18th century-inspired figurals and scenics, companies transitioned to the more sophisticated, fashion-forward Art Deco designs. German Werkstatte artists in Dresden and Munich created some exceptional Art Deco beaded purses. One of the most prominent designers was Berta Senestrey. Her purses are unique in their overall design and execution. Squared or rectangular, some are attached to fine brass chains. One example depicts numerous figures and objects, and another is designed like a Mondrian painting. Berta's designs are unlike any other artist in the Deco Movement. A recent retrospective in Germany celebrating women artists included Berta Senestrey.
Sophie Taeuber-Arp, a Swiss artist, was married to Jean Arp, the founder of the Dada Movement. She was an artist of consequence herself and is only now being accorded the respect she deserves. A recent exhibition in Basel, Switzerland at the Kunstmuseum highlighted her work, which included a selection of beaded purses. The examples in the exhibition are attributed to her because of their known provenance. It is a certainty other purses designed by Sophie are in collections worldwide, but identifying them is difficult as her work is only now being seriously examined. Examples of her purses can be seen online.
Art Deco Mesh Purses
During the Deco Period, mesh purses were made in the USA, France, Portugal, and Germany. The purses that most typify Art Deco design were made in the USA and France. The Whiting and Davis Co. (USA) was responsible for the largest output of Deco-designed mesh purses. Using bright enameled colors and geometric patterns with coordinating enameled frames, their designs were very successful interpretations of the Art Deco Movement. At their very best, they were iconic (skyline design of New York picture). Others were more transitional and incorporated traditional designs with Art Deco design elements. In order to capture wider markets, the fashionista and the classic dresser, they covered both design styles on one purse.
Paul Poiret was hired by Whiting and Davis in 1925 to create designs for a flat mesh, pouch-style purse. The Poiret name added cachét to the American-made mesh purses and provided Poiret with badly needed income. Whiting and Davis even paid actresses to pose in print ads with their purses. Based on the numbers still out there, their advertising was clearly successful.
Purses came in spider/flat mesh, ring mesh, and Dresden mesh. The flat mesh was the most effective surface for Art Deco designs. The advent of the flapper girl and cosmetics meant purses were being used for more than decoration. Whiting and Davis added compact mirrors to their purses to accommodate the modern woman and in the case of the Delysia compact purse (named after actress Alice Delysia), they added space for powder and rouge.
French mesh purses have a fine ring mesh bottom and a hard top enclosing a mirror. The ring mesh body was stenciled in a geometric design and the top was enameled. They have a unique look that is delicate, but distinctly Art Deco. Condition is important and mesh purses can have their share of problems. Disconnected links, missing paint, and damaged frames are common concerns for collectors. The Antique Purse Collector's Society site has a list of people who repair mesh purses and other types of purses (www.antiquepursecollectorssociety.com).
Art Deco Vanity and Compact Purses
Art Deco vanity and compact purses, at their most exquisite, were made in the workshops of Henri Husson, Duval, Lacloche Frères, Van Cleef and Arpels, Mauboussin, and Cartier in Paris. In New York, Tiffany catered to the rich and famous as well. The book, Masterpieces of French Jewelry, by Judith Price, shows some of the most beautiful vanity/compact purses ever made. Decorated with gemstones, enamel work, and 18 karat gold, they are works of art. One example, made by Lacloche Frères, is enameled with Enrico Caruso's image. These purses are a feast for the eyes and reflect the very high end of vanity and compact purses during the Art Deco Era.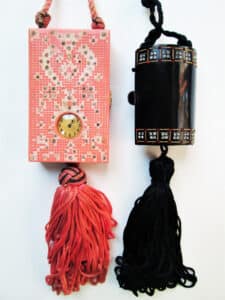 Celluloid vanity purses, decorated with rhinestones and containing areas for powder, a mirror, and lipstick in the tassel were very popular as well. They came in a variety of shapes. In the USA, vanity and compact purses were made by Whiting and Davis, Evans, Elgin, Voluptè, and R&G. Varying in price, they were made to be affordable for most women.
The Evans brand produced reasonably priced flat mesh bags with an enameled compact top and carryalls fitted with places for powder, rouge, and a comb. R&G was at the higher end of the vanity purse market with finely made mesh bags attached to sterling and beautifully enameled, round, compact tops. Whiting and Davis also produced quality vanity/compact purses. Enameled spider mesh purses were attached to rectangular, heavily jeweled, and enameled compact tops. The R&G and Whiting and Davis compact purses are worthy additions to any collection.
Art Deco Galalith and Bakelite Purses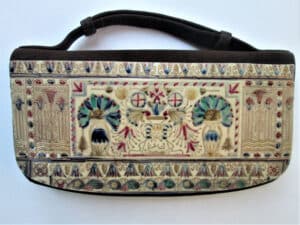 Celluloid was invented in the 19th century and Bakelin in 1907. Celluloid was typically used to make frames for fabric and beaded purses, although there are examples of full-bodied celluloid purses. The frames were made in France and were limited in design only by the designer's imagination. Some were painted and others left plain. Egyptian themes, inspired by the opening of Tutankhamun's tomb in 1922 by Howard Carter, were a frequent design source. Asian and mythological figures, elephants, lions, and peacocks also featured heavily as design ideas.
Galalith and Bakelite were used for bag fittings and vanity purses in the 1920s and then as full-bodied purses in the 1930s. Heavier and more stable than celluloid, it became the favored plastic for purses.
There are so many more types of Art Deco purses that deserve to be mentioned. For example, a leather purse in the shape of an ocean liner, British embroidered silk purses, Austrian petit point purses by Hilde Wagner-Ascher and more, are examples of purses that deserve attention. Hopefully, the reader of this article will be inspired to further explore Art Deco purses.
---
About the Author
Paula Higgins has been collecting purses for 30 years. She is a member of the Antique Purse Collector's Society
(www.antiquepurse-collectorssociety.com) and a co-author, with Lori Blaser, of the book A Passion for Purses, available at Amazon and AbeBooks.