Fairfield, ME ~ August 25-28, 2015. It's the event that collectors and connoisseurs have waited all season for – James D. Julia's annual August Fine Arts, Asian, & Antiques auction!  James D. Julia Auctioneers, led by President and long-time industry leader Jim Julia, has been in business for almost five decades.  This $6 million dollar summer sale, now in its 35th year, is a signature event for the company and is one of the largest summer auctions in North America. This 2,500 lot event is so large in scope and quality that it has been extended from three days to four; it promises to offer an astonishing array of world class fine and decorative arts, antiques, folk art, Asian articles, historical items and archives, and a few breathtaking surprises as well.
This can't miss event features many one-of-a-kind, rare, and museum quality items from collections and estates from every corner of the planet.  Highlights include the Rodney G. Fuller collection of Native American artifacts from western Nebraska, the John W. Armiger Jr. collection of early American flags and political ephemera from Baltimore, Maryland; the Michael Urioste estate collection of fine antiques from Gadsden, Alabama; and the third installment of precious and rare Asian items from the Estate Collection of a Renowned Taiwanese Diplomatic Family (Cai Wanjun, Xu Shaochang, & Ye Gongchao).  This auction also offers many top-calibre items from private estates and collections from both here and abroad.
Day one hits the ground running with 450 lots of remarkable paintings and sculpture.  About 300 different artists are represented overall.  Can't miss works on canvas include a gorgeous Gloucester Doorway painting with provenance by Maine artist Abbott Fuller Graves (estimated at $20,000-40,000;) "Rockport, Mass. 1936 No. 3" by Cape Ann School Artist William Glackens (estimated at $175,000-250,000;) "Der Menschen Frosser" by German artist Friedrich Wilhelm Kuhnert (estimated at $150,000-200,000;) and approximately 25 paintings by Waldo Peirce – sometimes referred to as "the American Renoir" – acquired directly from the artist's daughter.
Fine bronzes also play a heavy role in the auction's debut day.  Julia's is honored to offer Edgar Degas' masterpiece – "Danseuse Agrafant L'epaullette De Son Corsage" (#64D). This bronze was gifted to and descended thru our consignor's family from Justin Thannhauser, the influential German art dealer.  To our knowledge, this bronze has never previously been offered at auction.  It is estimated at $150,000-250,000.  Other highlights include leading wildlife artist Carl Rungius' "Big Horn Ram," accompanied with full documentation and provenance (estimated at $125,000-175,000) and American sculptor Paul Manship's extraordinary "Adjutant Stork," estimated at $30,000-50,000.  Overall, about 30 bronze artists are represented in Julia's summer sales event, including outstanding examples from Demetre Chiparus, Georg Kolbe, and Jud Hartmann.
Auction days two and three feature over 1,300 lots fine antiques, furniture, and accessories at center stage.   There is truly something for everyone amongst these carefully curated and fully cataloged selections.
Looking to feather your nest with the most desirable antique clocks, furniture, lighting, rugs, folk art, and accessories?  This auction offers a fantastic array of decorative and functional items for your summer cottage, winter palace, or both!
This event features almost a dozen important clocks; two of the finest include a Chippendale block-and-shell carved Goddard Townsend mahogany tall case clock by Thomas Claggert (estimated at $70,000-150,000) and a Classical Revival carved mahogany tall case clock, with a movement By Walter Durfee (estimated at $5,500-7,500.)
Antique furniture highlights include a magnificent Chippendale cherry highboy from a private Maine home (estimated at $10,000-15,000) and a Chippendale cherry secretary bookcase (estimated at $5,000-7,000.) Painted furniture is also well represented in this sale. Highlights to please every "palette" include a finely painted decorated dowry chest, a stepback grain painted dish cupboard, and an absolutely charming hand decorated antique Ohio pie safe.  And, for clients interested in more contemporary furniture, this sale will not disappoint with a selection of George Nakashima furniture, including a freeform coffee table (estimated at $8,000-10,000) and a matching set of six chairs and a dining table with ties to the prominent Asian art dealer Alice Bonney (estimated at $8,000-12,000.)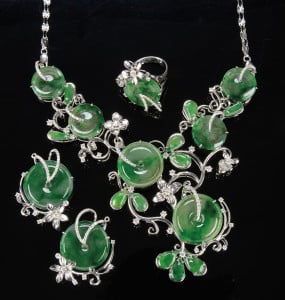 Now it's time to shine a little light on this auction's wonderful lamp offerings.  Julia's August sale will feature selections from the most famous and desirable lighting manufacturers, including a grouping of outstanding lamps from a coastal Maine home.   Enthusiasts will be aglow over a marvelous green Tiffany Studios Acorn hanging lamp (estimated at $10,000-15,000) and stunning burnt orange Acorn table lamp (estimated at $5,000-8,000,) as well as a fine Handel reverse painted scenic table lamp (estimated at $3,000-5,000.)  First rate selections from Porcelli Studios and Pairpoint are also included in this sale.
Like all of Julia's Fine Arts, Asian, & Antiques auctions, August's event also features a fine selection of Oriental carpets and rugs.  Can't miss highlights include a fine antique Serapi (estimated at $5,000-7,000,) handsome Sarouk (estimated at $3,500-4,500,) and outstanding Kashan (estimated at $5,000-7,000.)
Buyers looking to deck their halls – with the finest folk art and posters, that is – will delight in Julia's broad selection of these fine items at their upcoming sale.  Eye-catching highlights include two distinctive paintings of Mr. and Mr. Bush attributed to important 19th century folk artist Sheldon Peck (estimated at $10,000-15,000 for the pair;)portraits of Captain Nathanial Holmes and Mrs. Nathanial Holmes by folk artist and portrait specialist William M. Prior (estimated at $10,000-20,000 for the pair;)and two miniature portraits attributed to Rufus Porter, who in addition to his painting was also the founder of Scientific American magazine.   These miniatures are estimated at $3,000-5,000 for the pair. This sale also offers a few magnificent pieces of nautically inspired folk art paintings, including examples from maritime artists Solon Francis Montecello Badger (estimated at $8,000-12,000;) Antonio Nicolo Gasparo Jacobsen (estimated at $10,000-15,000;) and a recently discovered ship portrait by Luminism master Fitz Hugh Lane (estimated at $150,000-200,000.)
Exceptional posters in this sale include one of only a few known examples of a rare Peugeot automobile broadside By Rene Vincent (estimated at $8,000-10,000) as well as a framed poster of Georgia Graves, the Folies-Bergere dancer, by Paul Colin, considered one of France's greatest poster artists.  The Colin piece is estimated at $3,000-5,000.
Other fine categories featured during the second and third days of this momentous sale include silver, Native American items, and motorcycles.
Collectors will undoubtedly take a shine to an 111 piece cased sterling silver "Acorn" flatware set by Georg Jensen (estimated at $6,000-9,000,) and a 6 piece Tiffany Chrysanthemum pattern tea/coffee service (estimated at $10,000-20,000,) as well as several other hot beverage services including an outstanding five piece sterling tea set by the Roger Williams Silver Company.  Native American lots include a large quantity of beadwork, implements, arrowheads and other weaponry, textiles, and baskets.  And, a 1916 Harley Davidson (estimated at $3,000-6,000) and a Shaw Motorized Bike (estimated at $5,000-7,000) will get motorcycle collectors' engines revving.
This auction offers many remarkable items from famous and important Americans that will certainly catch the eye and attention of collectors, historians, and museums.  One highlight is an archive of important documents from Amelia Earhart, the first female aviator to fly solo across the Atlantic Ocean (estimated at $40,000-$50,000.) The Earhart collection includes 105 telegrams primarily from June 3rd-June 20th, 1928 concerning her "Friendship Flight" from Newfoundland to South Wales across the Atlantic.  This flight, in essence a race with rival Mabel Boll to become the first woman to cross the Atlantic in an airplane, brought Earhart immediate international recognition and celebrity.   Other historical lots include a collection of World War II letters to and from "Dutch" Van Kirk, the Navigator of the Enola Gay, the B-29 bomber which dropped the first atomic bomb (estimated at $30,000-$50,000;) and a series of General George Custer memorabilia lots, including badges, correspondence, a promissory note, and a rare group of five Custer family autographed letters.
Also of great historical interest is the estate collection of John W. Armiger, Jr., from Baltimore, Maryland.  This outstanding offering of early American flags, political ephemera, militaria, folk art, and decorative items is in itself a museum of the origins of our great country.  Highlights from this collection include a rare Abraham Lincoln Free Frank Envelope and 1860 Jugate Lincoln and Hamlin Campaign Ferrotype, an American Revolutionary War powder horn engraved with "Elijah Sexton a Son of Liberty," and a fabulous American/Confederate 13 star American flag; this remarkable piece of American history is conservatively estimated at $20,000-30,000.
Collectors wanting to catch wind of a great offering of weathervanes don't need to look any further than Julia's August sale.  Over 40 outstanding examples will be on offer.  Key selections include an important Fiske full body short horn New Jersey Steer with full provenance (estimated at $25,000-35,000;) a grasshopper with a marvelous verdigris patina from the Boston/Cape Cod area (estimated at $60,000-80,000;) a rare and important figural winged Archer architectural roof ornament (estimated at $25,000-35,000;) and two very fine eagle examples from the A.L. Jewell & Co. from Waltham, Massachusetts.  Other highlights include a large hog from a Connecticut private collection, an appealing large-scale ram, a jockey riding a horse, and several other horses, among others.
The fourth and final day of Julia's annual summer auction is dedicated to Asian Art.  Julia's is emerging as the go-to auction house in the United States for remarkable pan-Asian treasures including furniture, sculptures, paintings, jewelry, cloissone, jades, and porcelain.  This sales event, featuring over 850 fine Asian items, will only help to confirm Julia's as a leader in these categories.
Once again, Julia's is pleased to present another series of remarkable items from the Estate Collection of a Renowned Taiwanese Diplomatic Family (Cai Wanjun, Xu Shaochang, & Ye Gongchao). Rarities on offer include gorgeous jadeite and diamond jewelry – all with GIA certificates; fine furniture, including a set of nine matching chairs and large table; an inlaid parlor suite; museum quality bronzes; and remarkable quality porcelain, carvings, cloissone, and jades.  One exceptional item from this estate is a very rare Chinese Zitan carved canopy bed, which is estimated at $60,000-80,000.
Other Asian furniture and large decorative highlights from day four of this auction include an unusual Zitan and red lacquer Kang table, estimated at $60,000-80,000; a carved dragon Huali table, estimated at $8,000-10,000; a red lacquer inlaid cabinet, estimated at $1,500-2,500; and an enormous pair of carved matching foo dogs, estimated at $800-1,200.
Scrolls, artwork, and thangkas are featured prominently during the Asian portion of this auction.  Outstanding Asian paintings include "Imperial Hunt in a Palace Park" after Guiseppe Castiglione (estimated at $70,000-$80,000,) and a scroll landscape painting by Hong Bo, estimated at $25,000-$30,000. Collectors just might get the warm and fuzzies from Leonard T. Foujita's "Book of Cats", 177/500, which is a complete bound set of 20 plates plus 3 additional loose ones; this is estimated at $10,000-15,000.  These categories are rounded out with a fine offering of early Tibetan thangkas, highlighted by a finely painted example of the 11 headed Avalokiteśvara – one of the more widely revered bodhisattvas – which is estimated at $12,000-14,000.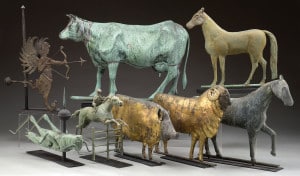 Good things come to those who wait, and Julia's selection of decorative jades, porcelains, Peking glass, and cloissone objects offered on the final day of this sale are second to none.  Jade selections include many small collectible pendants, pebbles, and snuff bottles; a large white He Tian jade pendant estimated at $35,000-50,000; a group of carvings from a South Carolina private collection; and several offerings of Guan Yin diamond encrusted jewelry.  Porcelain offerings run the full gamut of domestic, ceremonial, and ritual items dating from the Ming Dynasty thorugh the Republican period and 20th century, with a highlight most certainly being a large painted famile rose censer with raised handles.  This big beauty is estimated at $30,000-50,000. This sales event offers several lovely examples of jewel toned Peking glass, including vases and bowls in both monochrome solid and multihued carved forms.  Cloissone highlights include a spectular selection of obelisks, table screens, braziers, censers, cups, vases, and kus.  A five-piece cloisonné enameled garniture set, estimated at $16,000-30,000 is certain to catch the eye of the most discerning collectors.
Bronzes and Chinese trade selections represent the last, but hardly least, of the wonderful Asian lots in this sale.   This event offers collectors a large variety of bronze censors, Buddhas, vases, and other traditional and ritual items.  All eyes will be on a few key important Buddhist and Tibetan figures, like the seated figure of Tsougkhapa (estimated at $16,000-$20,000,) gilt bronze standing Tara (estimated at $30,000-$50,000,) lotus stand (estimated at $160,000-$180,000,) and gilt bronze Vajrapani (estimated at $15,000-$25,000.) Chinese trade highlights include portrait of a Hong Merchant of the 3rd rank, several reverse paintings on glass, a large Canton porcelain footbath, and a very fine decorated Chinosorie sewing table.
More information on James D. Julia's outstanding four day August Summer Fine Arts, Asian, & Antiques auction can be found at www.jamesdjulia.com or calling 207-453-7125.  Department Head Tony Greist and Assistant Department Head Katya Tilton welcome your questions and inquiries. They can be reached at tgreist@jamesdjulia.com and ktilton@jamesdjulia.com respectively.  This auction is fully documented in two lavish, full-color, detailed, and illustrated catalogs; they are available for $40 each. This event will host its preview on August 24th, 2015 from 9am-5pm.  The actual auction will be held on August 25th, 26th, 27th, and 28th and will begin at 10am sharp each day at Julia's auction facilities  at 203 Rt. 201 in Fairfield, Maine.  We hope to see you there!

The Heat is on with Julia's August 4-Day Summer Fine Arts, Asian & Antiques Auction