Fairfield, Maine. Tuesday, Wednesday, Thursday, Friday; October 4, 5, 6 & 7 will feature Julia's fall Firearms Auction. The sale includes one of the finest offerings that Julia's has ever put forth. The auction features a tremendous diversity of rare, high quality arms and includes nearly $20 million worth of goods and thus could become the highest grossing Firearms auction ever.
Julia's auctions now are divided into 2 sessions. The first session is referred to as their Sporting & Collector session (SCA) made up of a wondrous array of moderately priced arms. The second session, the Extraordinary session, includes some of the finest, rarest firearms to come to market.
Julia sales always feature a large and diverse assortment of major collections from some of the best known and old time iconic collections. This sale is no exception and represents a number of special collections.
Tuesday & Wednesday, October 4 & 5, will include the Sporting & Collector session. One of the featured collections will be that of Mr. Allen Hallock. Mr. Hallock's collection of Schuetzen rifles is unquestionably the finest offering of high art Schuetzen rifles to ever come to auction. Julia's will offer Hallock's collection in two sessions, the first of which is this October. The first lot on Wednesday, October 5 will include what is referred to as the ultimate Schuetzen rifle. An extraordinary special carved, gold and ivory inlaid rifle made in 1881. Nothing in the history of Schuetzen rifles of this quality has ever been offered at public auction before. The gun was ordered by the Royal Privileged Central Schuetzen Society of Munich at a phenomenal cost of $1,000 Reich Marks. Over the years, this rifle has won numerous awards including the NRA Silver Medal. It is estimated at $30,000-40,000.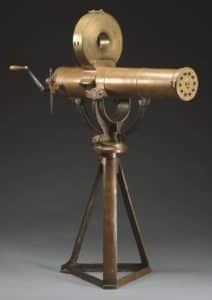 Included in the Sporting & Collector session is a portion of the L.C. Smith Collection of Gerald Basham. A rare and desirable L.C. Smith Trap Grade 12 ga. two barrel set is estimated at $4,000-7,000. A collection of Winchester Pre-War Model 70s includes a Super Grade African rifle cal. 458 from the John Roark Collection estimated at $5,000-7,000. This session includes an outstanding offering of moderately priced sporting arms such as the superb Krieghoff K80 Crown Grade 6 barrel set shotgun estimated at $10,000-15,000. Also included is a diverse offering of fine military arms from the Friedrich Wilhelm Dauphin Collection of Germany. An extraordinary Mauser C96 Transitional 1930 Commercial with matching stock is estimated at $4,500-6,500. From the Collection of Charles Copeland Jr. is a diverse offering of fine arms, most in their original boxes. A prime Colt 1902 Military with box in superb overall condition is estimated at $4,000-5,000. Also from the Gerard Ruth Collection is a Scarce Remington UMC WWI 45 cal. estimated at $4,500-9,000. The Carmen Gianforte Collection of Reed Knuckledusters is the largest of its type ever offered at public auction. This sale features the second and final session of Mr. Gianforte's Collection and includes an exceedingly rare and important 41 cal. Knuckleduster and estimated at $7,500-12,500. Antique Colts include a number of offerings from the Daniel C. Scott Collection including a factory engraved Second Model Hartford, London Dragoon estimated at $4,000-8,000. This sale also includes the second and final session of Dr. Robert G. Cox Estate of Texas. A lot of 2 Colt House Revolvers in great condition are estimated at $1,850-3,000. Also included is the second and final session of the renowned old time Texas Collection of G.W. "Bill" Stewart. One lot, a scarce Colt 1877 lightning storekeeper's model with period holster is estimated at $2,500-4,500.
Session 3 begins on Thursday, October 6, and will include a number of rare Class-3 items. Since 2008, Julia's auction company has sold more Class-3 arms than all their competition combined and this sale includes a number of fine Class-3. An incredible, ultra-scarce Vet bring back Korean manufactured Type 58 AK 47 machine gun is estimated at $25,000-45,000 and should generate lots of attention. Also included is a British Abbot Model FV433 105 millimeter self-propelled gun in tracked armored chassis. This terrific looking tank carries a presale estimate of $75,000-150,000. One of the rarest and most desirable Class-3 related items is the historically important Maxim Nordenfelt 37 mm "Pom-Pom" Naval Deck gun which participated in the Spanish-American War (this is exempt from NFA). It is one of only a few in existence and an outstanding example at $150,000-250,000. This sale includes an outstanding collection of rare 1911 semi-automatic Colt 45s. Most notable is a fine Singer pistol estimated at $40,000-60,000. A fine and rare North American Arms Company limited cal. 45 is estimated at $30,000-50,000. A single owner private collection of rare American Sniper rifles representing almost all models extent is being offered without reserve. It includes an exceptional benchmark example of a late Gas Trap M1 Garand estimated at $25,000-35,000. From the collection of renowned German industrialist, Friedrich Wilhelm Dauphin, comes an outstanding offering of Mauser and Luger pistols. His superb Mauser Cone Hammer Carbine #12 with period scope is estimated at $40,000-75,000. Also, the last session of the renowned Dr. Geoffrey Sturgess of Zurich, Switzerland of Auto-loading Weapons Collection includes a magnificent and historically significant Mauser C96 six shot, fully engraved and carved Bolo stock pistol. Engraved with the Coat of Arms of Frederick, heir to the Dutchy of Baden-Württemburg. This exquisite gold inlaid and engraved pistol carries a $20,000-40,000 estimate. A number of WWII and Nazi items are included in this sale. Most notably is a magnificent large solid sterling tray given to Eva Braun by Adolf Hitler, Christmas 1943. It comes with outstanding provenance and is estimated at $15,000-25,000.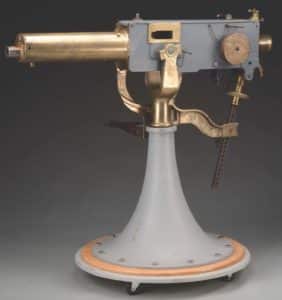 Once again, the Julia's firm includes an absolutely extraordinary offering of sporting arms. Over the past few years, Julia's has consistently sold more high grade, quality and rare sporting arms than any other auction house in the world. The most notable sporting arms collection in this sale is that of the late and famous sporting arms dealer, William Larkin Moore. This is his private collection and not part of his business stock. In fact, the business stock together with the business since his passing has been very capably managed and is now expanding under the leadership of his two sons, Dan and David Moore. This grouping contains guns which Mr. Moore collected during his lifetime and kept in his personal, private collection. His exquisite Fabbri small bore Game gun with majestic engraving by Tomasoni in 20- ga. and superb condition carries a presale estimate of $32,500-52,500. Sporting rifles in this sale include a massive four bore H&H double rifle cased with accessories estimated at $45,000-75,000. A Wesley Richards dangerous game double rifle in cal. 375 H&H is estimated at $40,000-60,000. A diverse and extraordinary array of sporting shotguns includes Annie Oakley's personal 12 ga. William Cashmore Boxlock. This gun often used by Annie Oakley was frequently used in a number of photographs of her. It is replete with outstanding provenance and estimated at $125,000-175,000. Numerous fine Purdeys include a superb 20 bore O/U with many special features is estimated at $60,000-90,000.
An exemplary Lebeau Courally 20 bore "Boss Verrees" O/U in excellent condition is one of the many spectacular sporting arms from the William Larkin Moore Estate Collection and is estimated at $45,000-70,000.
An outstanding offering of American high grade sporting arms includes an incredibly rare 8 bore Parker B Grade Hammer gun believed to be the finest example known. It was made for the Columbian Exhibition in exceptionally fine condition, it carries a presale estimate of $80,000-140,000. Another Parker, a GHE 20 ga., once owned by legendary author and Western writer Zane Grey, "His favorite bird gun," carries a presale estimate of $20,000-30,000. A private single owner collection of rare Lefever shotguns includes a spectacular and exceedingly rare AA Grade 12 ga. In excellent condition estimated at $30,000-50,000. An exceptional investment quality L.C. Smith A2 16 ga. 2 barrel set in exceptionally fine condition is estimated at $40,000-70,000. Numerous superb Model 21s include a 410 ga. Winchester Model 21 "Grand American" with extra barrels and special engraving and conceived by Ed Ulrich. It is in excellent to nearly new condition and estimated at $40,000-80,000.
Julia's final session on Friday, October 7, includes some of the finest Volcanic pistols that the company has ever handled. An extraordinary cased #1 pistol with 6" barrel in excellent condition, retaining 95% of its original blue, is estimated at $50,000-75,000. Numerous Henry rifles include a truly outstanding and desirable New Haven arms 1st Model 1860 Henry with its original sling. In exceptionally fine condition, it carries a presale estimate of $70,000-110,000. From a private Southern collection of extraordinary Winchesters is a rare and iconic Nimschke "Bank Note" engraved Winchester M66 with the image of Columbia. In very fine condition, it carries a presale estimate of $200,000-300,000. The pièces de résistance for Winchester in this sale is the spectacular high relief engraved gold Winchester M66, a Conrad Ulrich signed masterpiece, in extremely fine condition, estimated at $250,000-500,000. An extraordinary Winchester early 1st Model first type 1873 octagon barrel #84, one of the finest known to collectors and formerly in the Collection of the late Tommy Rholes of Texas, carries a presale estimate of $125,000-150,000. An extremely rare and outstanding Winchester M86 "Big 50 SRC cal. 50 ex" is in very fine condition and estimated at $75,000-125,000. An exceedingly rare, special order Deluxe Ulrich engraved Takedown Win Model 94 with gold inlay is in extremely fine condition and estimated at $75,000-150,000. Winchester advertising includes a rare "Girl in the Saddle" poster purportedly the only example known. It is estimated at $20,000-30,000.
Extraordinary high art Marlin rifles include an extremely rare Deluxe Conrad Ulrich engraved exhibition quality M93 in extremely fine condition with gold and platinum inlays estimated at $50,000-100,000. Another beautiful and extremely rare Conrad Ulrich factory engraved Deluxe M93 Marlin Takedown with very rare birds-eye maple stock inscribed to D.M. Hazlelton and estimated at $40,000-80,000.
This sale includes the second and final session of the esteemed collection of rare Colts amassed by Steve Ardia. The extremely rare, presentation double cased set of Colt 1860 Army and 1861 Navy Percussion revolvers were presented to Colonel William A. Thornton by Col. Colt. Colonel Thornton, later a Brig. General, was the U.S. Army Inspector and Colt, of course, wished to influence him with a gift of these very special guns. In very fine condition, this rare exemplary set is estimated at $175,000-275,000. Also from the Ardia Collection is one of the finest known Civil War cased Model 1851 Colt Navy percussion revolver presented to Lt. Col. John C. Whiton, 43rd Mass Vols. is in extraordinarily fine condition, estimate $40,000-60,000. Colt produced many of their revolvers in special presentation cases. One of the rarest and more desirable Colt cases is what is referred to as a Book Casing and Mr. Ardia's extraordinarily rare and unique Book Cased Colt Model 1862 Percussion was given by Col. Colt to U.S. Secretary of War, John D. Floyd's wife and is estimated at $80,000-150,000. An example of one of the earliest Colts is an extremely rare cased Colt Ehlers Baby Paterson Percussion Revolver in 31 cal. estimated at $110,000-160,000. A Colt SAA, once belonging to the famous Western author, Zane Grey, in very good to fine condition is estimated at $55,000-75,000. Another outstanding Colt SA Army includes a beautiful and extremely fine Wilbur Glahn factory engraved SAA with unique carved "Buffalo" mother-of-pearl grips in extremely fine condition is estimated at $40,000-80,000. The rare historic and possibly one of a kind documented Colt SAA with nickel finish and pearl grips ordered by a Texas Ranger, Captain A. H. Johnston and shipped in the State of Texas is in very good condition and estimated at $20,000-30,000.



An offering of ancient high art arms include a magnificent Royal Wheelock by Samuel Kluge in Landshut made for either King Charles XI of Sweden or King Christian V of Denmark. This gun was formerly the property of the Rothschild family and is a truly spectacular work of art with extraordinary ivory inlays, engraved and gold embellished lock, this gun is a superb work of art. In outstanding condition, this rare museum, one of a kind piece made for Royalty, is estimated at $200,000-300,000. Numerous fine and rare Henry Derringers include the historic Edwin Forest cased pair of Derringers. Forest was one the most famous actors of the day and before his death, he established the Edwin Forest Home for Aged Actors. These historic guns owned by a famous and most notable American figure is estimated at $60,000-80,000. A historic Hall Flintlock Presentation rifle with silver embellishment "Presented to Smith Bateman for his gallantry at the Siege of Plattsburg" is in outstanding condition and estimated at $30,000-50,000. During the War of 1812, a historic battle took place in Plattsburg. Out of desperation to stop the advancing British, a small group of young cadets from the military academy were called upon to halt the British advance. Despite the fact that they were vastly outnumbered, the phenomenal heroism exhibited by these young cadets prevented the British from crossing the Saranac River.
A Julia's sale always includes some outstanding Civil War and particularly Confederate items. One very interesting lot is an excavated archival gun parts from the Dance Brothers Pistol factory in Andersonville, Texas. All wonderfully arrayed in a shadow box with descriptions. It carries a presale estimate of $10,000-20,000. Probably one of the rarest of all Confederate items in this sale is surely the Krider LeMat Patent Revolver SN 2, the personal revolver of Col. Alexander LeMat, himself, and one of two prototypes. This one, in very good to fine overall condition, is estimated at $60,000-80,000.
The exquisite 3-volume catalog set is available for $100 by contacting Julia's at 207-453-7125 (telephone), P.O. Box 830, Fairfield, Maine 04937, 207-453-2502 (fax) or if you wish, the entire catalog is available free of charge online at their website at www.jamesdjulia.com.
Julia's October Firearms Auction will Feature their Finest Offering Ever with Approximately $20 Million Worth of Rare Arms