Fairfield, ME, October 31, 2016. James D. Juila is pleased to announce its can't miss annual November Lamps, Glass, and Fine Jewelry Auction Perfectly timed for holiday shopping, this outstanding auction features over 700 breathtaking lots, with over $4 million in carefully curated inventory.   This sale represents the highest quality offerings of the season anywhere, including a huge range of fresh-to-the-market selections from national and international private collections.
Collectors will be saying "oui" to this sale's offering of over 130 lots of French art glass, many from a meticulously assembled Midwestern, US collection.
Daum Nancy Cameo examples feature prominently in this elite category, with over 50 lots available.  Highlights include lot #1005, a 7" pitcher decorated in the rare "Prairie" pattern with flowers rising from the grassland, estimated at $15,000-20,000, and lot #1020, a monumental 22" vase with violets, leaves, and stems against a mottled blue to white background, estimated at $25,000-35,000.  And certain to cause a buzz is lot #109, an exceptional 11-3/4" vase detailed with a butterfly, insects, and honeybees against a textured opalescent glass background with subtle rainbow colors, estimated at $10,000-15,000.
The Galle offerings in this sale, many featuring floral themes, offer collectors a bouquet of collecting opportunities.  Over 30 glorious choices are on offer.  Lot #1058, a 17" marquetry crocus vase, blooms with orange, purple, and white crocus flowers against a cream, red, and pink striped background.  This example – hand produced using an incredibly difficult and time consuming technique – is one of the most sought-after Galle styles of all time and is conservatively estimated at $50,000-70000.  Lot #1067, a glorious 5" vase decorated with purple and pink flowers, white stems and leaves, and green leaves against an acid textured background, is estimated at $8,000-12,000.  And certain to be the apple of the eye of many collectors is lot #1064, a 13-3/4" mold blown vase with red, pink and white apple blossoms and reddish brown branches on a frosted pastel yellow background, estimated at $12,000-15,000.
Also of great importance is this sale's selections of Rousseau/Walter Pate De Verre glass, with many examples featuring themes from nature and the great outdoors.  Lot #1102, a stunning 9-1/2" "Wolves In The Snow" vase will drive enthusiasts wild with its line of black wolves walking on snow against a purple and gray background.  It is estimated at $30,000-40,000.  Lot #1090, a "Cornflower" box, is decorated with blue, black, and red flowers against a color splashed and frosted background, estimated at $2,000-4,000.  And lot #1099, a "Spiders and Brambles" vase with brown and red leaves, a white spider web, and black spider against a frosted background, weaves a tale of intrigue with its $6,000-9,000 estimate.
Burgun & Schverer has a well-deserved reputation for some of the most complex and beautiful cameo glass ever produced.  This sale offers the finest examples of these rarities to come to market in memory.  Lot #1112, a 6-1/2" vase decorated with lavender and white cameo flowers, green leaves and stems, and gold gilding against an internally decorated maroon and green swirled background, is colorfully estimated at $7,000-10,000.  And lot #1111, a 12-1/4" vase decorated with a mythological scene of a and a woman, trees, flowers, and cameo shells, all against a caramel colored ground, is estimated at $7,500-10,000.
Now it's time to shine a light on this sale's amazing offering of Tiffany lighting, with many examples coming directly from private collections across North America.  Both rare and legacy patterns, including florals and geometrics, are certain to electrify buyers.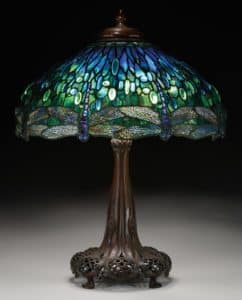 Four Tiffany highlights are worthy of the spotlight in this popular category.  The first is lot #1216, an extremely rare Peony table lamp, estimated at $150,000-250,000.  This world-class example features an untouched rare Mosaic Turtleback base and a Peony shade with red, pink, white, blue, and green leaded glass, signed "Tiffany Studios New York 1505-25."  The second is lot #1259, a drop-head Dragonfly Lamp, the most desirable of all of Tiffany's dragonfly designs.  Estimated at $120,000-180,000, it features a phenomenal reticulated base and a leaded glass shade with rich green to deep blue transitions and purple dragonfly bodies.  The shade is signed "Tiffany Studios New York 1507-22" on the interior.  The third is lot #1294, a seldom seen 12-sided grape trellis chandelier which lights the lamp with its breathtaking assortment of glass textures and colors.  This fixture features plated sections, which are often seen in Tiffany leaded windows; these add another layer of interest and dimension to the design.  This astounding example is estimated at $100,000-150,000.  And last but not least, lot #1305, a Poppy table lamb on a bronze cattail lily pond base, is worthy of a cat-call, or two!  The shade, signed "Tiffany Studios New York 1531-3," features an outstanding, multi-colored background, leaves of confetti, rippled and mottled glass on a most desirable base.  It is estimated at $50,000-70,000.
Tiffany glass and metal wear also make a highly decorative appearance in this auction.  It would be hard to match this auction's selections of fine candlesticks, including lot #1263, two adjustable reticulated examples.  Each stick has blown-out glass inserts and seven splayed feet terminating in cat's paws.  The duo is estimated at $4,000-6,000.  Lot #1220, a pair of signed and numbered andirons decorated with flowers, scrolls, and lions paw feet, is hot stuff and estimated at $20,000-30,000.  Lot #1258, a 4" signed red Favrile glass vase with three bands of bright gold iridescent waves encircling the foot, shoulder, and neck of the vase, is a rare treasure and is estimated at $7,000-10,000.  And it's time to put the petal to the metal with lot #1253, a monumental signed 18-3/8″ intaglio carved and padded vase with a floral band, white flowers, and a green leaf and vine decoration.  This big beauty is estimated at $10,000-15,000.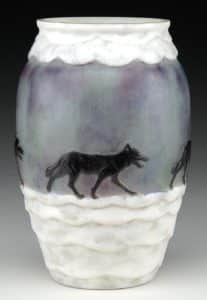 It's thumbs up in regards to this sale's incredible selection of Handel reverse painted lamps.  Lots on offer include some of the rarest designs to ever come to market.  These include lot #1356, a signed poppy table lamp with a shade decorated with orange, yellow, and maroon poppies, subtle foliage, buds, and butterflies against a light blue sky.  It rests on an original "Water Bearer" base and is estimated at $35,000-45,000.  Lot #1346, a signed stream scene lamp, comes to life with a shade decorated with a woodland stream, meandering rocky banks, foliage, tree trunks, and rocks, all painted in the fall colors of green, brown, red, and amber.  It's perfectly paired with an original "Tree Trunk" base and is estimated at $15,000-25,000.  And it's no fish tale that lot #1352, a desirable signed Aquarium Lamp, is certain to generate a lot of interest.  Estimated at $20,000-30,000, it features an oriental-style floral design base and a 6-sided domical molded shade decorated with fish swimming among aquatic vegetation, all against a shaded blue, yellow and orange background.
Additional lighting highlights include lot #1397, a Pairpoint Puffy Poppy lamp, estimated at $13,000-19,000; lot #1371, a Handel square hollyhock leaded floor lamp, estimated at $15,000-20,000; and lot #1378, Duffner Peony chandelier, estimated at $7,000-9,000.  And lot #1385, a Wilkinson trumpet vine table lamp, just might make some noise with its $3,000-5,000 estimate.
This sale's selections of European glass and porcelain are a thing of beauty.  Ten terrific lots of Loetz are on offer, with a highlight being lot #1142, a blue, amber, and gold Cytisus vase, estimated at $6,000-8,000.  Amphora also makes a dramatic appearance, with seven lots available.  Lot #1158, a monumental 24" signed snowdrop vase featuring maidens and flowers, will warm things up with its $6,000-8,000 estimate.  And this sale is certainly a dream come true for Wedgewood Fairyland collectors, with 8 breathtaking lots on offer in this category.  Perhaps the most magical is lot #1176, a Fairyland Lustre 14" Pillars vase.  This large example features several views of a castle, as well as a stairway and fairies and imps frolicking about.  It is estimated at $12,500-17,500.
Fine examples of American glass are also well represented in this sale.  Highlights include lot #1190, a green, purple, and gold Steuben Tyrian vase estimated at $6,000-8,000 and lot #1191, a Trevaise vase finished with a  King Tut decoration against a creamy white background.  This royal vessel is estimated at $2,000-3,000.
This auction presents over 50 lots of fine paperweights from the world's finest manufacturers and most collectible artists. Selections from D'onofrio, Gordon Smith, and Tarsitano will certainly weigh heavily on collector's minds.  Over 10 examples by Paul Stankard are on offer.  Lot #1645, a modern upright botanical featuring a floral arrangement, insects, and spirits under the earth and roots, is naturally estimated at $2,500-3,500.  Rick Ayotte enthusiasts will have over 40 selections to choose from, all from a private collection.  Lot #1657, his "Secret Spot" paperweight featuring a stylized waterfall, yellow flowers, and a hummingbird, is quite the destination at $1,000-1,500.  And it's easy to get a handle on lot #1678, a blue, white, and clear glass St. Louis Super Basket paperweight with outstanding millefiori, twisted ribbon, and basket weave detailing.  This phenomenal work of art, marked "5/5," is estimated at $6,500-8,500.
The finest contemporary glass sculptures, vases, and decorative items add a splash of modern color to this comprehensive.  Eight lots of Murano/Venini are on offer.  Lot #1698, a collection of three signed Lino Tagliapietra shell vases estimated at $1,500-2,500, is certain to make waves with bidders.  American studio glass selections are also worth a look.  Six Chihuly lots are available.  All eyes will be on lot #1702, his signed 8" green, cranberry, and orange "Macchia" vase which is  estimated at $1,500-2,500.  Hold everything and check out lot #1710, a 16-1/2" Littleton/Vogel green and blue glass "Bags" sculpture, estimated at $1,000-1,500.  Lot #1712, a 10-1/2" signed Marvin Lipofsky vase from the "California Storm Series" rains supreme with its $1,500-2,500 estimate.  And it's game on with lot #1711, a signed Salvadore Dali/F.J. Cooper chess set. Each game piece is based on the shape of a finger part, with the exception of the castles which appear as salt and pepper shakers. One set is sterling silver; the other is gold plated sterling silver.  The set is complete with a black and white marble chess board and is conservatively estimated at $5,000-7,000.
This sale presents some sterling decorative art items from leading silver manufacturers including Tiffany & Co., Whiting, Shreve, Crump & Low, Jensen, and many others.  Two heavy metal favorites from Tiffany include lot #1409, a rare mixed metal Japanese style cocoa pot estimated at $10,000-15,000, and lot #1412, two gold washed sterling silver trays once belonging to Artemas Ward, the great grandson of the famous Revolutionary War Major General Artemas Ward.  The pair of trays are estimated at $2,000-4,000.  Five lots of museum-quality Jensen sterling silver are also on offer.  Collectors will undoubtedly take a shine to lot #1424, a five piece tea service in the "Blossom" pattern, estimated at $5,000-6,000.  Also on the cutting edge is lot #1422, a "Pyramid" pattern flatware set for 12, estimated at $6,000-8,000.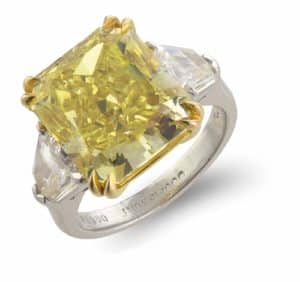 This gem of a sale rounds out with 150 lots of jewelry, luxury items, and watches.  Jewelry selections include rings, bracelets, necklaces, and earrings, with designs ranging from Victorian to Art Deco, to contemporary styling.  If rings are your thing, check out lot #1499, a 10.02ct intense yellow diamond ring, estimated at $150,000-200,000, and lot #1512, a 7.12ct Burmese sapphire and diamond ring, estimated at $12,000-18,000.  Lot #1510, a Buccellati 18kt gold, ruby, and diamond cuff set with cushion shaped rubies, round diamonds, and smaller white gold and diamond bursts, glitters with its $20,000-30,000 estimate. For those on the clock, this auction's selection of over 20 premier watches marks time in the best way possible.  Lot #1448, a marked 18kt yellow gold men's Patek Philippe diamond watch with its original leather band, 18kt yellow gold clasp, and wooden presentation box, is second to none with its $30,000-40,000 estimate. And finally, it is easy to get carried away with lot #1441, a marked, hard to find navy blue leather Hermes Kelly handbag bag.  This graceful accessory comes complete with its original sleeper bag and original box and is estimated at $8,000-10,000.
For more information on James D. Julia, Inc. and the company's November 18th, 2106 Lamps, Glass, and Fine Jewelry sale, please visit www.jamesdjulia.com
James D. Julia's November 18, 2016 Auction To Offer The World's Finest And Most Desirable Lamps, Glass, & Fine Jewelry Selections