Calm, Cool, and Collected
There is no doubt that information is flowing to us in greater amounts and from different directions than ever before. What to buy, where to go, who to see, what to listen to… it has been said that we receive more information in a single day than our grandparents received during their entire lifetime. Combine that with the fact that each email, post, advertisement, movie, and event comes with a myriad of high-voltage visuals trying to outshine all the others, and it's a recipe for over-stimulation not seen before.
It is no wonder, then, that Jason and Dana Routhier are attracted to Mid-Century prints that emulate simplicity of color and structures to counteract the mayhem of the mainstream – a clean environment that reveals the basics of art, design, and craft.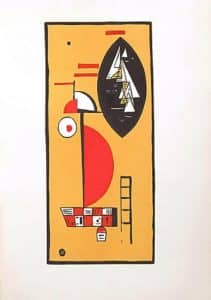 The Routhiers live in Vermont, home of the Green Mountains, Lake Champlain, the Appalachian Trail – the quintessential vision of all things New England. Jason admits to sometimes being "immune" to the landscape. Like many of us, he sought those things that reflected his interests while growing up, having a strong respect of mathematics and a love for conceptual design – the perfect combination for his career as a graphic designer. In high school he discovered the clean, direct work of Ellsworth Kelly, Josef Albers, Frank Stella, Mark Rothko, and vintage and contemporary street artists creating works that speak to getting back to basics.
It was Dana's observational skills that led her to purchase what became the foundation of their now 200-300 piece collection: a 1966 portfolio of prints from the Stedelijk Museum in Amsterdam. Once Jason saw these prints, "… it was as if everything came together."  So began their collection, which reflects 1930s modernism to the postmodern era of the 1980s, and includes hand-crafted screen prints by Genévieve Claisse, an original lithograph by Max Bill, a linoleum cut by Sophie Taeuber-Arp, and a woodcut by Wassily Kandinsky, among other pieces.
"It was a great time to get into this," notes Jason. "We could find great work that was very affordable. I developed a contact in the Netherlands who emails me whenever he gets something he knows I will love. Things like that helped us grow our collection quickly with quality prints."
Keeping track of and storing the growing variety of prints – framed and unframed -became an issue. Dana to the rescue! Her project management skills came in handy as they went through the collection and documented what they owned. The process brought the assemblages of what they had on their walls, under the beds, and in the closets into focus.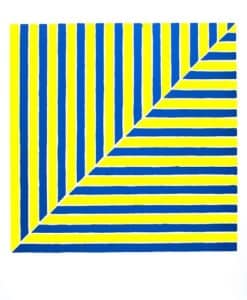 The next step? Plan an exhibition. Dana reached out to the Shelburne Museum and to Carolyn Bauer, the Assistant Curator of Modern and Contemporary Art, to see if the Museum would be interested in showing a selection of their collection. They were. It took two visits to review the entire collection, and "thanks to Carolyn, we were able to work together and pull 50 works we feel represent us as collectors."
Soon, the Shelburne Museum will change over from an exhibit of folk art by Grandma Moses to these stark and thoughtful works of art. "Folk Art and Modern Art compliment each other. And in a way, this change in exhibit makes sense. They (the curators of the Museum) get it," says Jason.  "The staff is young, hip, and vibrant. We are excited to see where the museum is headed and that we're humbled that they decided to use our collection for an exhibition.
"We need for more of this," he continues, "and the need to start taking better care of it." That includes preservation efforts for works that can be quite fragile, as they are created on various papers and perishable raw materials.
"These works show the integral relationships these artists had and continue to have with their fellow creatives as thinkers and doers. They push off of each other, using shape and color in new ways to put ideas on paper; they are not just big blocks of color but the result of patience, clarity of thought, and applied skill. I just adore these artists."

Creating this exhibition meant taking art off the walls of their home and out from under the furniture. Little did they know the impact this would have on their young son, who would travel with his parents as they sought new additions to their collection. "We are so pleased to be able to raise our family surrounded by these works," says Jason. But when one of the pieces for the exhibit was removed from the dining room wall, they soon learned it was their son's favorite as he begged them not to send it to the Museum. The result? He and his mother re-created the piece themselves, had it framed, and it is now hanging in a place of honor. Balance has been restored.
"Hard-Edge Cool: The Routhier Collection of Mid-Century Prints" is a survey of hard-edge or geometric abstract works on paper, from 1930s modernism to the postmodern era of the 1980s. The exhibit features more than 50 works on paper, from hand-pulled prints to archival exhibition catalogues and ephemera. Drawn from the collection of Jason and Dana Routhier, the exhibition will be on view at the Shelburne Museum November 19, 2016 through January 22, 2017. Jason is an award-winning graphic designer and co-director of the Burlington design studio RouthierHolmes, LLC. Dana is a writer and researcher with an MFA from the University of Illinois who directs special projects for the studio. This exhibition is an opportunity for the Routhiers to share their collection with a wide audience.
Collector's Showcase: November 2016