In a New Light: French Impressionism Arrives in America
Shelburne Museum June 14 through September 1, 2014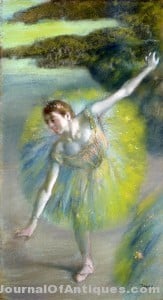 Exquisite and powerful paintings by Monet, Manet, Degas, Courbet and other French Impressionist masters will be on display this summer at Vermont's acclaimed Shelburne Museum with "In a New Light: French Impressionism Arrives in America" a new exhibition organized by scholar Margaret Burgess and Thomas Denenberg, the Museum's director and on display at Shelburne Museum June 14 through September 1, 2014.
"In a New Light" showcases Shelburne Museum's renowned collection of French paintings as well as significant loans from private collections and from the National Gallery of Art in Washington, D.C.
The centerpiece of "In a New Light", Monet's Le Pont, Amsterdam (The Drawbridge, Amsterdam) (1874), is the very first painting by Monet to become part of an American collection and a tour de force of Monet's Impressionist style. Acquired in Paris by Louisine Havemeyer, mother of Shelburne Museum founder Electra Havemeyer Webb, the painting is a favorite at Shelburne Museum and a "Rosetta Stone" in the history of American collecting.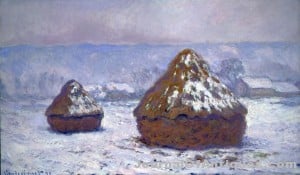 "Presented alongside five other examples of Monet's work in the exhibition, The Drawbridge, Amsterdam is a critical visual document that demonstrates the ways in which Impressionism became an international grammar of seeing," said Denenberg. "Its enduring presence at Shelburne Museum exemplifies how crucial Louisine and H.O. Havemeyer were in "bridging the gap" between the American and French art worlds and in bringing Impressionism to America."
Masterpieces such as Edouard Manet's striking Blue Venice (1875), a dazzling canvas capturing the brilliant light of the Italian city, Gustave Courbet's moody and mesmerizing Nature Morte: Still Life (1871) from his imprisonment during the 1870s, and Claude Monet's majestic Meules, Effet de Neige (Grainstacks, Snow Effect) (1891) painted en plein air over a winter in Giverny will anchor the exhibition.
The exhibition's title comes from the emphasis on atmospheric effects in Impressionism as well as Shelburne Museum's new state-of-the-art gallery space in the recently constructed Pizzagalli Center for Art and Education. With the new facility, Shelburne Museum audiences will be able to see Electra Havemeyer Webb's full collection of Impressionist paintings in a museum gallery setting for the first time, allowing each visitor to experience the revolutionary genius of these masterpieces.
For this exhibition, Dr. Denenberg and Dr. Burgess are receiving assistance from the Alliance Francaise of the Lake Champlain Region in providing translations into French. "In a New Light: French Impressionism Arrives in America" is sponsored by BlueCross BlueShield of Vermont.
Also on display at Shelburne Museum throughout the 2014 summer season will be "Painting a Nation: American Art at Shelburne Museum," a major reinstallation of the most important paintings within the museum's 1000 plus piece American Paintings Collection including works by Copley, Cole, Cropsey, Durant, Homer, Prior, Heade, Bierstadt, Lane, Johnson, Cassatt, Grandma Moses, and Andrew Wyeth.
The Shelburne Museum in Shelburne, Vermont is one of North America's finest, most diverse and unconventional museums of art, design and Americana. Over 150,000 works are exhibited in a remarkable setting of 38 exhibition buildings, 25 of which are historic and were relocated to the museum's beautifully landscaped 45-acre campus. Shelburne's collection includes works by the great Impressionists Claude Monet, Edouard Manet and Edgar Degas as well as a prized collection of American paintings, folk art including trade signs, the steamship Ticonderoga, weathervanes and quilts.
The museum summer hours are: Monday-Sunday 10 a.m. – 5 p.m.; (until 7 p.m. Thursdays, June 19 through August 14). Museum Store Hours: Monday-Sunday 10 a.m. – 5:30 p.m.; (until 7:30 p.m. Thursdays, June 19 through August 14). The Artisan's Shop: Monday-Sunday 10 a.m. – 5 p.m., beginning June 6 (until 7 p.m. Thursdays, June 19 through August 14). Café Hours: Monday-Sunday 10 a.m. – 4:30 p.m. (until 7 p.m. Thursdays, June 19 through August 14). The café offers sandwiches, soups, salads, pastries, a grill menu and snacks.
Museum Shuttle On-site accessible transportation is provided, with designated stops along the 1-mile route. The last 15-minute circuit begins at 5 p.m. (7 p.m. on Thursdays, June 19 through August 14).

For more information, visit
ShelburneMuseum.org