THOMASTON, ME:   A single owner lifetime collection of fine Americana will be featured at Thomaston Place Auction Galleries' Winter Auction on February 11 & 12, 2017.  This collection, which will be sold unreserved, includes a diverse array of rare, museum-caliber examples of American folk art, colonial furniture, paintings, and accessories, will be sold on Saturday, February 11.  A general fine art and antiques auction will follow on February 12.  
Thomaston Place owner and auctioneer Kaja Veilleux noted: "When we walked in to this estate in the New York countryside, the quantity and quality of the collection took our breath away.  We hope it will leave our buyers breathless, too."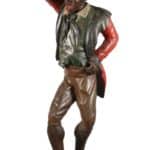 A centerpiece of the sale will be an important, circa 1870 American carved polychrome wooden minstrel figure depicting Jim Crow or Jim Dandy.  These characters were placed outside of theaters or cigar shops, and this one retains the original chain used to attach it to a building (est. $125,000-175,000).
Another auction highlight will be a tobacconist trade figure of an American Indian carved by William Rush (1756-1833) that was displayed in an early 19th Century Philadelphia shop (est. $75,000-100,000). This is probably the earliest surviving example of a Native American figure used as tobacco advertisement, and it was described and illustrated in the book, "Artists in Wood, American Carvers of Cigar Store Indians, Show Figures and Circus Wagons" by Frederick Fried (Bramhall House, New York, 1970).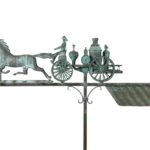 An important 19th Century weathervane in the form of an American fire engine steam pumper drawn by two horses will be offered.  In addition to its subject matter, the monumental width of this piece (over 7-feet) makes it exceedingly rare and special (est. $40,000-60,000).     
A portrait of George Washington by Jane Stuart (MA, 1812-1885), after a work by her father, Gilbert Stuart (MA, 1755-1825) will lead the paintings in the collection (est. $75,000-150,000).  A large, circa 1820s portrait depicting a prosperous family of five with swagged drapes above, possibly by Ammi Phillips (NY/CT, 1788-1865), will also be offered (est. $85,000-95,000).  
There will be two circa 1830 painted and stenciled wooden fireboards originally made for the Gabriel Houston House, Sussex County, New Jersey (est. $20,000-30,000 each).  Each depicts a colonial village scene populated by hunters and a variety of birds and exotic animals.

The collection also includes a superlative selection of American furniture, led by a magnificent Newport, RI circa 1760-70 mahogany Chippendale block and shell form chest made in the Townsend-Goddard furniture shop (est. $100,000-150,000).  This finely crafted three-drawer chest with molded top is raised on ogee feet and retains what appear to be the original brasses.  It is accompanied by a Christie's appraisal from 1980 which valued this piece at $175,000.
An Eastern Massachusetts 1690-1710 joined oak and pine Hadley chest with molded panel drawers and black lacquered trim will also be presented (est. $30,000-40,000).  This chest was antique collector, historian and preservationist Joseph K. Ott's first significant purchase of early American furniture.   
Other furniture highlights will include an extremely rare circa 1750-70  Delaware Valley  red painted child-size highboy in original untouched condition (est. $30,000-40,000), and two wonderful pieces of 19th Century paint decorated "Soap Hollow" furniture from Somerset County, PA.   
Of historic interest will be a circa 1800 mahogany and rosewood liquor chest with brass inlay reputedly owned by Commodore William Bainbridge (1774-1833), known for his victory over the HMS Java during the War of 1812 while in command of the USS Constitution.  Inside the lid is an etched mirror depicting an American eagle with an 'E. Pluribus Unum' riband (est. $10,000-15,000).
The Americana collection will also include an unusual and highly detailed patchwork quilt dated 1876 depicting a marriage scene with church, village houses and people.  This this important textile was featured in the May 1934 issue of The Magazine Antiques, with "The Editor's Attic" describing it as "the best of an excessively rare type".  
The auction will begin at 11:00 a.m. each day.  A complete, full color catalog, with detailed descriptions and photographs, is available, and all lots can be viewed at Thomaston Place Auction Galleries' website, www.thomastonauction.com.  
In addition to live bidding in the auction hall, Thomaston Place accepts bids via absentee, telephone, and on the internet (via Thomaston Live, Invaluable, or Live Auctioneers). The buyer's premium is 17% for live, telephone, and absentee bidders and 20% for online bidders.  Please call 1-207-354-8141 for more information, or to reserve seats in the auction hall.  
The gallery will be open for previews Monday, February 6 through Friday, February 10 (between 9:00 a.m. and 5:00 p.m. each day) and from 9:00 to 11:00 a.m. on Saturday and Sunday morning before the sale.  
Thomaston Place Auction Galleries is Maine's premier auction and appraisal company located on U.S. Route 1 in Thomaston.  Thomaston Place is a leader in discovering Maine's antique and fine art treasures by offering Free Appraisals each Tuesday at the gallery, creating fundraiser events for civic and charitable organizations, and providing house call appraisal services.  Their expertise in researching and marketing antiques and fine art has earned Thomaston Place the respect of buyers, collectors and experts worldwide.