By Don Weberg
While motoring enthusiasts normally collect cars, motorcycles and trucks as the obvious items of choice, they also frequently accumulate collections of associated paraphernalia known to Mecum Auctions as Road Artô.
Known also as Automobilia or Petroliana, Road Art includes a number of items related to motor vehicles such as signs, streetlights, cans, gas pumps, dioramas, models, racing items, car parts and much more and it all adds to the fun of an auction.
"Mecum Auctions coined the name Road Art to better describe what we were offering," said Dan Mecum, president of the Road Art division. "These collectibles are more than just memorabilia, they are pieces of art from our automotive past, and are being celebrated with increased value and collectability."
Normally, motoring collectors gather various items related to the industry, not just one. Rare is the collector in the automotive realm that only collects license plates and nothing else. It may well be there is a higher number of license plates than any other singular item in the collection, but motoring enthusiasts generally like to vary their surroundings. As such, there are largely two groups of collectors that dominate Road Art – the oil industry collector and the sign collector. While each will likely dabble in the other side, the oil industry collector will have a serious interest in gas pumps, oil cans, and oilers to name a few from the oil industry, while sign collectors seek those neon and porcelain promotionals branded with marketing from another era.
"Petroliana enthusiasts are interested in the thrill of the hunt to find that rare piece that has never been brought to the market," said Mecum.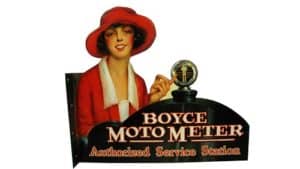 Frequently too, Road Art is enjoyable to collect due to the more accommodating sizes and affordable prices. A DSPN (Double-Sided Porcelain Neon) sign that hung on a dealership from the 1930s into the 1950s may well cost anywhere from $5,000 up to $100,000 depending on the size, condition, colors and brand it represents. Even the city in which it hung can have an effect on the value. But, for the buyer, once it's hung, it's hung. No registration, no real maintenance per se, just art hanging on the wall.
Interestingly over the past 20 years, the concept of bolstering a car collection with Road Art has grown exponentially. While car collectors have long sought Road Art, in the last two decades many people outside the hobby have joined in the fun, buying and selling various pieces of automobilia and petroliana. Part of the fun of the sale has to do with what will sell for the highest prices and where.
"The west coast may be more interested in the Hancock, Seaside, and Polly brands, while the Midwest may be more interested in Texaco, Sinclair, etc.," said Mecum. "Each person really has their own vision of what they consider valuable."
While it might not make a lot of immediate sense, the interest frequently has to do with nostalgia, people remembering simpler, easier times. Road Art often represents a tangible link to those eras. Sometimes it's food and beverage items that bring in the high dollars, but, again, nostalgia – the romance of enjoying a crisp, cool soda lakeside carries a lot of imagination, it takes people away and people enjoy those whimsical interludes.
"People often collect what they remember or what is nostalgic to them," said Mecum.
Interior decorators were some of the earliest adapters of Road Art to decorate surroundings. They were brilliant at adding a little rebellious flair to any room in the house, or an office, or even a restaurant. An advertising agency in Long Beach, California specializing in automobile manufacturer promotions such as brochures, websites and commercials has for decades had a real Fiat Jolly in its lobby. While the company specializes in motor vehicle promotions and it makes sense to have a unique classic car in the lobby, what a great first impression of a company to enter the offices and be visually met by a chipper Jolly. An advertising agency in Chicago, Illinois has a vintage Moto Guzzi in the corner of its board room – the company specializes in creating promotions for technology companies, but the motorcycle is a great element to spice up the surroundings and, maybe, when a company works with technically inclined people, a defiant motorcycle in the corner is a good way to encourage on a subliminal level, think outside the box, don't follow the crowd. A dentist in Texas has built from the ground up a large-scale concept of an old service station for his practice. Within the office is an assortment of old gas station and automobile memorabilia, including a soda fountain with a 1950's cafe. Unique beyond unique, this dentist says it's a lot of fun to introduce these older things to younger patients, and talk with older patients who recall many of the items from their younger years. These are great examples where designers and decorators have stepped away from the norm and used Road Art to create a very unique space and scored huge.
Mecum Auctions has sold Road Art for a number of years, using it as a warm up for the bidders before the cars hit the block, kind of a way of getting the blood flowing. According to Mecum, Road Art has enhanced the auction experience by making it convenient to the car enthusiasts to add porcelain signs, neons, gas pumps, and oil cans to their collections. Or sell them.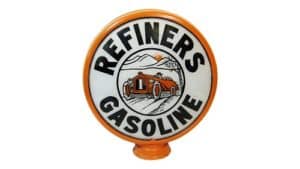 "As Mecum Auctions continued to grow, and as more and more collectors began to sell their entire collections with us, we were offering not only cars, but the collectibles they had amassed as well," said Mecum. "The condition of an item and visual appeal certainly enhance the value. Large individual collections are where we have seen the greatest increases in the numbers, and we see this as a continuing trend down the road."
With the success in selling Road Art and related memorabilia, more collectors were coming to Mecum to sell their automobilia and petroliana.  "As evidenced by the increase in values, all types of collectors, cars, motorcycles, tractors and so on, are seeing the collectability of Road Art," Mecum said.
At the recent Indianapolis sale, Mecum Auctions sold a number of unique pieces for exceptional prices. In particular, Lot J65, a DSPN horizontal Mercury sign with topper realized $17,000. In mint, working condition, the sign measured a lengthy 90″ x 32″ x 16″ and likely hung at a dealership decades ago. At the same auction, Lot K90, a single sided neon porcelain (SSNP) horizontal Chevrolet sign fetched $23,000. Interestingly, the Chevrolet sign measured in at 60″ x 312″ and boasted neon on only one side, yet brought in a $6,000 premium over the Mercury sign. While the Mercury sign might be rarer than the Chevrolet sign, Chevrolet probably has more followers, thus popularity likely drove up the price.
At their Kissimmee sale earlier this year, a number of fabulous pieces crossed the block, and many realized stunning figures. In particular, Lot Z154, a Double Sided Porcelain (DSP) Smith-O-Lene Aviation Brand Gasoline sign measuring 48″ in diameter stunned auction goers by realizing a sale price of $55,000. In contrast to the Mercury sign, in the case of the Smith-O-Lene sign, rarity likely dictated the price entirely. At the same auction, Lot P53, a 12″ tall Chrysler-Plymouth DSPN sign in brown and orange colors was presented in mint condition and brought in $32,000, a great sum, but still, considering the size and scope of the sign, it was massive compared to the Smith-O-Lene sign. Again, rarity pulled the Aviation sign to the stratosphere, but the Chrysler-Plymouth sign out performed the Chevrolet sign likely because of the unique design, a sort of art deco affair, interesting to the eye and that possibly helped increase the price.
"People are buying Road Art not only as investment pieces, but to decorate and complement their automotive collections," Mecum said. Exactly why some design elements, like an art deco influence, would help a sign realize a slightly higher than average price.
Growing in popularity and value, Road Art has long been an element important to automotive enthusiasts, but has evolved to become important to collectors of the visually appealing. Maybe someday, the Guggenheim will host a Road Art exhibition.
About the Author:
Don Weberg is the editor-publisher-founder of Garage Style Magazine, a quarterly publication dedicated to automobile collections and the spaces in which they are kept. Having grown up around various types of car collections and garages, he was exposed at an early age to several ideas on how to decorate a garage and create a space celebrating the love of the automobile. These experiences also helped him shape an appreciation for all kinds of cars and trucks and he considers himself a general automotive enthusiast, with only a few loyalties to any particular makes or models.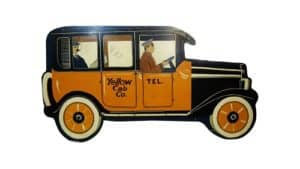 His eclectic taste in cars is exemplified by his small collection of a 1979 Chevrolet Caprice Classic, a 1979 Fiat 124 Spider, a 1965 Ford Mustang and a 1949 Willys Sedan Delivery. He bought his first collectible toy car at the age of 6, a Rolls-Royce Corniche coupe by Corgi Toys in Metallic Ruby with Biscuit interior and he's been collecting since. Discovering swap meets, he began collecting all kinds of things from vintage road maps printed by oil companies to sales literature from car companies to car emblems to motoring industry related cans and more. Having worked in the motoring journalism field for a number of years, he launched Garage Style in 2008 showcasing collections and working with auction houses to discuss collectible items sold or coming to market and exposing garage-centric news and products hoping to help people create the garages of their dreams.
Road Art