Subscribe to The Journal of Antiques and Collectibles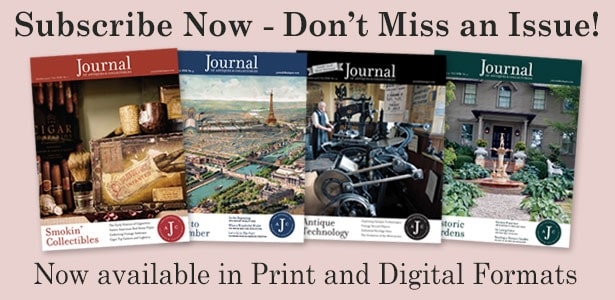 The Journal of Antiques & Collectibles is a national magazine for dealers, collectors, and enthusiasts. We provide the knowledge, news, and resources to actively engage buyers and sellers.
If you would like to order a subscription over the phone, please call us (toll-free) at 1-888-698-0734. The Journal only accepts subscriptions to addresses in the domestic US.
Questions? Email us at subscribe@journalofantiques.com
One Year Print Subscription – $28.00 for 12 monthly issues
Two Year Print Subscription – $48.00 for 24 monthly issues
One Year – Digital Only: $28 (includes 12 issues PLUS special supplements)
Two Year – Digital Only: $48 (includes 24 issues PLUS special supplements)
One Year – Digital & Print: $40 (includes 12 print issues PLUS 12 digital issues PLUS special supplements)
Two Year – Digital & Print: $60 (includes 24 print issues PLUS 24 digital issues PLUS special supplements)
One Year Renewal – Print Only: $18
Two Year Renewal – Print Only: $35
One Year Renewal – Digital Only: $18
Two Year Renewal – Digital Only: $35
One Year Renewal – Digital & Print: $24
Two Year Renewal- Digital & Print: $40
Post Press Update E-Newsletter: Sign up for FREE
Digital Introductory Special – 6 Months for $12.99

**Use Coupon Code EJOAC at Checkout**

Offer good January-March 31, 2018