by Jessica Kosinski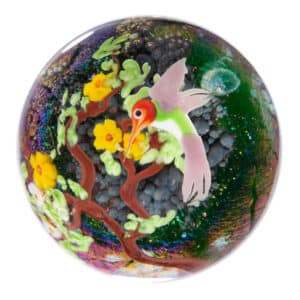 When talking about collectibles related to writing, it is impossible to ignore the topic of paperweights. Before computers existed, writing everything out by hand was the norm. As a result, writing desks were often littered with various papers. The best way to keep them organized and in place was to use some type of paperweight, but paperweights were not then and are not now simply practical – they are also decorative and highly collectible. Let's take a peek at the history of paperweights and some great types of paperweights to collect.
Egyptian and Roman Glass – The Precursor to the Paperweight
Although contemporary paperweights come in many shapes and are made from various materials, the glass paperweight is the most iconic. Glass paperweights have been popular for nearly two centuries and are highly prized by collectors. These place setters can trace their roots even further back to Venice in 1495 when a Venetian historian recognized the beauty of encasing the beautiful flowers of springtime in glass.
That technique originated in Egypt and eventually was learned by the Romans.
More Venetian Influence on the Invention of Glass Paperweights
It took a while, but in 1845 another Venetian named Pietro Bigaglia introduced attendees of the Austrian Industrial Fair to his "Venetian balls." It was around that time that the first flat-bottomed glass paperweights were produced. The innovation of flattening each glass orb on the bottom had two key benefits. For these, a glassblower would remove the pontil mark (sometimes referred to as a belly button by collectors) by flattening the base. The second it was finished, each glass paperweight "ball" was able to sit on a surface and remain still. Thus, the decorative pieces could also serve a useful purpose.
Glass Paperweight Popularity Rises
One of the key reasons glass paperweights quickly gained popularity was The Great Exhibition of the Industry of All Nations. This event took place in the world-renowned Crystal Palace and was hosted in London, England by Prince Albert in 1851. Multiple exhibitions and world fairs soon followed where various artists showed off their artistic paperweights.
Another reason glass paperweight's popularity took off was a practical need. The first paperweights came on the scene at a time when paper was cheap and letter writing was popular. Thus, their practical use and beauty combined to make them attractive to the masses.
Big Names in European Glass Jump on the Paperweight Bandwagon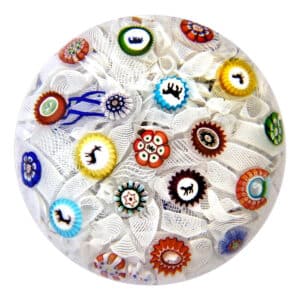 European glassmakers soon took up the task of perfecting the art of paperweight production. To do that, they combined what were modern techniques at the time with ancient methods. One of those ancient methods included the millefiori, or "thousand flowers" technique. Flower-filled glass paperweights were particularly popular for their bright colors and their longevity. No matter what time of year it was, paperweight users could always have flowers to admire on their desks. Baccarat was one of the biggest companies at the time to produce such paperweights, and Baccarat paperweights are still popular with collectors today.
The Two Phases of Glass Paperweight Production Popularity
The European paperweight production movement primarily lasted from approximately 1845 to 1860. The trend almost died at that point were it not for immigrants who came to America and brought the process with them. It was unpopular and remained unpopular for nearly a century, but it didn't completely die.
The famous writer Truman Capote gave glass paperweight collecting a boost when he caught the collecting bug in the 1940s after seeing the impressive paperweight collection of the French writer and actress, Colette. Glass paperweight production and collecting in the United States also got another boost in the 1960s. Around that time, glassmaking was done primarily in
large factories, but many factories began to outsource to individual artists working in their own private studios, or ateliers. That caused a rapid expansion of artistic expression in glass paperweight production.
Promotional Paperweights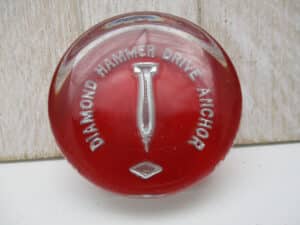 When it comes to general value, traditional glass paperweights as described above are typically the most desirable. Collectors also have the option of collecting promotional paperweights. Promotional paperweights come in many different shapes, sizes, and types. For example, you can find modern magnifying paperweights, paperweights with built-in pen holders, and even paperweights featuring inlaid clocks that all promote various companies and brands. Some advertising paperweights also have distinctive shapes, such as ovals, rectangles, or pyramids.
Tips for Collecting Traditional Glass Paperweights
If you want to collect traditional glass paperweight, you can focus on certain design types, time periods, or even specific makers. Many glass paperweights have maker's marks incorporated into their designs. It is important to familiarize yourself with maker's marks and designs if you plan to collect rare, expensive paperweights. They are often copied. You need to know how to recognize authentic pieces.
Condition is also a consideration when collecting glass paperweights. Obviously, glass can get scratched over time. Therefore, you can expect to find slight scratches or chips, especially on many of the earliest paperweights, and sometimes those imperfections can be buffed out. However, some collectors like the added character imperfections provide. Similarly, some collectors focus on paperweights with perfectly centered designs, while others look for more quirky paperweights with off-center patterns.
If you are reading descriptions of paperweights, such as on a list of items to be auctioned, be cautious. Not all auctioneers know the age or value of the items they are selling. They often use misleading terms like "stunning" and "beautiful" to detract from the fact that certain items are of unknown age or value. Even if they use the word "antique," check the paperweight yourself before putting in a bid. Similarly, when buying paperweights online, always be wary of language used, inspect images carefully, and ask questions to make sure you get the product you desire.
Collect the Paperweights That Speak to You
Ultimately, the paperweights you choose to collect and how you choose to collect them is up to you. You may opt to focus on one type or many. You could look for traditional flower paperweights or ones with animals or other features. There are many possibilities, so you are only limited by your imagination and preferences.