by Charles Snider, Ruby Lane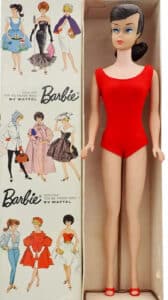 From being one of the most popular dolls and toys in the world in the 1950s, to being the star of a feature film in July 2023 starring Margot Robbie, to having her own collection of NFTs, Barbie remains one of the icons of Pop Culture, popular media, fashion, toys, and games.
The value of Barbie collectibles is determined by most of the same market factors, influences, trends, and elements that contribute to the value of other fine and pop culture collectibles.
Age – The Barbie doll made her debut in 1959 in New York at the American International Toy Fair, the premiere and finest toy convention open to the companies in the toy industry such as retailers, manufacturers, distributors, investors, and other toy industry insiders. Incidentally, the American International Toy Fair has been an annual event since 1903, having changed names a few times, and while it was closed for COVID, it is expected to return this fall to New York City.
Some of the most valuable and desirable Barbie dolls are from the early days when the famous toy company Mattel brought to market a doll that looked like an adult or teenager, in contrast to the traditional dolls and dollies that were modeled after infants, babies, and children.
Condition – Similar to the market for action figure collectibles, a Barbie doll in unopened, original packaging, commands much higher prices than the vast majority of Barbie dolls, without the original packaging. For most collectibles produced in the 1960s and later, their Holy Grail is the example discovered in someone's attic, or storage locker, collecting dust from when it was stored in its original packaging. Vintage Barbies still in their original packaging have sold at auction in the four figures. Keep in mind that Barbie dolls were invented, designed, and sold to be actual toys, and a girl's new best friend, vintage Barbie dolls in their original packaging, never played with, is quite uncommon.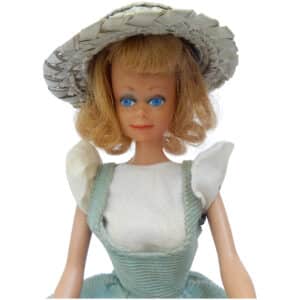 Limited Edition and Designer Barbies – Barbie's popularity and global appeal have attracted many different collaborations and partnerships with designer fashion brands, sports teams, celebrities, and luxury jewelry houses. For instance, fashion designer Calvin Klein partnered with Mattel for a Barbie in haute couture fashion. As well, fashion designer Karl Lagerfeld also lent his talents and vision to design clothes for and dress a limited edition Barbie. While these are more recent editions of Barbie, they are highly sought after by collectors.
Accessories for Barbie are also highly collectible and desirable for their age, condition, and availability as little accessories are so easily lost. One hopes however that if you ever had the 1999 Barbie doll (celebrating 40 years of Barbie) with her jewelry accessories by the most famous diamond business in the world, De Beers, you'd have kept Barbie and her jewels in a safe as the tiny jewelry accessories were genuine diamonds!
Barbie's Friends – In the 1960s Mattel expanded the Barbie family by introducing, also at the American International Toy Fair, her friend Ken. While at first Ken's relationship with Barbie was not made evident, with speculation he was her brother or her boyfriend, later pop culture stories established Barbie and Ken as an item.
Later in the 1960s Mattel also introduced Barbie's sister named Skipper, and other friends followed. The value of Barbie's friends is not on the same scale as Barbie dolls, however, like all collectibles, enthusiasts, and collectors appreciate Ken, Skipper, and other Barbie friends in their original packaging.
Barbie has been the queen and the main character in several comic books, cartoons, TV specials, children's books, and non-fiction books about self-confidence, running a business, and fashion and style. Perhaps the only remaining media that has not yet elevated and spotlighted Barbie is Broadway.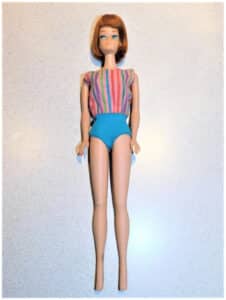 July 2023 brings us the comedy film of the summer, Barbie. With a cast including Margot Robbie, Ryan Gosling, and Will Ferrell, Barbie will have another spotlight on her this year, as will the Barbie dolls and all Barbie collectibles, historic and new. In fact, this year Barbie has arrived in the future, into the metaverse as Mattel has recently launched and offered Barbie digital art NFT collectibles. Now collectors will be able to assemble a first generation of Barbie NFTs from Mattel, making Barbie one of the longest-running toys in the world.
Remember that rarity and condition, and the popularity of Barbie in the collectibles market, contribute to her value. A collector cannot control the rarity or the market, but they can control the condition!
A Barbie collector recently shared her biggest regret with me – she said when she started collecting Barbie dolls, her plan with the collection in the 1980s was not the same as they are today with her collection. She had a limited-edition Barbie, and much to her regret today, she cut her Barbie's hair in order to make her Barbie look like the late actress Markie Post from the popular show at that time,