Inheriting a Collection of Musical Note: An Interview with Jane Porter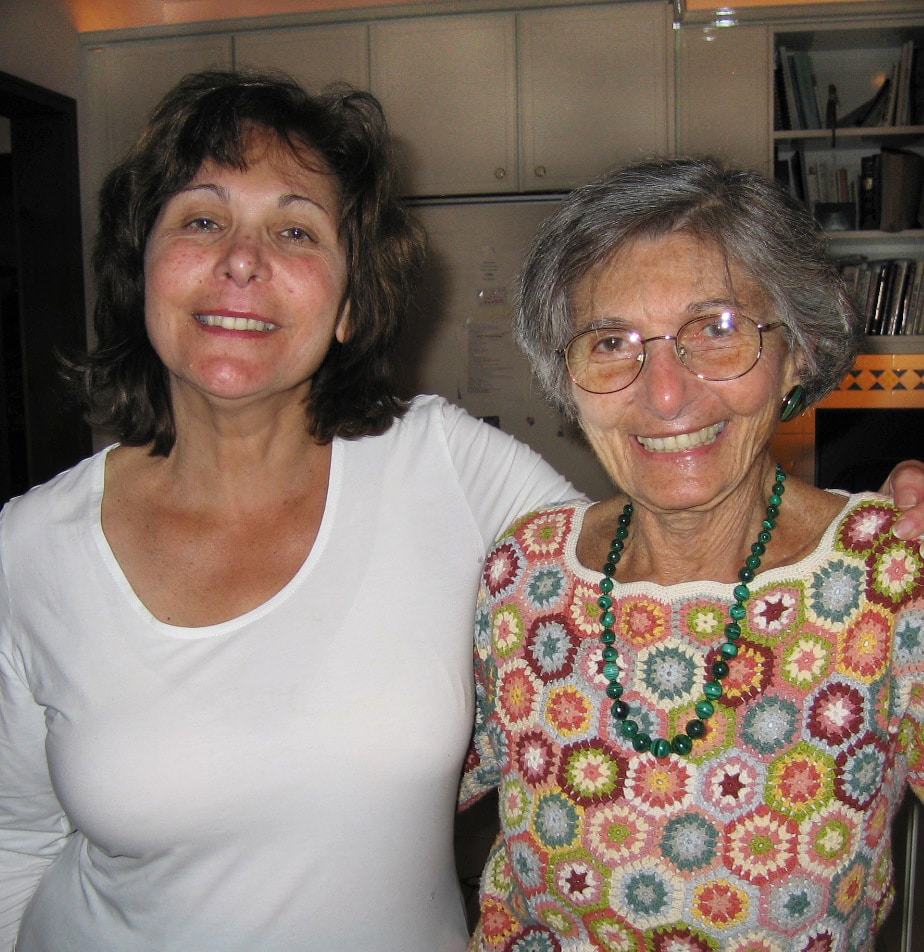 Jane Porter with her mother, 2011

When her mother passed away in 2011, Jane Porter thought she was prepared to take on her beloved collection of rare books and American sheet music. Her mother had been grooming her since the late 1980s so that when the time came, Jane would understand and appreciate what she had collected and the origins of her passion. Still, Jane would be the first to say that even with all that advance preparation she was not prepared for the enormity of the task and the great sense of responsibility she feels to do right by her mothers legacy. But the more time she spends going through her sheet music collection and doing the research, the more it turns into a passion project, in much the same way as building the collection was a passion project for her mother who, interestingly, could not even read music.
Jane, an independent stockbroker with a background in English Literature and music and two nursing degrees, is a collector herself of Pre-Raphaelite books. Having the time, interest, and collector gene, she was the natural member of her family to take the lead on preparing the collection for estate liquidation in honor of her mothers wishes.
Jane and I first spoke about six months ago when she was referred to me by a mutual friend. She had just started a deep dive through the collection, now that it was out of storage, and was looking for some suggestions on who to call and where to go with it. We revisited by phone at the end of November to catch up. It was clear that Jane had moved from the "overwhelmed" stage to the "fascination" stage, and was excited to share what she had found and what she was learning. The cutlines for the images are from Jane.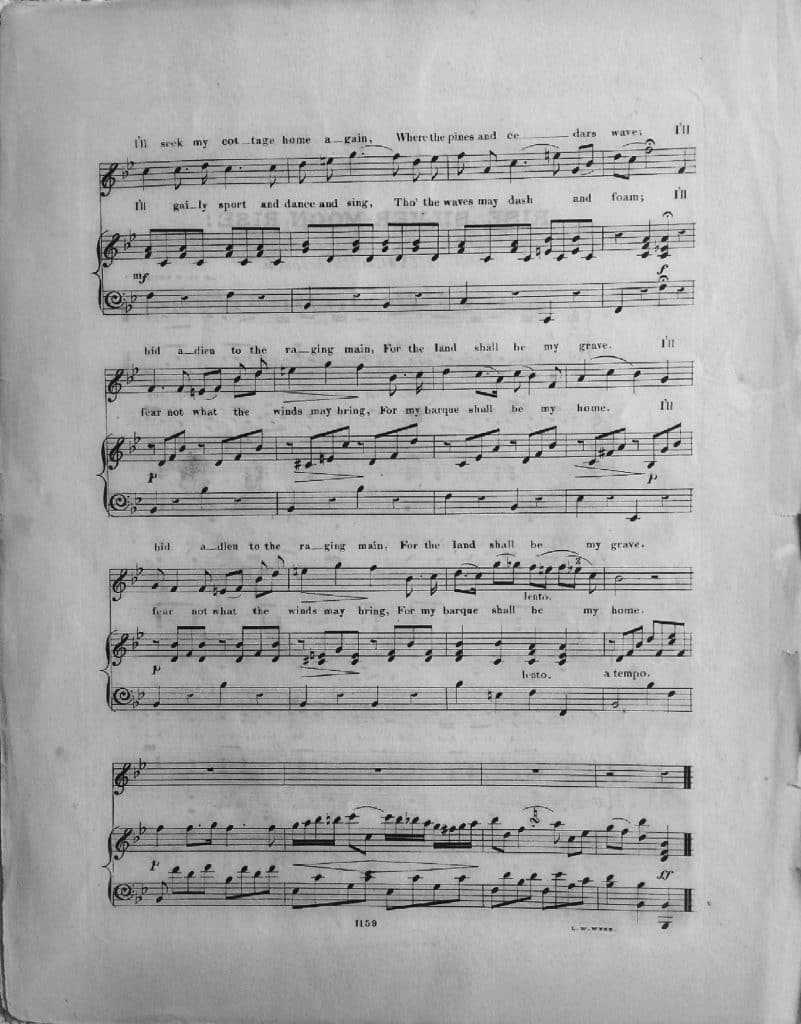 Talk to me about your parents as collectors.
My mother was a Biochemist. Growing up I didn't really know what she did in her job but I could see that she was tenacious, kind of like me. She wouldn't stop until she got the answer. And she was meticulous in recording information. You can see those characteristics in how she went about building and documenting her collection.
In 1970 my parents started collecting rare books. Around 1984 my mom started her own collection of American sheet music. She thought it was a sleeper. What she loved about sheet music was the story it told of Americas history. Her focus was on American music from 1780 through the Civil War. And it wasn't just a specific type of music. Her collection embraces all types of social, economic, cultural, and political topics.
She aspired to collect the items in the Lester Levy Collection (an avid 20th century collector of American popular music, who donated his collection of over 29,000 items dating from 1780 to 1960 to John Hopkins University to preserve its history). Levy published several books about his collection. She devoured everything he wrote and started collecting sheet music according to what he had collected. Many of her pieces mirror his collection.
When my dad retired in 1987, they spent every weekend traveling around the country, especially in the south, to look for material.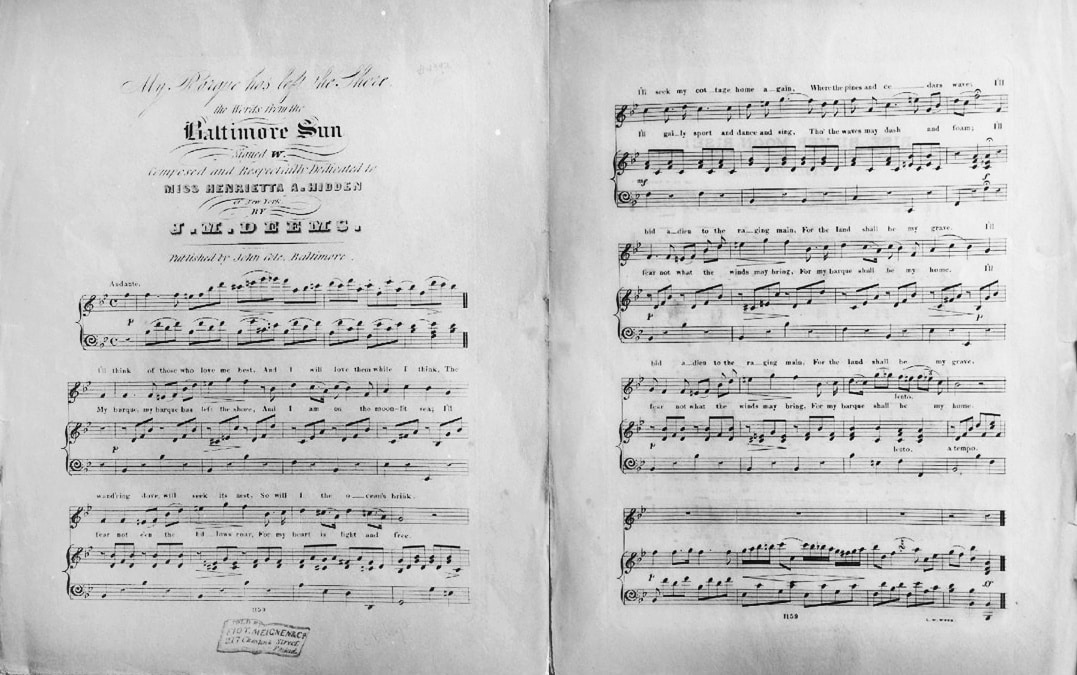 The title is My Barque Has Left The Shore, but the story comes from the subtext: "The Words from the Baltimore Sun, Composed and Respectfully Dedicated to Miss Henrietta A. Hidden of New York by J.M. Deems." This is a story of the composer and his unrequited love. While Deems was a musician in Baltimore, he composed this for Henrietta Hidden, a flame. She was the daughter of Enoch Hidden, the person appointed to the Sultan to run the coin mint in Turkey starting in 1832. Henrietta married William Webb in 1843. I found the book that his son wrote in 1912 about his experience, making the words and music hold that much more meaning. I don't know how many he printed. It is done on cheap paper, not the type you find in 1838. That is why it is so worn.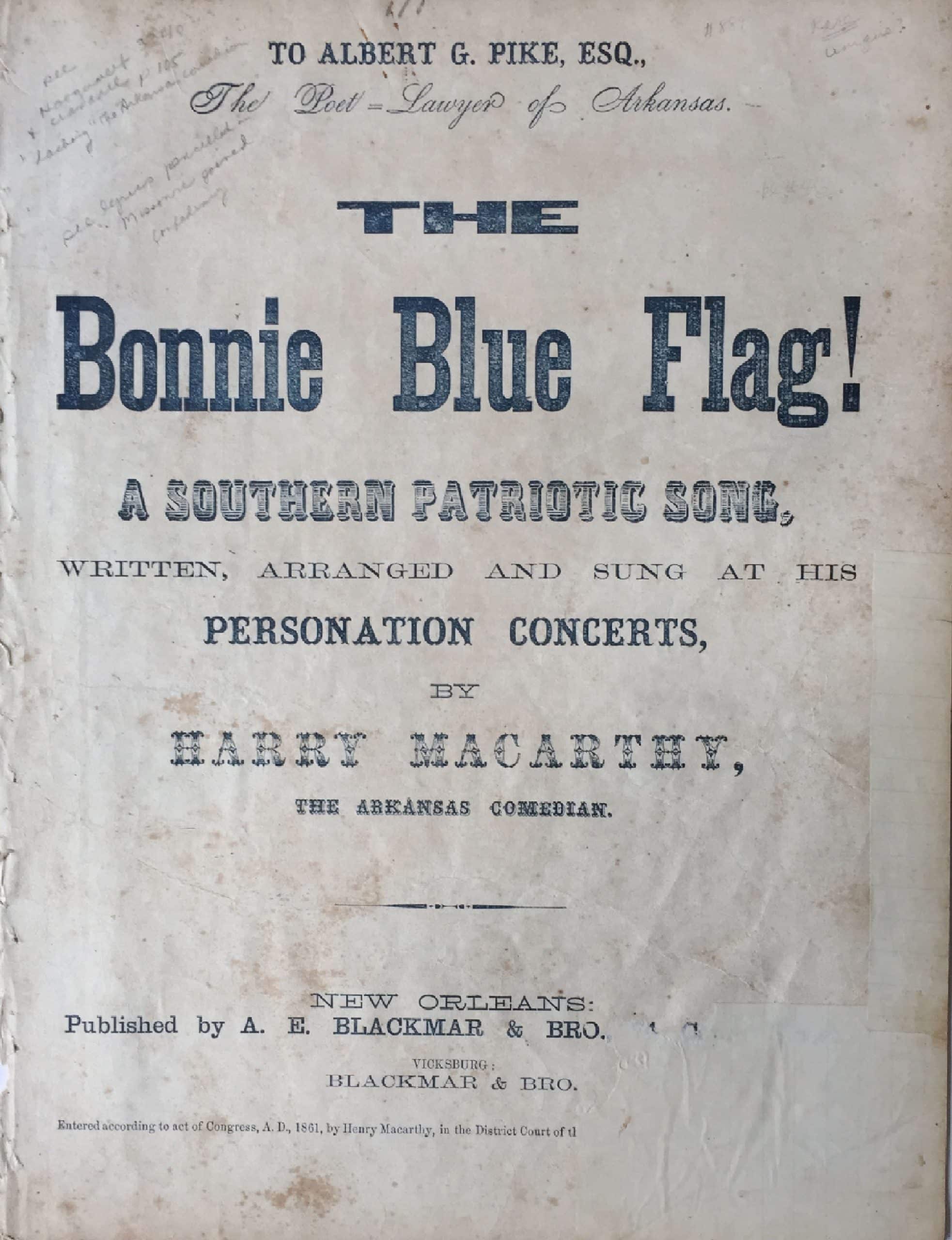 The Bonnie Blue Flag! by Harry MaCarthy, published in 1861 by Blackmar in New Orleans. They were a big Confederate Publisher.You can see my mothers reference notes on the cover.

How did your mother prepare you for taking on her collection?
She first told me about the sheet music in the late 1980s, early 1990s but I really didn't pay too much attention until 2007. After my dad passed away she wanted to tell me everything about it. She would bring out pieces and explain to me what they were. She would have me come over when other collectors came to the house so I could learn. Over the next four years, until she passed away in 2011, I learned everything I know: what to look for, whats important and whats not important, the condition of music and how it affects the paper. . .She gave me a great foundation.
A week before she died she took me up to her bedroom and pulled out this box and told me I had to take it to my house and take care of it. It's all a tremendous sense of responsibility.

What did she want to happen to her collection?
She left the collection to my sister, brother, and me. She wanted us to sell it––this was our inheritance––but she wanted us to be judicious about selling it and not just dump it. She wanted us to find the right people to buy it. So we try to honor that. But she also helped us. On all the sheet music of importance, she wrote all the reference books and pages on each piece. . .she gave us clues, she gave us a roadmap. She also left journals documenting what she bought and where she bought it. But her intent was always that we sell it, although she did donate a number of things.
Tell me about the collection.
The sheet music is compiled into 454 bound volumes with anywhere from 25-50 pieces in each, plus about 3,000 loose pieces –– about 16,000 items in total. In addition to all this music she also had a personal collection in two red binders: the cream-of-the-crop. Then there are paintings, ephemera, photographs, stamps –– I just sold a lot of stamps through the Kelleher auction but I still have boxes left, orations back to 1750 –– I sold some of them at Eldridge Auctions, Civil War letters, colonial currency, letters from the Daniel Huntington family, and, of course, books.
My mother also collected American history books. She had a couple of copies of the first proceedings of the Continental Congress from September 1774, a lot of really early printings: Mathew Carey, Thomas Paine… The orations were really interesting, especially the early ones –– a lot of Founders of the country, a lot of Generals during the Revolution… She was into abolition, temperance, women's suffrage. . .She was very much a women's rights person from the very beginning. They also collected newspapers and essentially anything that was paper.
After her death, I took the reins and started going through everything and doing the research to organize the collection. It was densely packed up to the ceiling in the study of my parents house, and in the basement on shelf after shelf after shelf––racks and racks––it was massive! So I extricated the room and started putting everything in boxes and then had to move them into storage in order to clear the house for sale. Slowly but surely my sister and I have moved the collection into our homes.

What has the journey and process been like, in general, and for you personally, going through and selling off the collection?
My sister and I have both been working on selling the sheet music and books on eBay and Amazon, and I started seriously selling on eBay this year. We also did auctions early on. We took some of the really good pieces to Swann Auctions, with very good results, and we've worked with Eldridge Auctions and some other auction houses, as well. We also did a Gettysburg show on the 150th anniversary and sold a lot of Civil War material there, but I haven't really started to get serious about selling the collection. The fact is my husband and I are starting to slow down, and I can now spend more time really going through and researching what she amassed.
What happens is that I get hooked. I can go through all hours of the night researching something Ive found, which then takes me to unknown places and things I had no clue about. For example, last week I was searching for information on an 1846 band leader from Richmond, Virginia. He joined the Confederate Army and fought at Vicksburg with the Cowan Battery, but I still wanted to know more about him. A Google search brought me to a magazine called The Confederate Veteran, which is all online and digitized (and still in existence but under a different name). Soldiers would write in with their first-hand accounts of battles, which they would publish. It blew me away! And its turned out to be a great resource for me because she had quite a bit of Confederate music. Thats what happens –– you get into it but you never know where it will lead. Its like going on a journey back in time. It has taken me to so many different places and Ive met so many interesting people that I could write a book.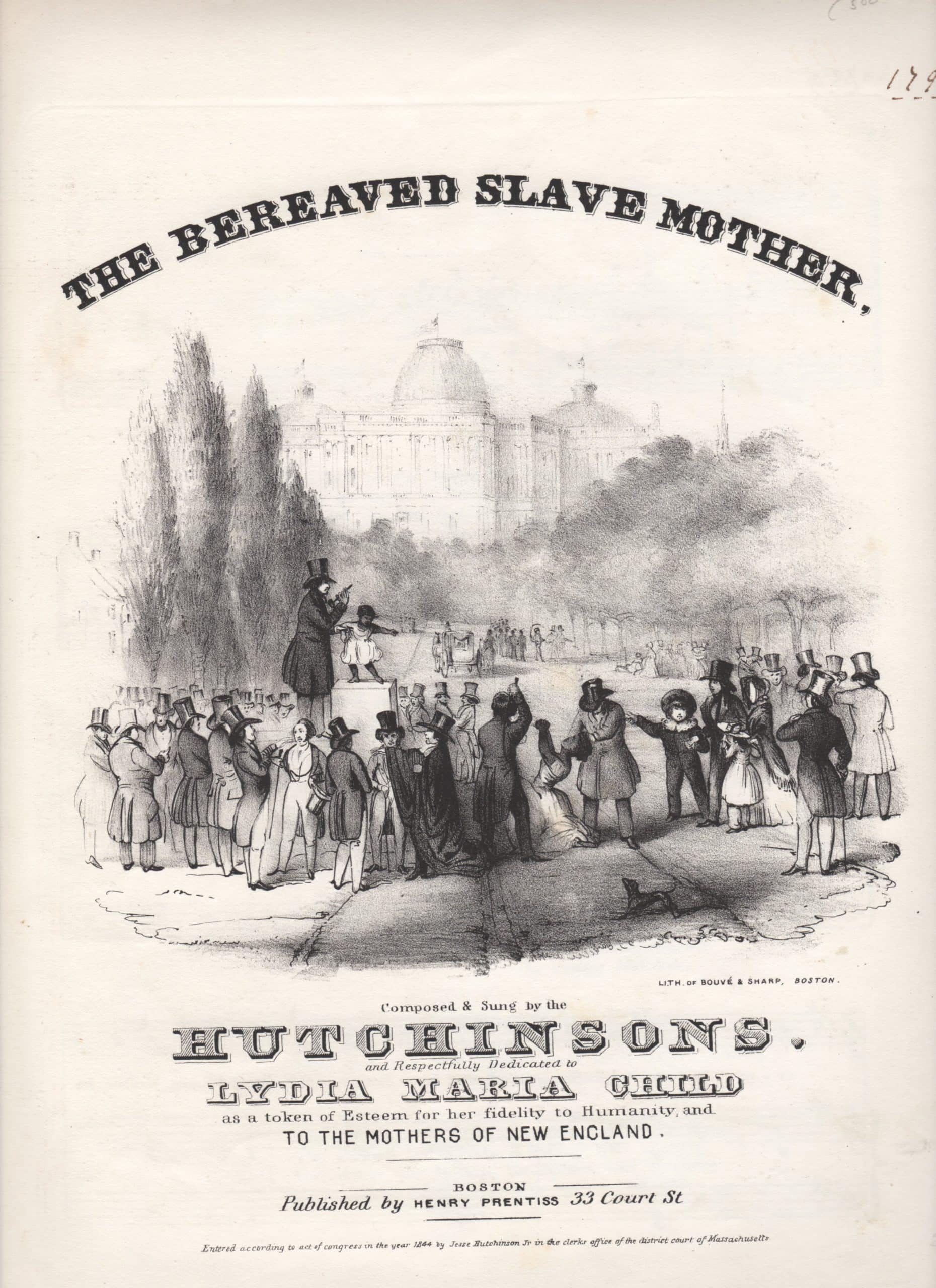 The Bereaved Slave Mother. Four pages, self-wrappers; engraved cover, and 1-1/2 pages of engraved music; half page of additional verses; a fine, fresh copy. Boston: Henry Prentiss, 1844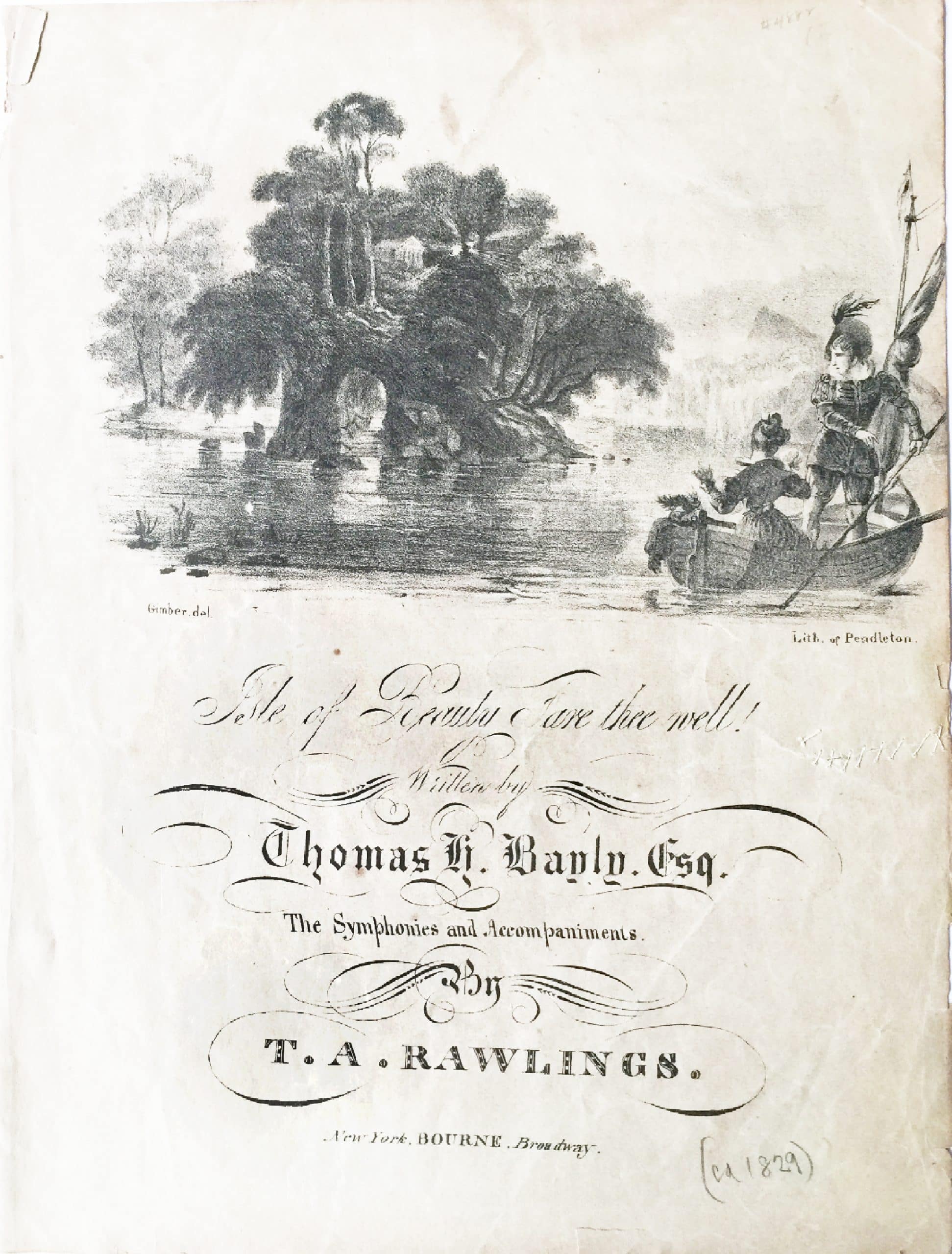 Isle of Beauty, Fare Thee Well cover image and stitched repair to a torn page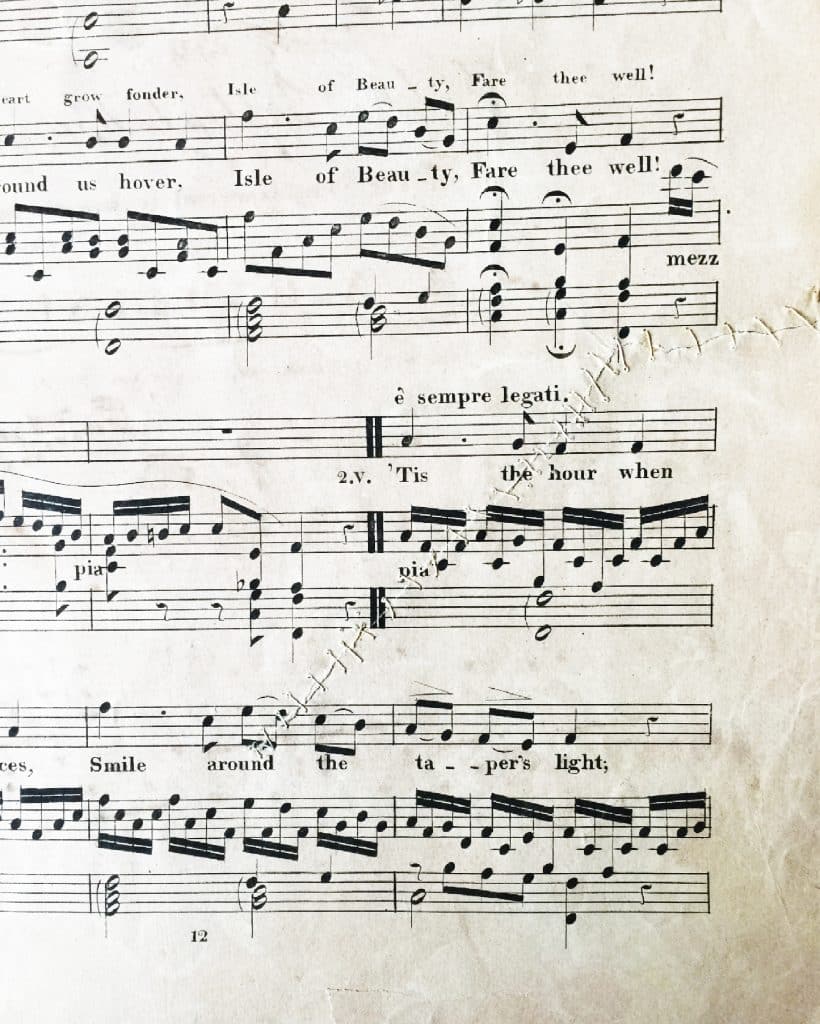 What surprises have you found so far in the collection?
She had this African American piece of sheet music which went for $4,600 at Swann. It was called The Bereaved Slave Mother. It had a very disturbing lithograph of a little girl on the auction block with a mother on her knees on the ground, sobbing. It's very rare. I had no idea. My mom had a large collection of African American music which we have been putting together to sell as a lot.
I also came across an early 19th century lithograph on sheet music by Pendleton (brothers in Boston, lithographers, 1825-1836). It has an island that this couple is leaving, like England, and the couple is going away. What shocked me about this was that a repair was made before tape was invented and someone hand-stitched the repairs. I was very taken by that because the song must have meant a lot to them to repair it that way––to preserve it––with linen thread.
What have you learned about the market for American sheet music?
I've learned that the value of sheet music has plummeted for all but the rarest of pieces. But when I sell something on eBay I try to include a story that Ive researched about the item and buyers like that. I'm building quite a collection of research. As I come across something I capture it so I don't have to go back to find it when the time comes to put the item up for sale.
What is challenging for you?
Bound volumes are difficult because you have to go through every single sheet in the book –– not all had been researched. A lot she didn't have the time to get to, and thats where we are finding some of the really rare pieces that we've been selling. Unless we go through everything, we wont know whats in there. My sister has 250 volumes at her house, alone. Where do we start?!

What's your end-game?
I would like to write a book someday about the joy of collecting early American sheet music. I have learned so much about American history and culture during this process. I think sheet music has a place in education, not just higher education, but in high schools where history and social culture are taught. It is another vehicle that carries our American past. My parents thought education was the most important thing, so it does not matter how much time I spend on this because I'm learning something new every day. It keeps my brain going.
Jane Porter can be reached through the Journal of Antiques & Collectibles if you would like to know more about items for sale from the collection.