Cordier's August 15 and 16 auction in Harrisburg, Pennsylvania will feature the diverse collection of Dr. Irwin Richman, Penn State University American Studies professor emeritus. The collection includes a large majolica collection, a 16th century British oak coffer and a George Washington bust after William Rush. Other auction highlights include over 100 lots of fine jewelry, a Paul Jouvé bronze of "Le Cynocéphale" and a William Parsons wooded landscape.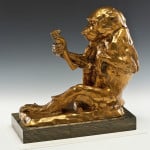 Day one of the two day auction will feature over 100 lots of fine jewelry including a 5.9 ctw diamond and pearl pendant/brooch ($5,000-10,000), a 27 carat star sapphire and diamond ring ($4,000-7,000), and pocket watches
including a Tiffany & Co. Patek Philippe ($1,500-2,000).
Other first day offerings of the 1,000 lot auction includes a Dugan carnival "Farmyard" bowl ($1,000-2,000), as well as Lalique, Fenton, Pairpoint, and Tiffany glass. The furniture category offers antique through mid-century including a set of four Mobler Danish modern dining chairs ($300-600) and a Hickory Tung-Si dining set ($500-1,000).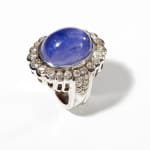 In fine art, a rare large 15.5 inch gilt patinated bronze sculpture by Paul Jouvé (French, 1878-1973) entitled "Le Cynocéphale", or "Monkey Contemplating an Ancient Egyptian Idol" ($8,000-12,00), will be offered, as well as a painting by Ablade Glover (Ghana/UK, 1934-) ($1,500-3,000). Another fine art highlight is a wooded landscape by Sheldon Parsons (America/Mexico, 1866-1943) ($8,000-12,000).
Another highlight of day one is a kit car replica of a 1932 Ford coupe with a 350 cubic inch Chevrolet small block engine ($6,000-8,000).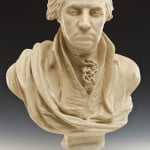 Day two of the auction on Sunday will exclusively represent the collection of Dr. Irwin Richman including a George Washington bust after William Rush ($8,000-12,000) and a 16th century British coffer ($600-800) featured in Fiske and Freeman's "Living with Early Oak" book. Richman's diverse collection of both interesting and very unusual items also contains a large collection of Continental majolica with a 42 inch blackamoor ($400-600) as one stand out. His holdings also include Mexican and fine jewelry, folk and fine art, textiles, baskets, and furniture.
Dr. Richman, an ardent life-long collector, is the past chair of the graduate program in American Studies at Pennsylvania State University, Harrisburg and has held various positions at the Pennsylvania Historical and Museum Commission. In addition to authoring or co-authoring more than 20 books, he has contributed to over 180 articles and reviews to professional journals. He has served as an architectural history consultant for various institutions and is a frequent presenter and freelance museum curator. "We are honored that Dr. Richman contacted our company to sell his collection," notes Cordier's owner, David Cordier, "We are very excited to host this auction."
A full online catalogue of the two day auction is available by visiting www.CordierAuction.com. Questions can be
directed to Cordier Auctions & Appraisals at mhartman@cordierauction.com or by calling 717-731-8662.
Cordier Summer Antique and Fine Art Auction to Feature Fine Jewelry and the Collection of Dr. Irwin Richman