Featured: Norman Mingo Beatles-theme original cover art for Mad magazine, Sept. 1968
YORK, Pa. – Looking back on the year 1967, some might say that it was, paradoxically, a time of peace, love and war. Lyndon B. Johnson was president, 475,000 US troops were fighting in Vietnam, the Beatles unveiled their immortal Sgt. Pepper's LP, and the Chiefs and Packers squared off at the first Super Bowl. Today, collectors clamor for mementos related to those historical people and events, and fortunately they're able to find them because of another highlight of 1967. It was during that year, half a century ago, that visionary political ephemera collector Ted Hake founded his pop-culture collectibles business. Dubbed "Hake's Americana," the company has since become a globally renowned auction house whose sales embrace over 200 popular collecting categories.
To celebrate its 2017 golden jubilee year, Hake's Americana will conduct three major online auctions, the first slated for March 14-16. As a nod to Hake's roots, Auction #220 will feature 500+ lots of important political memorabilia. Two of the top items are a framed 36-star Grant and Colfax campaign parade flag from 1868, estimate $5,000-$10,000; and an exceedingly rare 1896 William McKinley poster publicizing a "Republican Barbecue at Greenfield, Ind." One of only two examples known to Hake's, the huge (26.5 x 39.5in) tri-color poster lists among its enticements "Ten Oxen, Twenty Sheep, 500 Chickens and 20,000 Free Buns!" along with brass bands and fireworks. Estimate: $2,000-$5,000.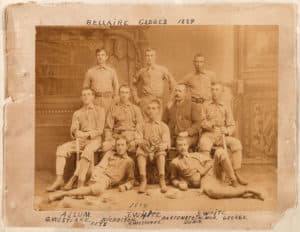 A diverse selection of certified and authenticated autographs runs the celebrity gamut from historical to sports and entertainment figures. There's a 1901 Thomas Edison-signed stock certificate, $1,000-$2,000; a signed and inscribed 8 by 10-inch photo of Humphrey Bogart, $1,000-$2,000; a framed Disney Song of the South color print signed by Walt Disney, $1,000-$5,000; and a glossy photo on cardboard of Beatle John Lennon in a stylish cane rocker. Inscribed and signed by Lennon with the addition of "XXX," it is expected to make $2,000-$5,000.

A remarkable 1884 studio photo of the integrated Bellaire Globes baseball team includes among its members the Negro League pioneer Sol White. It is the earliest known photographic depiction of White, who was not only a pro baseball infielder, but later a manager and influential executive in the Negro Leagues. He also authored the important Sol White's Official Base Ball Guide, a seminal manuscript chronicling the formative years of black baseball. Estimate: $10,000-$20,000
The centerpiece of the sale is Norman Mingo's (1896-1980) spectacular original, signed artwork for the cover of Mad Magazine's September 1968 issue. The mixed-media painting spoofs the days of flower power with its depiction of Alfred E. Neuman as a spiritual guru held aloft by the Beatles, Mia Farrow and the Maharishi Mahesh Yogi.
"When Mad magazine first started, it was satirical and goofy, but in the early to mid-1960s, its focus turned increasingly toward parodies of current events. That's when pop culture became its fodder," said Hake's Americana President Alex Winter. "Mad art, especially anything by Norman Mingo, has been very strong, but his paintings for front covers will always attract a premium price because they simply aren't available. This painting is a rare find that collectors of Mad art are going to want." Estimate: $35,000-$50,000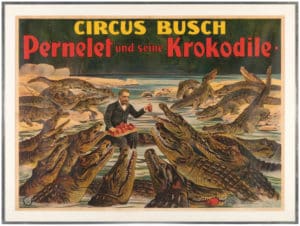 More than 1,000 comic books from Platinum Age to Modern period will be offered, with the vast majority certified by CGC or CBCS. The sale boasts key issues from all eras, including coveted first issues, first appearances of characters, pedigree comics and numerous books that represent the highest-graded examples of their type. A premier entry is DC's More Fun Comics #72, from October 1941. The cover's action-filled World War II imagery depicts superhero Dr. Fate fighting off Nazi soldiers on a U-24 submarine, as a torpedo explodes in the background. Graded 9.6 NM+, the highest of all known examples, it is estimated at $10,000-$20,000.
Another comic book for the advanced collector is Top-Notch Comics #2, from January 1940. It, too, has a wartime theme on its lavishly illustrated, brightly hued cover showing a Nazi bomber plane going down in flames. The only known copy in 9.6 NM+ condition, and with no others known in a higher condition, it carries a pre-sale estimate of $5,000-$10,000.
A category that has gone from strength to strength with each successive Hake's auction is posters, whether they advertise concerts or movies, solicit military enlistments, or entice prospective travelers with scenes of idyllic vacation spots. Auction #220 has a fantastic assortment to offer, starting with pop-music classics.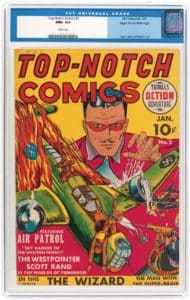 The only known example of a 1958 Jerry Lee Lewis Rock & Roll Jamboree poster, with a photo-image of "The Killer" standing at his piano, is expected to sell for a minimum of $2,000-$5,000; while a 1965 poster promoting Little Richard's Allentown (Pa.) Fairgrounds concert carries a similar estimate. A psychedelic pink/yellow/black stiff paper poster touting the Jimi Hendrix Experience's May 10, 1968 gig at Bill Graham's Fillmore East depicts all three members of the legendary band. It is a desirable first printing and therefore should easily command $2,000-$5,000 at auction.
With its extraordinary scene of a daredevil named M. Pernelet seated amongst dozens of crocodiles, hand-feeding them chunks of meat, a 1903 Circus Busch poster is from a succession of graphic, if not startling, advertisements the company published over several decades to promote its unusual entertainers. "This poster is so rare, you won't even see it in even the most advanced collections," said Winter. Estimate: $1,000-$5,000
Hake's Americana Auction #220 has opened for bidding by phone, mail or online at www.hakes.com. The first session will close on March 14, 2017, while the second session will conclude on March 16. March 15 is an interim day in which bidders can peruse the catalog and prepare for further bidding. To request a free printed catalog or for information on any item in the sale, call toll-free: (866) 404-9800 or (717) 434-1600. Email: hakes@hakes.com. Visit the auction catalog online at www.hakes.com.
Hakes's Americana begins 50th-year celebration March 14-16 with first in series of exceptional pop culture auctions