The 550-lot auction will be held in the firm's gallery at 74 Merrick Road in Lynbrook, New York
LYNBROOK, N.Y. – Original illustrations and paintings by the renowned science fiction artist Chesley Bonestell (Am., 1888-1986), original cover art from the legendary comic book artist Joe Kubert (Am., 1926-2012), rare and highly desirable Disney production cels and collectible ocean liner memorabilia will all come up for bid on Wednesday, June 15th, at Philip Weiss Auctions.
The 550-lot sale, slated to begin promptly at 10 am Eastern time, will be held in Philip Weiss Auctions' gallery, located at 74 Merrick Road in Lynbrook. An eclectic mix of fine, high-end and unusual pieces from multiple areas of collecting will be offered. Internet bidding will be provided by LiveAuctioneers.com and Proxibid.com. Phone and absentee bids will also be taken.
Other highlights will feature an oil on canvas figural rendering by noted German-born American historical genre and portrait painter Emmanuel Leutze (1816-1868), best known for such iconic artworks as The Last of the Mohicans; wonderful Tiffany pieces; an outstanding collection of carved Black Forest bear hall trees; and a group of terracotta and Majolica blackamoor statues.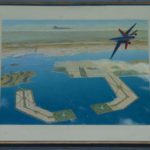 Frequent visitors to Philip Weiss Auctions will recognize the names Chesley Bonestell and Joe Kubert. They've been featured in previous sales. In September of last year, a collection of nine original oil on board paintings by Bonestell sold for a combined $135,000. The group in the upcoming auction is a newly discovered archive of his work, being auctioned for the first time.
Bonestell's illustrations were a major influence on science fiction art, earning him the nickname the "Father of Modern Space Art." His paintings are prized by collectors, as well as institutions like the National Air and Space Museum and the National Collection of Fine Arts. A crater on Mars was named after him, and his art was so influential it helped inspire the US space program.
The Bonestell paintings in this auction will include a circa-1977 original illustration of Rhea, Saturn and Spacecraft for Beyond Jupiter; a circa-1975 painting that depicts a futuristic view of San Francisco and the Golden Gate Bridge in the year 2100 AD; a circa-1978 painting titled Our Galaxy; and a painting that depicts what the Aleutian Islands might look like in 10,000 years.
The Joe Kubert original cover art represents the continued sale of a massive collection, part of which was sold in a previous Philip Weiss auction. More parts will follow. Kubert was a highly regarded comic book artist, known for his many DC Comics characters. His cover art in the June 15 sale includes G.I. Combat #160 and 255, Punisher War Zone #33 and Mystery in Space #111.
The blackamoor statues include a life-size terracotta figure of a young black boy, seated, by the Czech-born painter and sculptor Friedrich Goldschneider (1845-1897), who was active in France and Austria. Another statue certain to draw interest is an 18th century  polychrome and giltwood painted statue of the Virgin and Child, 37 inches tall and executed by an unknown Italian artist.
The auction also features additional fine oils, lithographs and engravings by a long list of noted artists, to include Alfred Mira, Mathilde See, Laszio Mednyansky, Mathias Sandor, Edmund Darch Lewis, Thomas Bangs Thorpe, Janos Tornyai, Maurice Kish, George Goodwin Kilburne I, Hugo Anton Fisher, Louis Charles Verbeckhoeven, Robert Connavale, Raoul Dufy and others.
The artwork category will also feature limited-edition plates and plaques by the Spanish master himself, Pablo Picasso; unsigned etchings by Kathe Kollwitz; and bronze sculptures by the 20th century American artist Richard MacDonald, to include a 4-foot-long, five-figure creation titled Anatomy of a Golf Swing, produced for the 100th playing of the US Open tournament in 2000.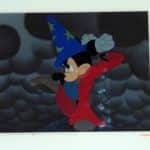 Disney animation cels, from the studio's most endearing movies, are always a hit with collectors. This sale has several, to include cels from Snow White, Cinderella, Peter Pan and Fantasia (The Sorcerer's Apprentice). Pop Art will also come up for bid, to include large and colorful pieces by painter Burton Morris (Pa., b. 1964), titled Lifesavers, Hot Dog with Mustard and Vegas Jester.
 Ocean liner memorabilia is another collecting category certain to excite the crowd. Expected top lots will feature two metal café table chairs and a wooden deck chair from the downed Italian liner Andrea Doria; a 20th century grid armchair from the officer's lounge aboard the S.S. United States; and a pair of gilt wood upholstered bergeres, similar to those aboard the S.S. Normandie.
Tiffany pieces will include a pine cone desk lamp, a linen shade lamp and an 81-piece Tiffany Studios "Cirque Chinois" china set. Also sold will be a 112-piece Royal Crown Derby "Old Imari" china set, an impressive and gorgeous pair of Oriental palace vases, each one 35 inches tall; a large collection of Royal Doulton figurines; Meissen figurines; and other decorative items.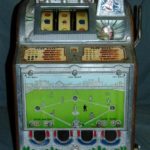 A grouping of early coin-operated slot machines will include a Mills 5-cent "Play Baseball" skill slot machine; a Jennings 5-cent "Sun Chief" slot machine; a Mills "Bursting Cherry" 10-cent slot machine; and a Mills "1776 Liberty Bell" 25-cent slot machine. A Regina coin-op Hexaphone phonograph will also be sold, as will a fine collection of mint-in-the-box Mount Blanc pens.
The auction will also feature an early racing uniform possibly worn by a driver at the very first Indianapolis 500 car race; a pennant-banner, also attributed to that event; other early Indy 500 pennants; a collection of vintage designer clothing; designer handbags; Hermes scarves; jewelry and costume jewelry; a lovely glass sculpture by Archimede Seguso (It., 1909-1999); Jerusalem Sphere, a sculpture by Frank Meisler (b. 1929); and art by Romero Britto and Alexander Nelke.
Philip Weiss Auctions is always accepting quality consignments for future auctions. To consign an item, estate or a collection, you may call them at (516) 594-0731; or, you can send an e-mail to Philip Weiss at Phil@WeissAuctions.com. For more information about Philip Weiss Auctions and the upcoming June 15th auction, visit www.WeissAuctions.com. Updates are posted often.
Original Artwork, Disney Cels, Ocean Liner Memorabilia & More at Philip Weiss Auctions June 15