The Bucks County Antiques Dealers Association proudly presents the 69th annual Antiques Show on November 14 and 15. The event is at the Eagle Fire Hall on Rt. 202 & Sugan Road in New Hope, PA.  The times are Saturday, 10AM to 5PM and Sunday, 11AM to 4PM. Admission fee is $6.00 or $5.00 with postcard or advertisement.  Children under 16 enter free. Refreshments will be available.
Returning to the show will be members from the Pennsylvania Antiques Appraisers Association on Sunday only from 12 to 3. They will give verbal appraisals at $10 per item on anything except jewelry, three item-limit per person.
BCADA President and Show Chairperson, Bill D'Anjolell, likes the Eagle Fire Hall due to the success of past BCADA shows here. This New Hope venue is easy to find with plenty of free parking.
The BCADA has been in existence since 1966 and is one of the few clubs of its kind that has produced a show almost every year. D'Anjolell loves this environment because "at an antiques show, every piece you see has a history or a story.  If you want answers, ask the dealer what they know about the item. Sometimes the story behind the object is worth the price of admission."
The exhibitors are almost all BCADA members and a few select dealers including 'C & C Antiques' of Feasterville, PA who carry ceramics, linens, and rare tools; 'ELtiques' of Fogelsville, PA will exhibit fine ephemera and advertising; and 'KT Antiques' returns with her country furniture and primitives.
Longtime BCADA members exhibiting are 'Long Spring Antiques' of Reigelsville, PA who will exhibit a great assortment of Native American ware; 'Young & Old Antiques' of Ocean City, NJ will display sterling silver, ceramics, and brilliant cut glass; 'Ironmaster's Mansion Antiques' of Green Lane, PA will display 18th & 19th century English ceramics, prints, and maps; 'Ivy Iris Antiques' of Ottsville, PA brings eclectic primitives and whimsies; Temora Farm Antiques of Newtown, PA displays primitives, and also from Newtown, 'Imagine Antiques' will show historical art, ephemera, and ceramics.
Both from Pt. Pleasant, PA, 'Nancy R. Fulton Antiques' will exhibit primitives while 'River Run Antiques' brings Staffordshire and interesting holiday antiques.
Philadelphians, Ruth Peckmann of 'Antiques in Bloom' will provide decorative primitives and equestrian antiques, while Ron Klinger of 'The Leather Bucket' displays exquisite 18th & 19th century silver, porcelain, and paintings.
Members, 'Cook & Gardner, LLC' of Lahaska, PA will bring some primitives, ceramics, and fishing gear; 'Serapi Antiques' exhibits textiles and jewelry; 'Pentimento' of Furlong, PA delights us with interesting primitives & advertising; and Bob Lucas from North Wales, PA will display extraordinary historical documents, manuscripts, and early photography .
There will be yellow ware and ironstone from 'Mary Beach Antiques' of Bryn Mawr, PA; Dick & Barbara Spahr of Ambler, PA will promote art and Staffordshire, and there will be books & ephemera from 'T & L Antiques' of New Hope.
Members from New Jersey include 'Patricia H. Burke' of Pt. Pleasant who brings fine art glass and porcelain; 'Stone & Wares' of Princeton brings folk art, decoys, and primitives; 'The Very Thing' from Mt. Laurel exhibits sterling silver and Oriental antiques; 'Old Dog Antiques' from Mt. Holly with their pottery, art, and country items; 'Alan Snyder & Daughter' from Watchung have Americana, silver, estate jewelry, and coins;  and Ivan Raupp – the 'Magic Metals Blacksmith' hails from Bloomsbury with his incredible metal ware.
Other select exhibitors include 'Ayscough Antiques', 'Linda Grier Antiques', Carol Pollock of 'Antiqables', and 'A Wrinkle in Time'.
With so many shows ceasing to exist, there's a reason that this one is still thriving. This show has quality, diversity, and affordability. For more information, visit the website at www.BCADAPA.org or call (215) 290-3140.
What's nice about buying antiques is that they can easily blend in with your other cherished personal belongings as a decorative accent to the room. Adding an antique or vintage piece adds character, uniqueness, and a style that defines you. And of course, they last longer. See you at the show.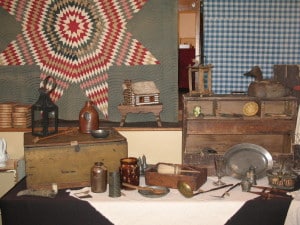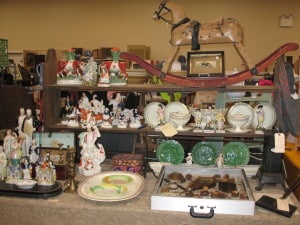 The 2015 annual Bucks County Antiques Dealers Association show, November 14 & 15