by Sunseria Morgan, Jewelry Curator, RubyLane.com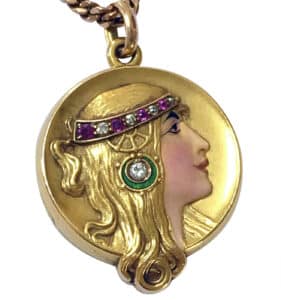 Art Nouveau Jewelry.
Emerging like the first wildflower in spring from a meadow of melting snow, slowly unfolding its petals to unveil new life, the style of Art Nouveau bloomed and stood out in stunning contrast with the surrounding landscape.
Art Nouveau style was deeply influenced by the essence and delicate beauty of the natural world and organic forms. Like the fleeting life of the flower, Art Nouveau captured our attention for a brief moment in time and grew and thrived between 1890 through 1914.
Artists and designers created a new style of ornamental art, abandoning typical historical or classical subjects and themes. Art Nouveau was not confined within the boundaries of metals or the cuts and facets of gemstones. Jewelers were free to express their creativity in new unique and imaginative designs.
Some of the finest jewelry was crafted during this time by inspirational designers. René Jules Lalique, and Louis Comfort Tiffany, who might be better known for their glass. However, both were talented and successful jewelers. Alphonse Mucha is best known for his theatrical posters and was also a jewelry designer who collaborated with the French jeweler Georges Fouquet.
Art dealer Siegfried Bing, who was fascinated by the new style of art, opened an art gallery appropriately named Maison de l'Art Nouveau ("House of the New Art") at 22 Rue de Provence in Paris on December 26th, 1895. The gallery specialized in modern art and sold Tiffany glass and jewelry by Lalique. The gallery was very successful and ultimately popularized the term Art Nouveau, forever changing the world of art and design.
Characteristics of Art Nouveau Style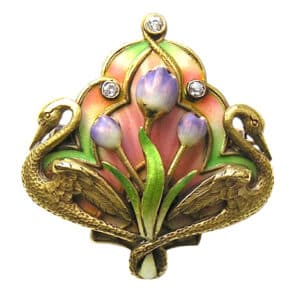 Leaves and vines that weave wind around gems or pearls. Lilies, orchids, and irises in bloom. Cranes, herons, and swans with their delicate long swooping necks.
Insects were also frequently used in Art Nouveau jewelry. Butterflies and dragonflies with wings extended, fluttering in full flight. Grasshopper and beetle brooches are alive with motion.
Curved scrolling lines and asymmetrical designs complimented the natural forms, providing the ideal frame and setting for the jewelry. Ethereal feminine faces or figures surrounded by flowers and endless flowing locks and tendrils of hair that appear to be gently blowing in the soft breeze, it's enough to make you swoon!
Enamel Techniques
Jewelers used a number of highly skilled enameling techniques during the Art Nouveau era. Layers of different color enamel were applied to bring depth to the flat metal surface. Blended shades of green and gold were added to the leaves. Iridescent enamels produced an eye-catching vibrant velvety texture.
Enamel is so convincing, intricately detailed, and lifelike that you can imagine the petals beginning to wilt in the palm of your hand.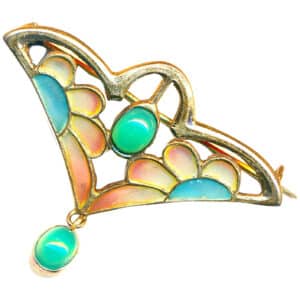 Plique-a-Jour enamel was made by filling empty window-like spaces in settings with enamel. The empty spaces have no front or back and only the sides of the setting hold the enamel in place. The effect is quite impressive and resembles stained glass or gemstones when the light filters through the enamel.
Materials and Gemstones
Cabochon cut gemstones were also often used instead of faceted stones which gave the jewelry a softer and more whimsical appearance. The subtle glow and glimmer of moonstones decorated draping festoon necklaces. Large oval-shaped opals, embodying the earth and ocean with swirling blue-green flashes of color are set as the focal point in evening rings.
Pearls with their luminous luster were also the perfect choice for Art Nouveau jewelry. Pearls could be incorporated into the design and imitate a grape cluster or dangle from the end of a leaf like a dew drop ready to fall. Small seed pearls were used to accentuate curved lines and define shapes such as crescent moons and clovers.
The End of an Era
Art Nouveau-style objects were labor-intensive and required skilled artisans to construct. The simple straight lines and geometric shapes of the developing Art Deco era were more economical and faster to produce. By the end of the first World War, Europe was ready for change and Art Nouveau faded out of fashion but has never been forgotten.
Even though Art Nouveau was only popular for a short period of time, the significant contribution to the art and jewelry industry is everlasting and eternal, serving as an important transition at the turn of the century.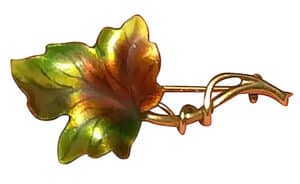 As a passionate collector myself of many things, old and new, my jewelry collection is by far the most rewarding. Out of all the wonderful jewels in my possession, perhaps one of my favorite pieces is a tiny single-leaf brooch with its coiled stem wrapped around the pin as if it was holding on in the cold autumn wind. Its rarity, simplicity, realism, and seemingly endless life continues to charm me.
If you were not in love with Nouveau already, you have now fallen into its alluring dream-like fantasy of beauty, mystery, and intrigue.
Jewelry of the Art Nouveau era can easily be found in all price ranges. A fine example of Art Nouveau jewelry is certainly a must-have in every collection and is sure to become one of your most loved and treasured.
All items pictured are available on RubyLane.com. To discover more Art Nouveau jewelry at Rubylane.com, click here.
---
To learn more, explore the article "Art Nouveau versus Arts & Crafts Jewelry"