Jadite Madness
by Stephen Moniz
It all started in 1970 when my father remarried and we were clearing out my stepmother's apartment. In her front hall on an end table was a Jadite mug. I remembered this type of mug as the ones I would have hot chocolate in at the 5 and 10 cent store with my mom. This mug brought back great memories. I asked if I could have it and she said yes. This started my never ending, or should I say, lust for jadite.
I was 17 and had my driver's license. I liked yard sales and flea markets. I started to buy whatever green I could find and or afford. When I got my first apartment in 1980, all of my jadite went with me, and I continued to search for my precious green.
In 1985 I moved to NYC and again it all came with me. But it soon got to the point that I had too much of it and couldn't fit everything in my apartment. It was then that I met a great couple selling at a Depression glass show in Pennsylvania. I told them about all the glass I had amassed and they suggested that I become a dealer and sell some of my duplicates. That way, I could make money for my craving for more glass, and clear a little space to fit more. This was in 1993. Now I am a part time dealer selling at many Depression glass shows throughout the country. Of course I'm still searching for that one of a kind piece that I just have to have.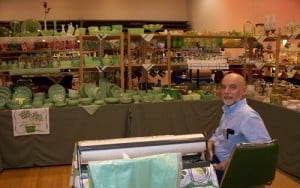 Stephen, New York
www.trocadero.com/greenman
stephen.moniz@nyumc.org
Collector's Showcase: April 2015