by Kary Pardy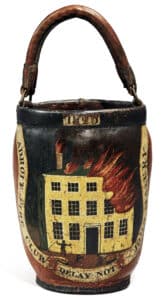 Imagine you lived in the 17th or 18th century. Chances are good that you would be surrounded by wooden buildings and that you would be very wary of fire. Firefighting technology at that time involved crews of people banding together to help their town or their neighbors, and while they did have some creative water transport ideas, putting out a fire was a dangerous business that could be devastating to all involved.
It's no wonder that people wanted to be prepared, or that your fire bucket—a family's best defense at the time—became such a valued item. As collectors, we see painted leather fire buckets as desirable pieces of early Americana. Their colors, sturdiness, and even usefulness (if you plan to display things in them) make for a top tier antique, and the way we love them speaks to how important they were to those whose homes
they protected.
The Rules to Follow
In Britain and later in America, citizens were required by town mandates to have a fire bucket on hand for use in an emergency. Sometimes coming in pairs, these buckets were leather with a leather-covered rope handle and could carry two gallons of water. You would purchase your bucket from a local shoemaker, leatherworker, or even from a wholesale English importer. They were kept at the ready near a person's front door and were filled with linen bags for salvaging items from a burning home, or with sand to assist in the firefighting efforts. While some cities like Boston had fire engines and pump systems as early as 1653, there was only so much water they could hold. The remainder would come from buckets wielded by private citizens or by firefighting clubs.
The New York City Fire Museum writes that at sunset citizens were required to fill three buckets of water to leave on their doorsteps overnight in case of an alarm. Neighbors would also band together to throw the contents of their buckets at the blaze, and then form lines originating at the nearest water source. Fire buckets would be passed down a line of men toward the fire, and then returned down a line of women and boys to start the process all over again. Leather buckets worked well and were lighter when filled with water than wooden buckets, making for more efficient passing.
Certain towns also had firefighting clubs made up of able-bodied volunteers. These fraternal organizations fostered competition and inspired quicker response times and teamwork when facing a blaze.
Personalization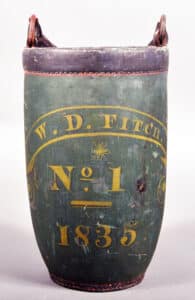 How would a household find their bucket again after it's been passed down the line? That's where the buckets' colorful decorations came into play. Each fire bucket needed to be marked with the owner's name, and they sometimes had dates, numbers, or club logos as well. As prized possessions that were often visible in the home, owners decorated their buckets with care and could get quite artistic. A well-made, well-appointed fire bucket was a subject of pride, and it still is today for lucky collectors.
Collecting
If you are interested in adding a fire bucket to your collection, first know that they are highly sought after, and quality examples can bring impressive prices at auction. They are valuable pieces of Americana, and many would argue that they're worth every penny. If you're looking for a starter-level fire bucket, find one with an in-tact leather body and rope handle, ideally bearing something of the original markings.
If you're not picky about the bucket's origin, you can find European examples with pleasing details that are not as taxing on the wallet.
If you're looking for the best, consider hiring an expert to confirm a period-appropriate paint job. The most highly regarded fire buckets have bright, evocative painted details, reliable provenance, and can be traced to a location, maker, or individual on record.
Leather fire buckets eventually gave way to metal examples, and the lines of citizens making up fire brigades transitioned to carts or carriers that allowed individuals to carry several buckets each, and all of these would be greatly helped by increasing access to water mains. While not as sophisticated as their later counterparts, leather fire buckets helped keep communities safe for over a hundred years, earning them both an honored spot in firefighting history and within our collections.