1. 1940s Mid-Century Modern Art Deco Waterfall Dresser With Mirror, restored with Howard Restor-A-Finish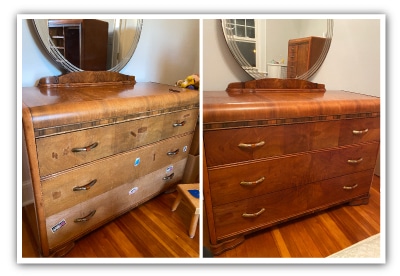 a. Pieces like this can be purchased at garage sales, thrift shops, and antique stores (Usually already restored though). Price can range from $100-$300 depending on condition. These dressers are great for bringing a room together, whether it be a bedroom used for clothing, a dining room for dishware, or even in a living room as a media center for an old radio or record player!
b. Most waterfall-style dressers like this one are made with veneer and plywood. Due to this, sanding this piece down to raw wood can be "dangerous," and you may end up sanding down to the plywood beneath the veneer depending on how thin it is. This scenario is a
perfect situation to use Howard Restor-A-Finish. Since Restor-A-Finish restores the existing finish, you do not have to risk damaging the veneer by sanding and refinishing. It is recommended that you remove all drawer pulls and mirror hardware before application. This ensures even application, and also if the drawer pulls are exchanged in the future, there won't be any uneven coloring of the drawer faces.
c. The restoration job of this waterfall dresser really brought back the life in the piece. Getting rid of the surface damage like scratches and faded marks, bringing back and exposing the beautiful natural wood grain that the original designer intended to show off. Going forward, keep this piece looking its best and also protect its newly restored finish, using Howard Feed-N-Wax is recommended! Feed-N-Wax was developed by Howard Products as the best follow-up to Restor-A-Finish for maintaining the newly restored finish.
2. Mahogany-sided guitar with an original nitrocellulose lacquer finish, restored with Howard Restor-A-Finish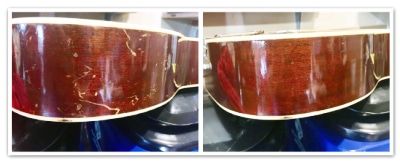 a. Guitars like this can be found all over, music shops, thrift shops, pawn shops, goodwill, yard sales, etc.…
b. Restoring old guitars and other similar vintage instruments can be easy to do. Maintaining vintage instruments' original finish is always in the best interest of the owner because it keeps its value and keeps its history. If the surface only has light scratches that aren't deep down into the wood, Restor-A-Finish can help bring back the color and help blend away the damage. Removing the guitar strings is recommended if the damage is on the face of the guitar, this way you can get to it without having to work around the strings. It is recommended that you keep any oil or similar product out of the inside of the guitar or similar instruments to avoid altering the sound of the instrument.
c. Restor-A-Finish did a wonderful job at fixing this guitar! The Mahogany color Restor-A-Finish was used to help add color back to the damaged areas, which helped blend them away and bring the guitar back to a like new condition! If the guitar has any dull spots in the high gloss finish after the Restor-A-Finish, you can buff it back to a high gloss with Howard Restor-A-Shine polishing compound.
3. Dry, faded, and scratched leather chair brought back to life with Howard Leather Conditioner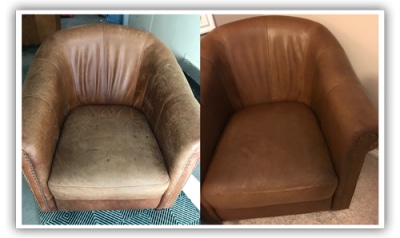 a. Old leather chairs like this can be found in lots of places, used furniture stores, thrift shops, yard sales, etc. … They can range
anywhere from $50 to $300 and more depending on the condition.
b. Restoring dry and faded leather can easily be done right, however, it can also be done very wrong. The first step is to verify what type of leather you have, if you have suede, nubuck, or aniline leather (dyed leather) cleaning with soap and conditioning may not be recommended, or will need to be done a certain way. Normal leather furniture is made from full-grain or top-grain leather or similar. It is important to clean the leather surface prior to using any conditioner. Using a leather cleaner that is made with water and mild soap is recommended. A good leather cleaner will also be pH balanced! Avoid using things like multi-surface cleaners, harsh chemicals like bleach (for obvious reasons), baking soda, vinegar, lemon juice, etc. … If the leather is just dusty, you can skip the cleaner and just dust it off with a clean soft cloth or duster.
c. This leather chair was brought back to life using Howard Leather Conditioner. In its previous home, it was scratched up by some children who used it as their drawing board!
d. For follow-up care, you can use the same Howard Leather Conditioner whenever the leather looks or feels dry. If the leather needs cleaning, you can use a gentle leather cleaner like Howard Leather Cleaner!
Other general questions:
What is the best thing you can do right after you've purchased an antique piece of furniture/silver/brass/leather?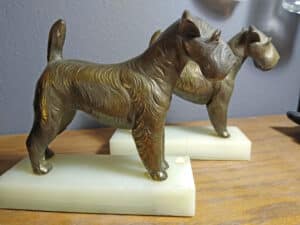 The best thing to do right after you have purchased an antique piece of silver, brass, or leather is to take a good look at it, check what state it is in, and see what it needs immediately to start the process of restoration. If it doesn't need any restoration (congrats!), you can clean off any dirt and grime it may have, apply a protective/ conditioning product (when applicable), and you're done!
NOTE: For antique metal pieces like copper, bronze, brass, and silver, depending on the piece the original patina may be extremely important to keep intact. For most antique silverware and jewelry polishing back to a shine is all right!
For antique wood furniture, take a good look at the finish. See if it is in good, okay, or bad condition. If it has scratches, heat rings, water marks, faded spots, and things like that, Restor-A-Finish can help remedy those issues while keeping the original finish intact! After Restor-A-Finish (or if the finish was in okay condition and did not have such severe damage, and was only dry and lightly faded), use a wood conditioner and polish such as Feed-N-Wax. Feed-N-Wax Wood Polish & Conditioner is ideal for enhancing the natural depth of grain while providing added protection and luster to furniture, antiques, and cabinets. Feed-N-Wax helps introduce conditioning oils that "feed" the wood while providing a protective coating of beeswax and carnauba wax. This unique blend of beeswax, carnauba wax, orange oil, and other beneficial ingredients help preserve and keep the wood from drying out, fading, or even cracking. Feed-N-Wax was developed as the best follow-up to Restor-A-Finish for maintaining the newly restored finish.
For leather, take a look at the condition it is in. Note the dryness, dirt/grime, any cracking you see, and any other blemishes it may have. If the leather piece is dirty, clean it off with a gentle leather soap like Howards Leather Cleaner, and then condition the newly clean leather with either Howards Leather Conditioner or Leather Salve. These two conditioners help add moisture back into the leather, helping to
prevent further drying and cracking of the leather.
When should you not paint a piece but restore it? Or skip restoration and paint it?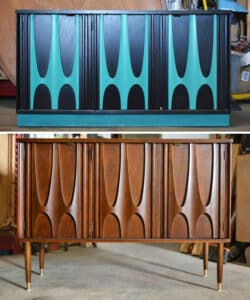 The subject of painting antique pieces is a highly debated topic in the antique community, and opinions on the matter can be subjective. It can be surprising to witness the restoration of seemingly irredeemable pieces, which can often be transformed back to their original glory. As for me, I personally would avoid painting an antique that is salvageable and can be restored to its former state. In my opinion, the natural beauty of wood and its unique grain patterns are difficult to surpass.
However, there are certain factors to consider before deciding to paint an antique piece. Firstly, you should take into account the quality of the item. Does it consist of exotic woods such as mahogany, tigerwood, padauk, or other similar high-quality woods? Or is it made of inferior materials that lack the aesthetic appeal of the other woods? Secondly, you should evaluate the current condition of the piece. Is it in perfect condition, or does it require extensive refinishing due to damage from wear and tear, or even burn marks?
In addition, you should also take into consideration the historical significance of the piece. Is it of any historical value? Did it belong to your ancestors, and if so, what is its sentimental value? Has it been handed down through generations, with each person making updates and changes along the way? These factors can play a significant role in determining whether or not to paint an antique piece.
There are many more factors to consider when it comes to "To paint, or not to paint?" Ultimately, the decision to paint an antique piece is a personal one and will depend on your own priorities and values. However, taking the time to consider all the various factors can help you make an informed decision that will preserve the item's value and history for generations to come.
When making minor repairs, do you recommend any particular glues, products, or tools to get the best result?
For minor repairs, such as scratches, watermarks, heat rings, and other surface blemishes, we recommend Howard's Restor-A-Finish. This quick and easy-to-use product can save a piece from having to be completely refinished with an easy wipe-on, wipe-off application!
For repairs such as pieces becoming unglued at the seams, big chips, and even structural pieces coming apart/dowels pulling out, we recommend using high-quality wood glue. A high-quality PVA glue, used in the correct situations will create a bond stronger than the wood itself! A good glue we keep on hand to help fix old antiques that are coming apart is Gorilla Wood Glue.
Are there new products in the works?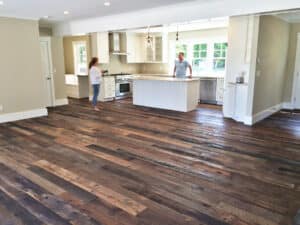 We have just released a brand new product, one that so many HOWARD customers have been asking for – Howard Wood-N-Floors! Wood-N-Floors cleans hardwood floors, luxury vinyl planks (LVP), laminate, and engineered floors. It quickly removes dirt and grime from hardwood floors without leaving any sticky residue or streaks. This ready-to-use mixture of water-based, plant-derived surfactants will gently clean your hardwood floor. Howard Wood-N-Floors cleans to reveal the natural shine on hardwood flooring, cabinets, furniture, and more!
Wood-N-Floors was created in the same tradition that has gone into all of Howard's products since 1969 – the tradition of quality. Wood-N-Floors' ingredients have been extensively tested and proven to work on the oldest hardwood floors to the newest luxury vinyl planks (LVP), laminate, and engineered flooring.
Is there a phone number to call to choose the right product or solve a problem?
If you have any questions or issues with any Howard Products, please call 800-266-9545, or email us at techhelp@howardproducts.com, and we will be happy to help in any way we can. All calls and emails are proudly handled at our only location here in the USA!