by Leif Johnson, TLC Upholstery, Palmer, MA, interviewed by Judy Gonyeau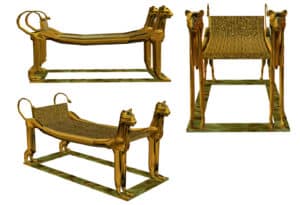 The true beginnings of upholstery took place in Ancient Egypt. Animal skins and dressed leather was stretched across a rigid framework to create more comfortable seating. Most furniture of that time was low to the ground with feet that resembled animal feet. Mostly made of wood, the chairs were built like stools, but those built with backs and arms attached were limited to the wealthy and prestigious. Leather cushions were stuffed with horsehair or down feathers.
The Evolution of Fabric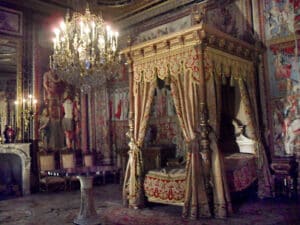 While the materials for the structure of furniture remained the same in Medieval times, the interest in weaving on a grander scale came into fashion. The strength and colors of the fabric adorned walls in many rooms of a home, but no more so than the bedroom. Upholsterers crossed over into a world of attaching tapestries to almost any and every wood surface. Canopy beds had hundreds of yards of woven fabric draping off the tall posts and layer upon layer across the bed itself. The size of the bedroom allowed for additional furniture from sofas to chairs and tables—with plenty of tapestries—included to create a magnificent setting for preparing for the day and the evening. Plus, the weight and thickness of this fabric on the walls helped with insulating the sleeper against the elements coming through the walls from the outside.
With all this expanding use of tapestry and fabric, upholsterers had to gain more skills in the areas of woodworking, needlework, spacial and interior design, how to restore and repair against wear and tear, and finishing and embellishing.
The Spring
Fast forward to the 18th century and the invention of the single steel coil spring – the most powerful improvement in upholstery to come along to date. Finally, the cushion had come of age. These single spiral pieces of wire enabled the sitter to sit comfortably and help the cushion maintain its shape. While a stuffed cushion would give some comfort, the spring gave a lift to the sitter upon rising.
The coils were tied into place with rope or twine to evenly distribute weight. Over time, they would stretch and the springs would shift, resulting in a lumpy seat. Trial and error in tying the springs in place led to the use of an eight-way tie to make the seating more stable.
Some upholsterers were able to attain the skills needed to set the seat right, while others would have to cover the untied coils, using only horsehair to stuff in-between the springs to keep them in place.
Button tufting came into fashion thanks to the fourth Earl of Chesterfield, Philip Stanhope (1694-1773), at least according to local lore. Tufting involves tightly pulling upholstery back and anchoring it with a knot or button.
Also in the 18th century, the fully upholstered chair was created and was the lead-in to the soon-to-be-popular "daybed." The first fully-upholstered chair was built in 1705 and was called the "sleeping chayre" because you could rest your head on the sides or the back. As these daybeds grew in popularity, custom pillows also grew in number as another element of creature comfort.
The Victorian Era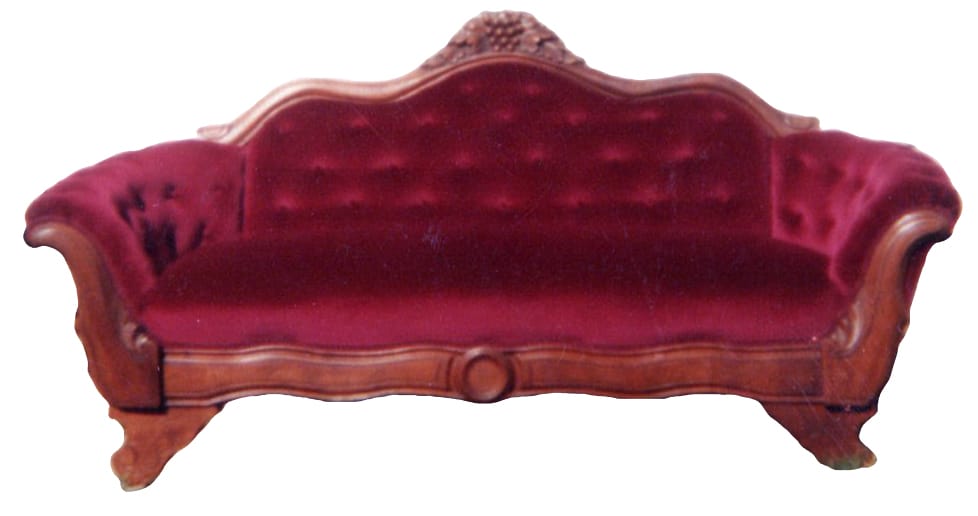 With the Victorian era came incredible furniture filled with every conceivable design element from wood carving to advanced fabric design and more styles of upholstery than ever before. With the establishment of the upper-middle class, the economy for furniture makers and upholsterers continued to climb.
Mahogany and rosewood were the more popular woods used for furniture due to its great strength, weight, and ease with which to style with plenty of curves and decorations. This era borrowed from the Renaissance, the 16th century French style, and the Neoclassical throughout the reign of Queen Victoria.
Upholstery featured a variety of finishing touches thanks to custom elaborate trim, decorative hardware, and tufting. Matching sets of furniture could also have complementary or matching wallpaper and pillows to create a theme of color and shape.
The 20th Century
Innovations in fabrics and upholstering materials ebbed and flowed throughout the 1900s. Using artificial elements including plastics and other synthetic fibers when creating fabrics such as vinyl, artificial leather, and even artificial burlap, became popular earlier rather than later, especially with the growth of the automotive industry.
Molded sponge rubber gave designers an easier way to create streamlined shapes when creating furniture. It also provided great shock absorption and recovered well after being sat on for a while. The density of this petroleum product made it fairly easy to upholster. Natural latex foam is made from rubber trees and water and is proving to be a high-quality alternative.
Plywood construction is another innovation in furniture construction. As opposed to compressed wood, plywood is much stronger and can take the wear and tear well. Thin sheets of wood veneer laminated in alternating directions are what make plywood more rigid, while the cross-graining of plywood reduces expansion and shrinkage inherent in wood or compressed wood.
New fabrics with a variety of special qualities also made their debut during the 20th century. Fire-retardent fabric, sun-resistant outdoor fabric, nano-technology used for weatherproofing and warming/cooling insular purposes, and who can forget the use of Teflon or Scotchguard? The use of "spray-on" or "applied" treatments gave way to special weaving technologies that allow the treatments to become a part of the fabric vs. being applied on top of it. Each of these plays a role in upholstering right up to the 21st century.
The Working Upholsterer and Used Furniture: A Talk with Leif Johnson
Leif Johnson has been upholstering and re-upholstering furniture for over 30 years. He started in the business in New Hampshire when he bought out an upholstery business and then worked side-by-side with the original owner for a year in what could be termed his apprenticeship. Four years later, he and his family moved to Central Massachusetts and opened TLC Upholstery while also working a "regular job" to earn a living. In 2000, the business was operating full-time. From there, Leif has done work for the Emily Dickenson Museum, Old Sturbridge Village, and the Webb Dean Steven Museum, as well as doing work for antique dealers, buyers, and the general public. Visit his website at www.tlcupholsterypalmer.com
After you completed working with the past owner of the business in New Hampshire for that one year, do you feel you learned what you needed to know to continue with the business?
I probably learned only 1/10th of what I know today from that one year because this field is so diverse even if you think one piece is the same as the next. For example, you may think that a wing chair is just a wing chair, but it's not. There are so many different ways that it gets upholstered. The way the fabric goes in, the way it's attached, the way the wings go on, how the pulls go through the frame, it's amazing. There is always something new to learn.
What role does frame reconstruction play for the upholsterer?
Recently a client brought in a stuffed chair that had one arm that was just flapping. I had to take everything off the chair, and fortunately, the structure of the chair was dowelled together, but all the dowels were broken. Often, the structural members (arms, legs, etc.) break, but with the dowels, I only had to drill out and then put in new dowels to restore the structure. All the original pieces fit back together perfectly.
And I reinforce things on furniture framing all the time. Cracks on decorative wood are carefully repaired 'behind the scenes' so it is not visible. A lot of upholsterers do some crazy things before you get the piece back to maintain the furniture's integrity. At times I'll find nail holes where they shouldn't be and tack holes where they shouldn't be and so I fill the holes and color them to match.
But it's fun. I love doing that.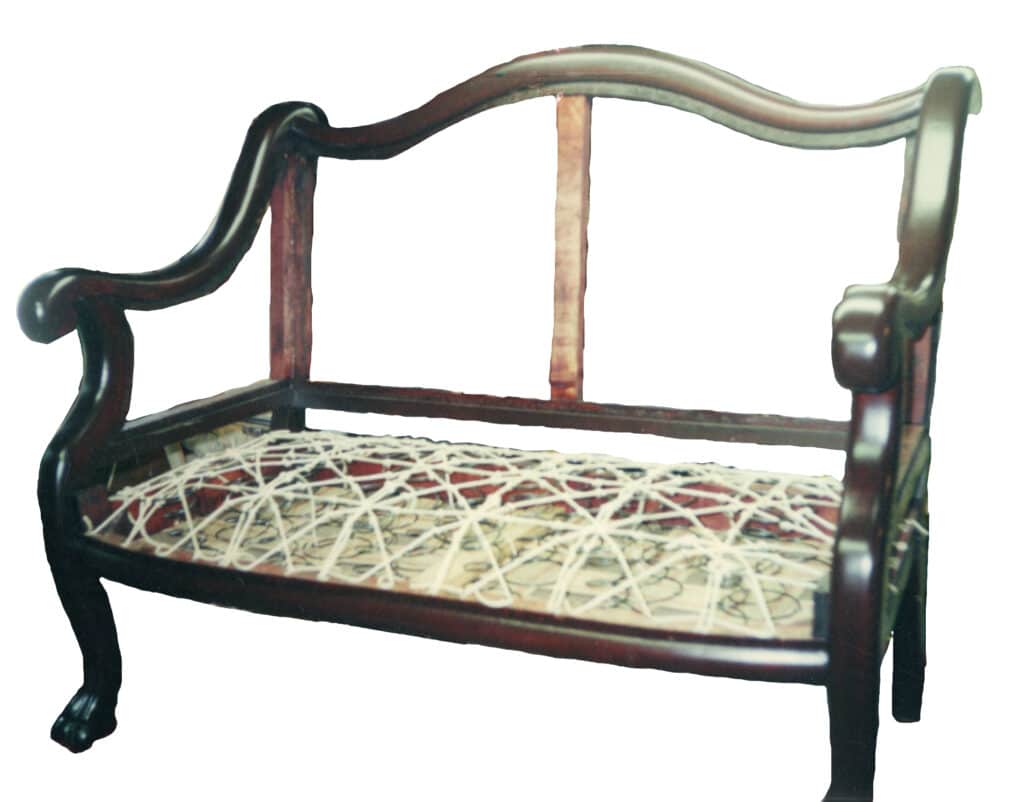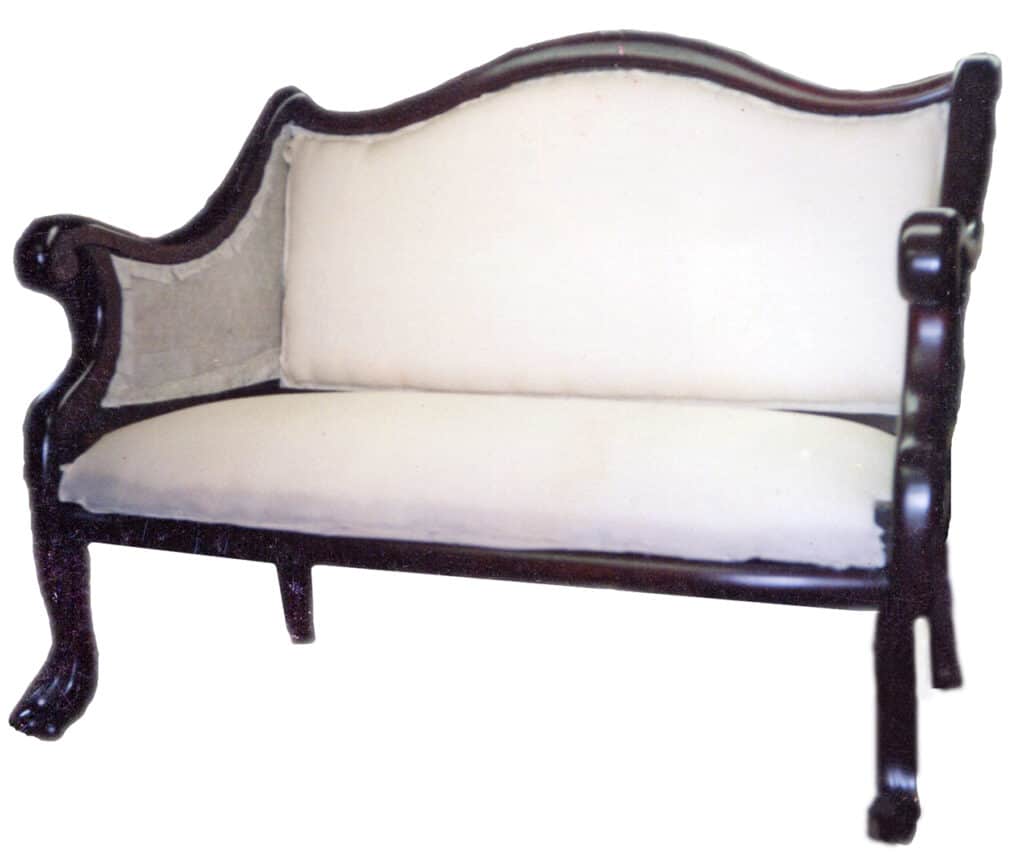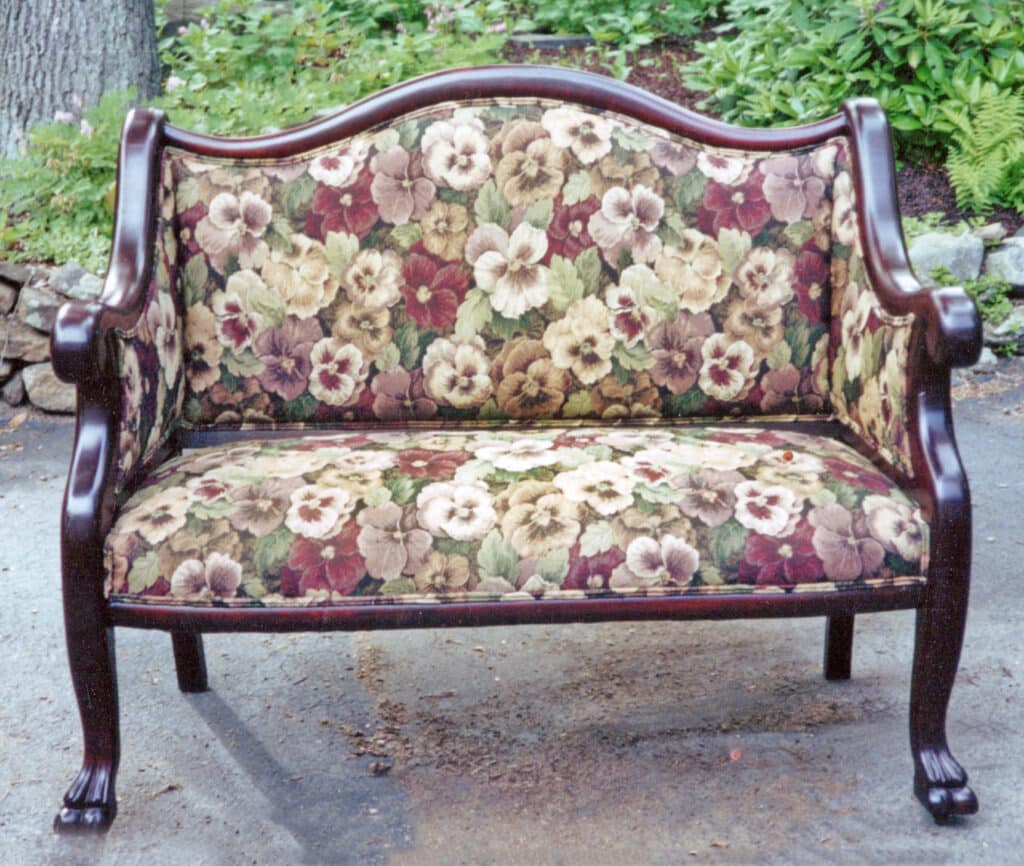 What about wormholes in antique furniture?
"There is not much you can do about that, but they do need to be reinforced."
Do you guide people when they are selecting a fabric?
I usually let them pick out the fabric, and then let them know the pros and cons, if there are any I feel they need to be aware of. But, it's a personal choice they make based on what they like.
Are there some fabrics you would stay away from?
If people come in with their own fabric that is not designed for upholstering, I let them know it may not be appropriate. If they still want to proceed—and most do because they are saving money—at least they know the consequences of the fabric they chose.
What about other types of fabric?
If someone wants cotton vs. a synthetic fabric, I don't really mind one way or the other because it is their choice. But if someone wants a special fabric that is stain-resistant, etc., I do tell them about a new Crypton line that is very easy to clean and good to use if you have pets or kids running around. Generally, I don't influence them either way.
The customer is always right, and most people have an idea of what they want – very few don't. When they have a question about a fabric, we talk about the wear value that is given by the manufacturer. If they want to have a light fabric vs. a heavy-duty fabric in their living room, I will tell them "you may want to think about this …
Has the work changed over the years?
I came into the field at a good time. It was going from handtacking fabric into place to stapling with pneumatic tools. Overall, it really hasn't changed much. My sewing machine is the same one I bought used from that shop in New Hampshire.
What are some of the tools you use? Are there any guidelines when working on a valuable antique?
Well, I have a foam saw for cutting foam. And I do have a nail gun, but I mostly use my pneumatic stapler. Restorers are not looking to use tacks but staples, because they tend to stay in place and not put any real wear on the wood. It is all about conserving the piece for the future. Finishing tacks are only used for decoration.
What are some of the more difficult pieces you've reupholstered?
Typically the tufted furniture with a multitude of buttons on them, or using fabric with intricate detail that has to be matched. Plaid has to be matched to the left, right, back-to-back, etc. I do have an upcharge for plaid because it uses more fabric and a lot more labor.
What advice do you have for someone buying a piece of used upholstered furniture?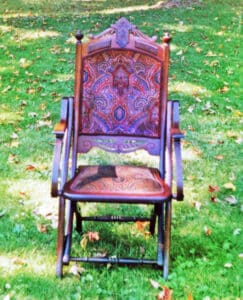 With any piece of furniture, you want quality. You want a good frame with good construction on the inside. This makes it worth re-doing.
Is it cheap to do? No. Did you get a wing chair for free? By the time an upholsterer is done with it, you are into it for $600-$700. There's fabric, supplies, and labor; stripping the piece down; removing hundreds of tacks and staples; refurbishing what is left; and then putting it back together.
Time is money, and it costs. One-third to one-half of the job is deconstructing the piece in preparation for re-covering. Some upholsters may have put cotton over the original fabric and then applied a second layer of upholstery, similar to putting a second or third layer of shingles on a roof. This adds to the amount of deconstructing work to be done.
One chair I did came in looking almost like a balloon thanks to all the layers of padding and fabric on it. It's like being an archeologist at times, looking at old tack holes and where this went and how they did that – but that chair had a different frame hiding underneath; the arms were attached to the chair with wrought-iron nails holding it together. The arms were unusual. If the arms were added on, it was done shortly after the chair was built.
The owners wanted the upholstery to be trim and to the original frame. I can understand that. It was worth the effort.
Is there a point where people should just forget about reupholstering?
Yes. A Bad Frame. If you have a poor frame where it tilts if you lean on it or worse, it collapses! That is a piece that is probably not worth doing. Value. If you are spending $700-$800 and it will not be worth what you are spending, it may not be worth doing. Overt Wear. Any piece that needs to be restuffed may not be worth doing. Foam is a petroleum-based product and is very expensive. I just restuffed three cushions this morning. It cost $75/cushion for the 5" foam. If the foam is ok, keep it. Smaller pieces needing restuffing are not too expensive to do.
Foam choices are pretty standard – it's all a matter of how soft or firm you want the seat to be. The back typically has a super-soft foam because most of the pressure of the body is down. You are just leaning on the back so it does not need quite as much support.
But the general rule of thumb for buying a piece of used furniture is, if the furniture is heavy, it is probably a good piece of furniture and worth redoing.
What should the owner do with the piece?
Do nothing. Do not touch it, no matter what. You will not be doing me any favors because what to keep and what to throw is the decision of the upholsterer.
How does someone find a good upholsterer?
Word of mouth. Talk to people who know how the person works and what they specialize in.